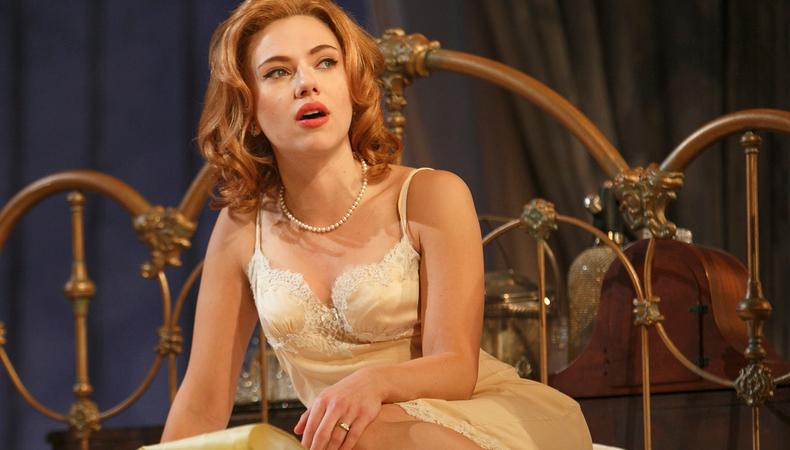 There's a lot of yelling going on at the Richard Rodgers Theatre, but very little drama is generated in director Rob Ashford's maladroit production of Tennessee Williams' 1955 Pulitzer Prize–winning "Cat on a Hot Tin Roof." Film star Scarlett Johansson made a promising Broadway debut in the 2010 revival of Arthur Miller's "A View From the Bridge," but she is hopelessly beyond her skill set as Maggie the Cat, in particular lacking the vocal range and agility to land Maggie's long Act 1 aria of increasingly desperate persuasion. Ashford's unmodulated direction results in one-note performances from some gifted actors as the show plods across two hours and 50 minutes to its unpersuasive, much-awaited end.
In his stage directions Williams calls Maggie a role that is "almost sung" and notes that her voice has "range and music." Johansson's froggy instrument rarely varies in pitch as she races through the words on a single level of truculence, as if Maggie thinks that she can get her alcoholic husband, Brick, to sleep with her just by bullying him. Johansson's mangled rhythms and self-consciously thick Southern accent frequently impede clarity, and the actor is never able to show us Maggie's shifting strategies for achieving her goal. Paradoxically, all this undifferentiated anger has the effect of making Maggie less formidable, which means that her Act 3 battle for family position with in-laws Gooper and Mae lacks size.
The proceedings perk up a bit when Ciarán Hinds' Big Daddy shows up in Act 2, believing that he has been reprieved from a possible cancer diagnosis and determined to find out why his son has become a drunkard. Though Hinds is never convincingly Southern and also exhibits a tendency to charge through his lines unheedingly and indistinctly, he goes doggedly toward Big Daddy's objective, and Benjamin Walker, as Brick, finally has something to play against. As Big Daddy tightens the screws by raising the possibility that Brick and his best buddy, the recently deceased Skipper, were actually in love with each other, some dramatic tension at long last begins to crackle, with Walker effectively conveying Brick's crippling self-disgust.
Michael Park largely keeps Gooper, the unfavored son, in a place of self-justifying suppressed hurt. Emily Bergl, as Mae, focuses on the character's smug superiority. The usually wonderful Debra Monk, as Big Mama, is directed to join in all the shouting and fails to find the vulnerability that should engender our sympathy.
Ashford's awkward, excessively physical staging includes far too much unimaginative circling of Brick and Maggie's dominating bed. Though Williams does mandate things such as the offstage singing of field hands, Ashford ham-fistedly employs Adam Cork's busy sound design, especially in the too-obvious use of some punctuating fireworks. Ashford also begins and ends each act with Cork's crashing music cranked up high, as if to create by fiat the searing drama that he has been unable to unlock in the play. Williams should be allowed to make his own music.
Presented by Stuart Thompson, Jon B. Platt, the Araca Group, Roger Berlind, Scott M. Delman, Roy Furman, Ruth Hendel, Carl Moellenberg, Scott and Brian Zeilinger, Nederlander Presentations, Tulchin/Bartner Productions, and Scott Rudin at the Richard Rodgers Theatre, 226 W. 46th St., NYC. Jan. 17–March 30. (877) 250-2929 or www.ticketmaster.com. Casting by Daniel Swee.
Critic's Score: D