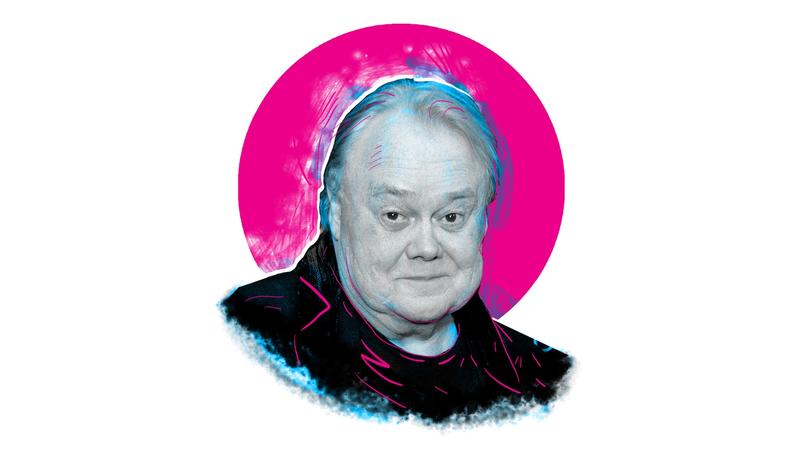 Decades into his career, Louie Anderson finally scored the role of a lifetime as Christine Baskets on FX's "Baskets," which returned earlier this month for Season 4. Despite success in standup, film ("Coming to America"), and television ("Life With Louie"), it wasn't until Anderson was cast alongside Zach Galifianakis as the mother to his twin brothers Chip and Dale Everett Baskets in FX's dark comedy that the veteran actor finally got his due and won an Emmy in 2016.
How did you first get your SAG card?
"Cloak & Dagger," the Dabney Coleman and Henry Thomas movie. Jackie Burch, who [cast] all of John Hughes' movies, she got me the little part of the cab driver, and a SAG actor was born. I wished they'd let me ad lib a little more, which was not the case. It was nice, but I think I said one little line to Henry Thomas. I was the cab driver and that's it.
What's the craziest thing you ever did to get a role?
I do have a good story. When I was at the Ivy, the restaurant on Robertson [in Los Angeles], Eddie Murphy came in. I knew him as a comic, but we didn't hang out together. He came in and had about five or six people with him, and I said to the waiter, like any good Minnesotan would do, "Hey, put Eddie's check on my American Express, but don't tell him I did it until after I leave. I'm not doing it to be a showoff." And then I got a call the next day that that was a really nice thing and Eddie wants you to do a part in "Coming to America." The bill was $661. You should do nice things, my mom taught me. I doubt that people pick up Eddie's check all the time [because they think] he can afford it. I didn't know he was doing a movie called "Coming to America." I loved Eddie—I still do. He's one of the nicest people in the world to work with. You want to talk icons? He's a true icon. I just saw him in that "Mr. Church" movie. Oh, my God, he should have gotten the Academy Award nomination for that.
What performance should every actor see and why?
I'm such a fan of John Cassavetes movies. I would always say to watch Gena Rowlands and Cassavetes, and Peter Falk. Those are my early "Oh, my God, this is the kind of actor I want to be" [moments]. Marlon Brando. Al Pacino's performance in "The Godfather." If I'm talking to an actor or actress, tell me your favorite movie and tell me why that part appeals to you so much. Then try to find that part in you that that actor found in them to do that part. Stop looking around and look within and find that thing within. Get that out of you. Don't do what is around you. Do what's inside of you.
What advice would you give your younger self?
I would say, go to an acting teacher and listen to them and don't think you know everything. Second, be fearless. Be prepared and be fearless. I was afraid when I'd go out for movies. Put as much effort [into] trying to get someone to go out with you that you put into your acting. You know how people are relentless about that? Put as much effort into the stuff you enjoy, put it into your acting. If you're not going to put time into the acting, get out of it.
What has playing this latest role on "Baskets" added to your acting skills?
I really feel like this role I'm playing on "Baskets" is the best role I've done. I was prepared at 61 to put everything I have into it. And look at it: It's beautiful—in my opinion, at least. People come up to me and say, "Thank you for Christine Baskets." Or "Tell Zach I said hello." I don't leave anything inside on it. I go full-bore on everything, I'm there 1,000 percent. I asked Jonathan [Krisel, co-creator and showrunner], "Can I try that again?" if I didn't give it all that I could. I leave Louie Anderson in the makeup and hair trailer; he's got no need to be there. Louie Anderson the comedian is not needed in the Christine Baskets part.
What is your worst audition horror story?
Ron Howard did a movie and I went and I did it and he called my agent and said, "That was the worst acting I've ever seen. Don't ever send anyone like that to me ever again." I mean, it was terrible. I wasn't prepared. If I stay in my heart and out of my head, I'm the real thing. If there's one [bit of] advice I have for everybody, [it's]: Be the real thing. I'd rather see you get kicked out of an audition because you're the real thing than go in there and do something that you're not capable of. Don't waste people's time. Do your homework, know your lines, and open up your heart as wide as you can when you go into those auditions.