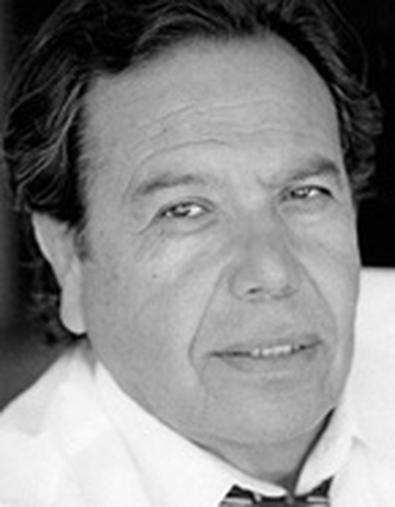 Just two years ago, Louie Olivos, Jr. rubbed elbows with Cate Blanchett, Robin Williams, Mark Ruffalo, and Quentin Tarantino when he was nominated for Best Debut Performance in Robbing Peter at the 20th IFP Independent Spirit Awards. "It took me 35 years to get a leading part in a feature, but I stuck in there and I got it," the actor admits.
Now, after decades of acting, directing, and writing, 67-year-old Olivos still gets really excited about getting the part through Back Stage West. And in Afterglow, a film noir short that screened to a full house at last year's New York Film Festival, Olivos still felt the challenge of acting, playing a gay Mafioso. In fact, he didn't even tell his wife of 46 years about the character's shocking, simulated blow job scene until they were at the festival.
"She said, 'Louie, you son of a gun,'" Olivos says, laughing. "Us Latinos, we don't like talking about those types of men. We are supposed to be macho, you know? So I surprised her but luckily and thankfully, she has an open mind and she knows it's just a part. You've got to do what you got to do. I'm an actor and I do what the director tells me. I have faith in them and I keep my fingers crossed. Audiences don't expect it. They think that I'm like Tony Soprano. I'm macho but I have this weakness, I like young [but legal] boys."
When Afterglow Director Melissa Yu read Olivos for the crime boss, she thought he had the most natural and believable audition. "Some of the other auditions seemed forced, even though some actors had their lines better memorized than Louie," recalls Yu. "He didn't recite all the lines verbatim, but he brought it to life. To me it was like, why get caught up in semantics? This is working the way he's delivering it. And he added certain creepy elements to the character, like he would improv a chuckle where other actors didn't. His facial structure worked for the role, and he had a gap in his two front teeth that I liked. It all fit. He brought all of that to the set. I added some extreme close ups too. It was really effective."
Olivos -- who trained with Stella Adler among others, and was an original member of Nosotros -- founded Teatro Actores de Santa Ana in 1971, which is still the oldest Latino acting group in Orange County. "The world needs to see every actor from the color of the rainbow and I'm proud that I'm representing Latinos," says Olivos, who's repped by Sid Levin. "We are so happy with the success of Ugly Betty, Babel, Pan's Labyrinth, and Children of Men. That will open the doors for more work." For more on Afterglow, visit www.afterglowmovie.com.
Afterglow will screen on Saturday, March 3rd, 10 p.m. at Laemmle Sunset, 8000 Sunset Blvd., W. Hollywood.