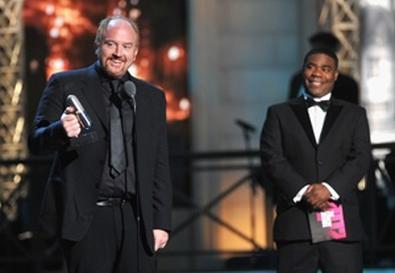 Comedian Louis C.K. has just released a new stand-up comedy album, "Louis C.K.: WORD–Live at Carnegie Hall," online today. Like his recent special "Live at the Beacon Theater," "WORD" is available to download for five dollars from C.K.'s website.
"WORD" was recorded in November 2010 at Carnegie Hall and can now be purchased as
audio-only download
. C.K. says he chose not to release the show before because some of the same material was featured in the second season of his FX series "Louie."
"But I decided since it's never been released as an entire show, and some of the material was not on my show, I'm releasing this now,"
C.K. wrote on his website
. "As most of you know, I release about an hour or more of new standup material every year and folks can count on seeing a new show every year. This is old material, so I don't want to be a dick and pretend it isn't."
At the same time, C.K. has also released an audio-only version of his 2007 HBO special "
Shameless
" to download for $5. "It was never released as an audio CD, so I asked HBO to let me offer it on this site and they agreed," C.K. says. "Obviously I'll be sharing the 'Shameless' money with HBO but I think it's pretty cool that they're letting this be out there unprotected like this."
C.K. also announced that anyone who previously purchased "Live at the Beacon Theater" from his website now has access to an audio-only download at no extra cost, as well. He adds that "Tomorrow Night," his first feature film, will be sold as an online download soon.
After "Live at the Beacon Theater" grossed more than $1 million when C.K. self-distributed it via direct download on his website in December, comics Aziz Ansari and
Jim Gaffigan
followed suit by offering their latest specials online for the same price. Ansari's "Dangerously Delicious" is now scheduled to air Sunday, May 20 on Comedy Central.
FX will air an edited version of "Live at the Beacon Theater" on Saturday, May 12 at 10 p.m. Season three of "Louie" will premiere Thursday, June 28 at 10:30 p.m. on FX.
At the second annual
Comedy Awards
, which were taped April 28 in New York and aired May 6 on Comedy Central, C.K. won the awards for best sketch/alternative series and best directing for "Louie," as well as stand-up tour and comedy special of the year for "Louis C.K.: Live at the Beacon Theater."
Dan Lehman is a staff writer at Back Stage. Follow him on Twitter: @byDanLehman