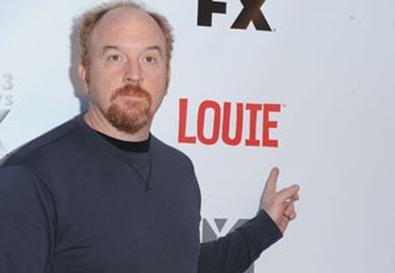 Louis C.K. makes television his way. At least, that's been his model for success in two seasons of his acclaimed FX comedy series, "Louie."

The comedian has a relatively small budget to produce, write, direct, cast, edit, and star in the show. But in exchange for taking less money, there are no questions asked. He does not receive notes from the network, and no script or casting approval from FX is required. The so-called "Louis C.K. Deal" gives him complete creative control over his eponymous show, making him the envy of his comedy and television peers.

But now C.K. is creating an untitled comedy pilot for CBS, about "an ensemble of young people who are trying to achieve their creative dreams in these tough financial times," according to "The Hollywood Reporter." C.K. and Spike Feresten, who worked together as writers for the "The Late Show With David Letterman" in the 1990s, will co-write and executive produce the pilot.

Can C.K. readjust to work within the limitations of network television again? Especially at CBS, where show runner Chuck Lorre ("Two and a Half Men," "The Big Bang Theory") allegedly dominates the schedule with traditional three-camera laugh-tracked sitcoms?

Earlier this week, comedy website Third Beat rediscovered C.K.'s candid account of what it takes to sell a show to a network, from pitch to pilot to series. C.K. wrote the piece for Usenet in 2006, while working on the short-lived "Lucky Louie" for HBO.

C.K. inserts parenthetical asides explaining how HBO made the process much easier than CBS, from working with the studio and network executives to writing, casting, and shooting the pilot. Overall, C.K. turns what sound like stressful and demeaning experiences into an informative – and hilarious – glimpse into the realities of working on network TV.

Read the following excerpts about casting a pilot from C.K.'s post below. (Or read the complete post here.):


"You have to do the following things as every pilot in the city is doing them simultaneously: Find a studio to shoot in. Cast your pilot. Find a director. Get back to work on the script because now that it's being shot people have a LOT of notes that they held back before, when it was just a pipe dream…

"So you are trying to get the best actors, director and writer in the world at the same time that everyone else in town is trying. Okay, so casting. First you have to hire a casting director. There are only a few good ones and everybody wants them. You have to meet with a lot of people who tell you some ideas of who they might cast in your show. If you click with someone you hire them (if you can) and start casting. You see thousands of horrible actors and hear your pilot script read over and over and over and over again. At the same time, offers are going out to very big named actors, none of which you think fit the parts at all, but you are told they will help your show get on the air… At one point you're told that your pilot is going to star Brendan Frazier [sic] and Jody Foster. At the last minute they both pass and you end up with Kirk Cameron and Shelly Biglachnataps. The way the casting works is that you make usually three top picks for every part in the show. You now take these people to the studio and they decide if they like your choices. If they do, you take those three folks now to network. They sign what is called a test deal, which means they make their acting deal before the network even sees them. So you have to negotiate a deal with three actors per part, even though only one of them will be hired. So the three actors (per part) go to the network and audition for Les Moonves or whoever. He/she/they pick one person and you are cast. Or (and usually) they don't like any of them and you have to start all over again and now time is fucking running out and every good actor is already on a show…

"The network and studio come and watch the actors read the script. Then they give the writers notes. Sometimes the notes are staggering like 'We don't know if the main point of the story is really that good or funny.' And you have to insanely re-invent everything. This is probably not going to be a television show now. Just the worst week of your life. Sometimes cast members get fired after the table read, and you now have one day to cast a part that took you a month to cast before...

"Now, you think making a pilot is hard, try doing it twelve times in six months."

For more about the pilot casting process, read "A Guide to the Casting Process, From First Read to Meeting the Network Execs" on BackStage.com.