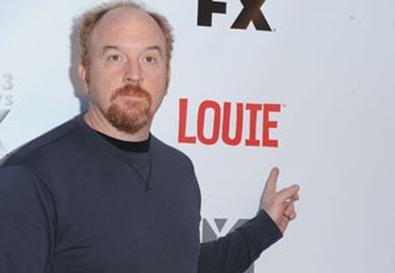 For several years, comedian Louis C.K. has earned acclaim not only for his hilarious stand-up sets but also as the creator, writer, director, and star of the FX series "Louie." Now he's earning acclaim for a new business model after offering his latest stand-up film, "Live at the Beacon Theater," for purchase as an unprotected download on his website for $5 in December. He produced and directed it himself, bypassing traditional theatrical, DVD, or television distribution and forgoing any up-front payment or funding in exchange for complete creative control. C.K. earned more than $1.1 million from online sales, donating a large portion of his profits to charity.

Three months later, Aziz Ansari ("Parks and Recreation") surprised fans when he released his new stand-up special, "Dangerously Delicious," on his website for $5. "It seemed like the smartest way to deliver it," the 29-year-old comedian told the Associated Press, adding, "In this era, the way people consume media, the way people release media has not caught up."

Jim Gaffigan announced in February that he planned to do the same, for the same price.

"Inspired by the brilliant Louis C.K., I have decided to debut my all-new hour stand-up special on my website," Gaffigan wrote on his site. "I know I am taking a risk here.... However, I am incredibly motivated by the courage of Louie to offer his fans direct access for a low price. Buyers of my special can be assured that their money will go directly to feeding and raising my four children instead of a giant corporation."

"Jim Gaffigan: Mr. Universe," taped Feb. 25 in Washington, D.C., will be available as an exclusive digital download on the comedian's website beginning April 11 for $5 per download. Gaffigan has promised to donate $1 from each sale to the Bob Woodruff Foundation, a charity dedicated to serving injured veterans and their families.

Gaffigan's manager, Alex Murray, told Back Stage that the plan had always been to distribute Gaffigan's upcoming special digitally, with an online content provider such as Hulu, Netflix, or YouTube. But C.K. showed them how simple it could be to go it alone. "We were trying to re-create an old business using new digital partners," Murray said. "And what Louis was doing was just giving his special to his audience for five bucks."

With Ansari and Gaffigan climbing on board, C.K.'s DIY experiment has become a daring model for direct distribution. These comics are speaking to their fans as individual artists rather than part of a network or studio's publicity machine, making their audience feel like participants in the process. The strategy is a hot topic in the comedy community, and Murray predicts that more comedians will be following the leader soon.

At least some of Ansari's "Parks and Recreation" fans and 1.8 million Twitter followers may be expected to follow him online, where "Dangerously Delicious" has been available for download since March 20. He is also using the special, which was recorded last summer, to promote his upcoming stand-up tour, called "Buried Alive." As of press time, Ansari's publicist declined to comment on total sales or number of downloads of "Dangerously Delicious."

"Aziz is a great comic with a big following," Murray said, "and if he can afford to take that risk, I think it's worth taking at this moment in time."

But to find that following, comedians may need to rely on traditional media a little longer. Comics who distribute their specials on Comedy Central or HBO, with the marketing power of that network behind them, are still more likely to reach new, broader audiences that will follow them in the future. Chris Hardwick, a popular stand-up who hosts the Nerdist podcast and is also a client of Murray's, recently taped a stand-up special that will air on Comedy Central later in the year.

"We have our personal goals and expectations, but we don't know if it's going to work," Murray said of Gaffigan's gamble. "We feel confident that he'll certainly cover his costs and break even at the very least, and hopefully do much better. He's at a point in his career where he can take that risk. But I think there's really only a handful of people that could do this type of thing."