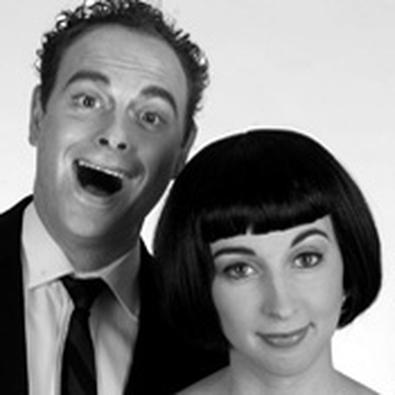 Bandleader Louis Prima and his fourth wife, Keely Smith, revolutionized the Las Vegas lounge act, becoming a must-see act at the Sahara during the 1950s. Their onstage antics, offstage turmoil, and immense talent are ideal fodder for a stage show, which Vanessa Claire Smith was wise enough to realize. Smith created, co-wrote, and co-stars in this tight, exciting, vibrant 90-minute homage to the groundbreaking couple. Her writing collaborator, Jake Broder, is a bundle of energy and a singing powerhouse as Prima. They sing nearly 20 standards, backed by a sharp seven-piece band that plays outstanding arrangements -- and there's still time left to flesh out these enigmatic icons thanks to Jeremy Aldridge's snappy direction.
Opening in the 1970s as a comatose Prima (Broder) lies in a hospital bed, the story is told through his eyes as he flashes back to 1948. That's when a 16-year-old Smith (Smith) joins the band and jump-starts Prima's career. They wind up in Las Vegas, and Prima creates an act where his silly, spastic style contrasts sharply with Smith's unflappable attitude. Prima runs around on Smith and isn't a good parent, but their anger toward each other translates into laughs onstage, as they inject songs such as "I've Got You Under My Skin" and "That Old Black Magic" with lots of humorous asides.
Perhaps 80 percent of the performance is musical -- all of it wonderful. Broder doesn't fall into the trap of trying to be a Prima impersonator, instead capturing his essence, from the nonstop jumping around to the way Prima would slingshot in tempo and key. Broder's charisma matches Prima's, and his singing skills are superb. Equally impressive is Smith, whose stern glances and soaring vocals echo Keely's without trying to copy each nuance; her rendition of "Pack Your Clothes" is unforgettable. The dialogue between the two is a bit stilted and Broder appears more comfortable as the onstage Prima, but those are minor quibbles.
It's rare that a 99-Seat premiere seems destined for bigger things, but Louis & Keely could have appeal similar to the long-running Rat Pack's, while it offers more emotional depth and more-exciting musical performances.
Presented by and at Sacred Fools Theater Company,
660 N. Heliotrope Dr., Hollywood.
Fri.-Sat. 8 p.m., Sun. 2 p.m. May 30-Jun. 29.
(310) 281-8337. www.sacredfools.org.