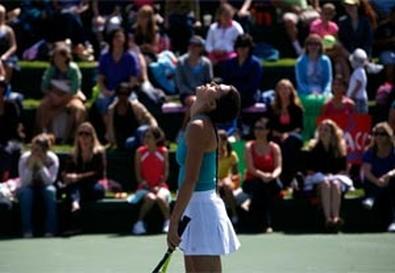 "16-Love" comes to us from Leigh Dunlap, the writer of "A Cinderella Story," and is a Disney-type sports film for 12-year-olds with a saccharine-sweet theme, a predictable story line, and good-looking 20-somethings playing 16-year-olds. In it, Lindsey Shaw plays Ally Mash, the number one–ranked junior tennis player in San Diego. When an ankle injury sidelines her during an important match, it makes her wonder if there is more to life than tennis.
All the usual tween-sports-movie stereotypes are present: There's the type-A coach and overbearing father (Keith Coulouris), the ridiculously quirky best friend (Lindsey Black), the Russian mean-girl archnemesis (Susie Abromeit), and of course, the hottie love interest (Chandler Massey).
Shaw, who starred on Nickelodeon's "Ned's Declassified School Survival Guide," on ABC Family's "10 Things I Hate About You," and most recently in "Pretty Little Liars," is easily the best part about the film. She's got great confidence onscreen and a likable and relatable presence young girls will be drawn to and admire. Massey, known for playing Will Horton on "Days of Our Lives," is also perfectly cast as the boyish, smitten, too-romantic-to-be-true athlete next door—giving levels to his character, Farrell Gambles (yes, you read that name correctly). You can almost hear squeals of "OMG!" every time he pushes his shaggy blond hair out of his eyes.
Though many of the supporting cast members play their roles a little over-the-top, something that often happens in films of this genre, one who deserves a mention is Josh Blaylock ("No Country for Old Men"), who plays Red Bull, an extremely caffeinated tennis player. Scenes in which he annoys Ally and her friends add laughs to the cutesy cheesefest in an original way, and he's enjoyable to watch. Other standouts include Mark Elias, who is cute and natural as a nerdy sidekick, and Lt. Stephanie Holden—I mean, Alexandra Paul ("Baywatch")—as Ally's health-nut mom. Coulouris' performance in a sweet father-daughter scene with Shaw near the end of the film brings a nice bit of heart.
Without sex, drugs, curse words of any kind, or really anything controversial at all, "16-Love" will appeal to tweens and work as a good movie for a family to watch. That is, as long as adults can stomach puns such as "They're a match made in heaven," "They're courting," and "It might be 'love-all.' "
Genre: Comedy
Written by Leigh Dunlap
Directed by Adam Lipsius
Starring Lindsey Shaw, Chandler Massey, Keith Coulouris