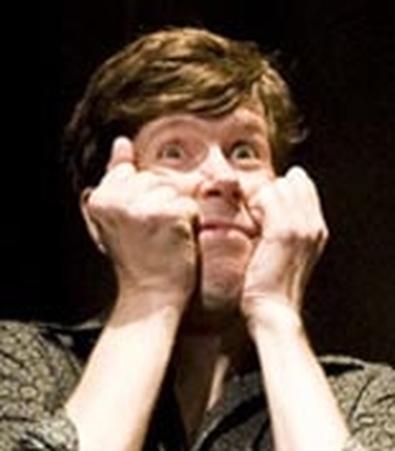 What makes you laugh — like what makes you love — is a matter often best left undissected. You can't quite explain why a good match on paper may inspire little passion in real life; even if you locate the crucial elements, the calculus of combining them is impossibly reductive. And yet here I go as I try to explain why Love Child, the new farce by Daniel Jenkins and Robert Stanton that does so many things right, just doesn't make me laugh.
Let's start with the good — for there is much of it. The stakes are high, and the performers are invested in the proceedings to an inappropriately high degree. For farce, this is essential. Jenkins and Stanton, who portray all the evening's many characters, do so zestfully. They play women, minorities, and a motley assortment of theatre types without pulling punches — or succumbing to good taste. Commendably, character drives much of the comedy. There's also a nice mix of comic desperation and genuine affection. Love Child is a farce with a heart of gold.
But The stars make it a point of switching roles on a dime and it's hazardous to the storytelling (probably also bad on the knees). Director Carl Forsman has provided neither the clarity the piece needs to be affecting nor the space its jokes need to breathe.
Not helping is the tired device of a play within a play breaking down as backstage and backstory dovetail with the planned performance. In this case, we're supposed to get a Greek tragicomedy (Euripides' Ion) remade as a Jerry Springer-style chat show. The "improvised" madcap version is no fresher.
And yet people were laughing when I saw the show, and I wasn't appalled in the way critics so often are when stony-faced amidst a guffawing crowd. Love Child has a number of features I can see someone else finding attractive; I just won't be calling up for a second date.
Presented by Primary Stages by special arrangement with Martin Hummel
at 59E59 Theaters, 59 E. 59th St., NYC.
Oct. 26-Nov. 19. Schedule varies.
(212) 279-4200 or www.ticketcentral.com.