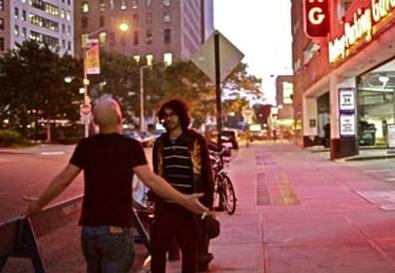 "The Love Letter You've Been Meaning to Write New York," directed and conceived by Jonathan Solari, clearly aspires to be a definitive ode to the magic and adventure that occurs every day on the streets of the city, and it kind of isÑjust not in the way the ambitious inside-out opus intends. Seated facing the giant floor-to-ceiling windows on the first floor of the 3LD Art and Technology Center, the audience witnesses the events of "Love Letter" unfold outside on Greenwich Street, where the performers intermingle with a teeming cast of millions.
Never mind Solari's surprising bursts of spunky dance choreography; the task of moving 30 cast members around an occupied city block deserves much praise all by itself. Yet Solari's often well-composed experiment of presenting New Yorkers on a real street is ultimately outdone by its proximity to real New Yorkers, whose genuine reactions to the bizarre goings on never failed to delight. We meet Arnaud J. Spanos in a sharp introductory video, our crestfallen lead who has made up his mind to leave New York after a rejected marriage proposal. And sure, we feel for him a little as before our eyes he is jumped and carjacked by muggers.
But the attack itself can't possibly compare to the comedy of half a dozen actual New Yorkers who passed by the violent event, saw it happening, and simply continued on, talking on their cellphones or walking their dogs. Likewise, a rousing salsa dance that spans both the near and far sidewalks of Greenwich Street was easily outshined by the vigilant pizza delivery guy who had to bike through it. Meanwhile, it falls upon Solari's eclectic if occasionally clichéd collection of fictional New Yorkers to convince Spanos to stay.
The large cast (audible via wireless microphones) acquit themselves well performing out in the open (and even in the rain at the performance I attended.) Kenny Speery and Rhedd Jankel are particularly endearing as two homeless youths with a dog, and Dyalekt earns commendation for being the only performer brave enough to directly acknowledge the "civilians" passing by.
Presented by Peace Belt Productions at 3LD Art and Technology Center, 80 Greenwich St., NYC. Sept. 24
–
Oct. 16. Wed. and Thu., 8 p.m.; Fri. and Sat., 7 and 9 p.m.; Sun., 5 p.m. (212) 352-3101, (866) 811-4111,
www.theatermania.com
, or
www.theloveletteryouvebeenmeaningtowritenewyork.com
.