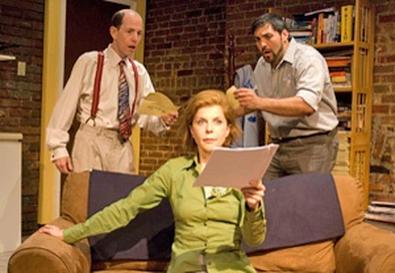 My Hungarian relatives always told me to stay away from gypsy matchmakers. Apparently, neither Norm Foster, playwright of "The Love List," nor Boo-Arts, who is currently presenting it, ever heard this maxim.
The play starts innocuously. Failing mainstream fiction writer Leon and his divorced statistician pal Bill return from Bill's 50th birthday dinner. Back in the apartment, Leon unveils his present: a questionnaire from Got a Match dating service. It asks for the 10 qualities Bill wants in a woman, to be analyzed not by some lifeless computer but by an old gypsy woman.
The ensuing action is a shoddy mash-up of "Weird Science" and "I Dream of Jeannie," with a little bit of "Frankenstein" thrown in. Kate Goehring soon appears from who the hell knows where as Bill's creation, Justine, an ambitious, trusting woman who is well-versed in many subjects and enjoys giving oral sex. Some laughs predictably come when Leon and Bill tweak the list and discover that Justine changes with the exchange of every adjective—and not for the better. It seems a woman who sings all the time or tells you what's on her mind is only good in theory, and an unpredictable one is a disaster waiting to happen.
Goehring's exaggerated performance is entertaining at times, but she never makes Justine more than a composite of her listed qualities. Likewise, Jarel Davidow's Bill is exactly what I picture when I think "middle-aged government-employed statistician" but nothing more. I should've felt sympathy for the lonely loser, but how could I when he remorselessly uses the dark arts to engineer the perfect woman? At least Jake Hart can deliver sarcastic one-liners as the adulterous Leon. However, Leon's decision at play's end to sincerely apologize to his separated wife, Angela, for his infidelity, somehow prompted by the fantastical events he has witnessed, seems a hackneyed attempt at pulling a moral from this tale.
Ironically, director Jessica McVea quotes Foster in her program notes as saying he never tries to "teach an audience a lesson or pass along some profound message" in his plays, which only makes the playwright as inconsistent as his play.
Presented by Boo-Arts at Manhattan Theatre Source, 177 MacDougal St., NYC. April 28–May 15. Wed. and Thu., 7 p.m.; Fri., 8 p.m.; Sat., 3 and 8 p.m. (Additional performance Sun., May 9, 2 p.m.) (212) 352-3101, (866) 811-4111, www.theatermania.com., or www.theatresource.org.