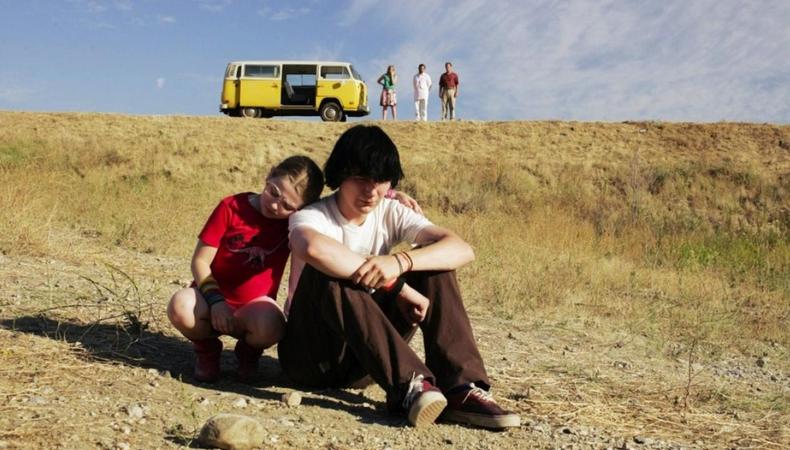 "Little Miss Sunshine," that gem of a dramedy about a family trekking across the country for a child's beauty pageant, turns 10 years old today. The film was produced with a budget of $8 million and ended up grossing over $100 million, earning four Academy Award nominations and winning two. Did you know its script came from first-time screenwriter Michael Arndt ("Star Wars: The Force Awakens," "Inside Out") and marked the directorial debut of husband-and-wife team Jonathan Dayton and Valerie Faris ("Ruby Sparks")? Here are 10 more reasons "Little Miss Sunshine" endures as a cinematic classic.
The opening scene.
A first shot says a lot about a movie—its story, tone, visual language—and Dayton and Faris nail that concept by introducing us to Olive, the innocent dreamer and heart of "Little Miss Sunshine." As portrayed by (an Oscar-nominated) 10-year-old Abigail Breslin, the character engulfs the screen with her wide-eyed, bespectacled expression; she's watching a video of a beauty pageant winner accepting a crown and mimicking her movements, enchanted. It's magical and a tad awkward, just like this movie.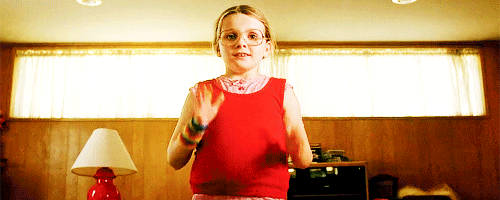 READ: "12 Memorable Child Actor Performances in Film"
That scream.
Not long afterward, Olive learns the winner of the regional Little Miss Sunshine pageant had to give up her crown ("Something about diet pills"), which means as runner-up, she's invited to compete in the pageant in California in two days. Breslin plays Olive's reaction brilliantly: frantic, giddy anticipation, followed by perhaps the most piercing scream in the history of cinema. Adorable.
This scene between Alan Arkin and Abigail Breslin.
Arkin took home an Oscar for his portrayal of the foul-mouthed Edwin, grandfather and pageant coach to Olive. It's a deceptive performance; Arkin delivers the character's zingers with hilarious gruffness, only to sneak in a touching moment as in the scene below. Just watch the chemistry between these two actors.
Alan Arkin and Abigail Breslin in general.
Seriously, how great are these two? "Little Miss Sunshine" also features Greg Kinnear as the family's patriarch and an aspiring life coach; Toni Collette as the harried mother; Steve Carell as her gay, Proustian scholar brother who has just attempted suicide; and Paul Dano as Olive's brother Dwayne, who has taken a vow of silence until he fulfill his dream of becoming a test pilot. But the film is all about Olive and Edwin and their loving, probably-not-healthy relationship, and the actors playing them deliver all-time best work.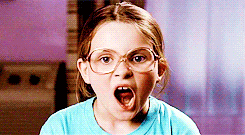 The soundtrack.
Listen to how DeVotchKa and Mychael Danna's music helps tell the story in the clip below. A great road trip movie should feature a great soundtrack, and "Little Miss Sunshine" is one of the best.
The meltdown.
Criminally underrated actor Paul Dano gives one of the best performances of his career in the devastating, hysterical scene below. When Dwayne realizes his ultimate dream is impossible to achieve, every bit of nuanced, silent acting Dano has done throughout the movie crescendoes and explodes into a symphony of agony.
READ: "Why Paul Dano Almost Quit Acting"
The beautifully wry screenplay.
In this scene between Dano and Carell, it becomes clear that Arndt's greatest skill as a screenwriter is his tightrope walk between comedy and tragedy. When the story's two most disaffected characters find an unlikely kinship, their dialogue wanders in the gray area between abject despair and Nietzschean triumph.
The line, "In the trunk of our car."
Of course, the thing that takes "Little Miss Sunshine" from black comedy to ultra-black comedy is the death of Edwin. Unable to do anything but put his body in the back of their van, the Hoover family vows to get Olive to her pageant, where she is asked onstage about the grandfather who inspired her. Olive's response is the film's funniest line, a culmination of every awful but bleakly funny thing that has happened to this poor family.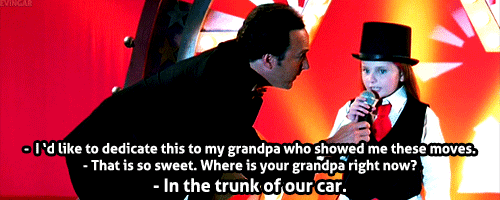 And the epic dance sequence that follows.
It's just classic:
Basically it's the sweetest little movie.
Happy 10th birthday, "Little Miss Sunshine"!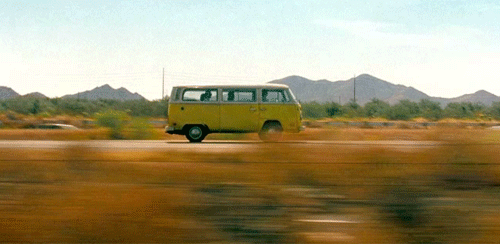 Want to star in the next instant-classic film? Check out our audition listings!
And for practical acting advice, check out our YouTube channel: