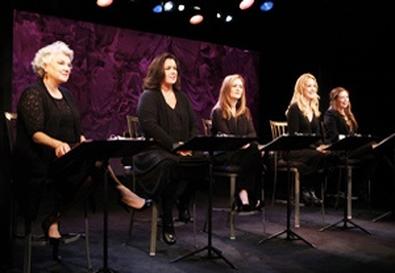 Straight men will probably have a tough time at Nora and Delia Ephron's "Love, Loss, and What I Wore." Clothing and touchy-feely emotions are the order of the day in this collage play about women's relationships with apparel and the memories it evokes. Derived from Ilene Beckerman's slim memoir with illustrations, which recalls a lifetime through Brownie uniforms, wedding gowns, formal attire, and housedresses, the play employs a "Vagina Monologues" format, with a rotating cast of women sitting before music stands and reading from scripts. Hoots of recognition and muffled sobs could be heard as they re-created moments both great and small in a galaxy of women's experiences.
Samantha Bee, Tyne Daly, Katie Finneran, Natasha Lyonne, and Rosie O'Donnell are the cast for the first two weeks of the run, and they go from joyfully silly celebrations of shopping to complaints about the tyrannies of fashion to heartbreaking associations with everyday outfits. Skillfully orchestrated by director Karen Carpenter, they play all ages, classes, and sexualities. Daly provides the spine of the piece as Gingy (Beckerman's nickname). Her reminiscences of a Manhattan girlhood open the play, and her stories—stretching through several marriages and children and accompanied by large drawings of her clothes—punctuate the proceedings. Daly captures the fun and pain of this woman's journey, which is moving in its ordinariness. Like Emily in "Our Town," Gingy looks back on the seemingly mundane events of her life, finding the extraordinary in the ordinary. Daly imbues the reading with wisdom and fondness.
O'Donnell is particularly moving in a monologue she wrote about her stepmother wearing the same style of bathrobe as her mother did, only in a different color. She brings a standup comic's expert timing to a rant on the shortcomings of purses and creates a surprisingly endearing characterization as a shady woman visiting her husband in prison. Bee and Finneran find a rainbow of shadings as lesbian partners planning their wedding attire. Lyonne combines toughness and vulnerability in a piece on sweaters worn by girl gang members.
"Love, Loss, and What I Wore" has the potential to be as big an Off-Broadway hit as the aforementioned "Vagina Monologues": bare set, affecting material with large audience potential (after all, studies show that women buy most theater tickets), and a minimal commitment for big-name performers. It could easily extend beyond its present engagement and show up on tour and at regional theaters. Try on some of the monologues for auditions or class; you might find them a good fit.
Presented by Daryl Rothat the Westside Theatre/Downstairs, 407 W. 43rd St., NYC. Oct. 1–March 28. Wed.–Sat., 8 p.m.; Wed. and Sat., 2 p.m.; Sun., 3 and 7 p.m. (212) 239-6200 or www.telecharge.com. Casting by Tara Rubin Casting.