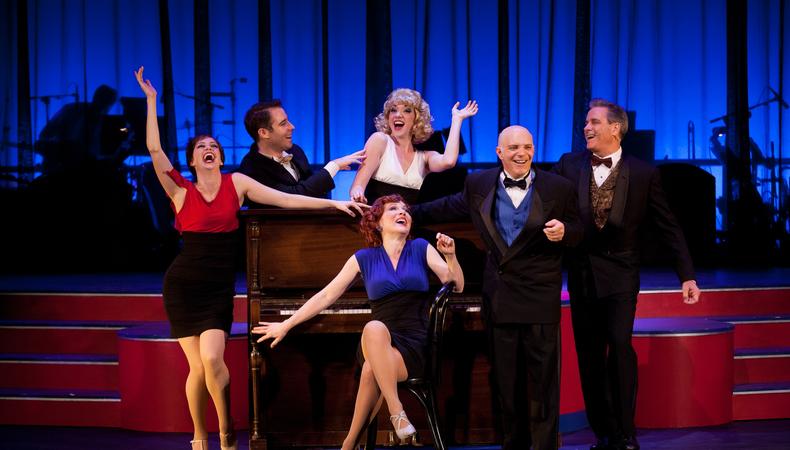 The thin and slightly silly conceit of "I Love a Piano," the all–Irving Berlin revue conceived by Ray Roderick and Michael Berkeley, is that we follow the life of an upright piano from its first days out of the factory in 1910 to the late 1950s, roughly the same time frame as Berlin's monumental career in American music. The obvious strength of the show, which features Berkeley's arrangements, is Berlin's music. The composer-lyricist had an incredible ability to reinvent himself over successive decades, churning out thousands of pop ditties, a host of movie songs, and nearly 20 complete Broadway scores, all of which generated a long list of standards.
The musical skillfully uses just three men and three women to form couples whose interactions create situations that invite the sentiments expressed in the songs that burst forth. All six are credible triple-threats in David Lamoureux's vibrant, toe-tapping new staging. Gail Bennett, James Blashaw, David Engel, Cynthia Ferrer, Eddie Korbich, and Adrianna Lyons also have inexhaustible energy, morphing not only from one segment to the next but often multiple times within each segment. The sextet benefits from musical director Daniel Thomas' firm command of his material. Thomas has a subtle ear for the ingenious little tricks built into each song, and he carries that across in his conducting of the small combo of musicians situated upstage and slightly obscured by a partly opaque curtain. In turn, those musicians, provided by the Los Angeles Musicians Collective, create a credible foundation for the show's more than 50 songs. Another plus: Choreographer Kami Seymour's dance steps are light and playful, in tune with the show's overall tone but also bold when it matters.
Engel masterfully carries the role of handsome leading man, and his beautiful bass and deft dancing are a gift to audiences. He's most often paired with Bennett, one of two ingénues, a wise move considering her saucy persona. Blashaw and Lyons are likewise frequently paired, essaying most of the juvenile roles, with Lyons' natural comic skills spotlighted in "We're a Couple of Swells." Korbich gets the many boss, leader, or director characters and is frequently matched with seasoned veteran Ferrer.
Part of the show's weakness is what feels like a desperate need to try to shoehorn just one more Berlin tune into each of the nine segments, which include "Tin Pan Alley" (1910s), "The Depression" (the '30s), "Stage Door Canteen" (the World War II era), and "Summer Stock" (the late '50s). The necessity of shifting from song to song makes it difficult to create showstoppers or even for that matter genuine highlights. Two elements give the performers a boost: Chris Beyries' set, which makes stirring use of black-and-white archival photos of decades past, and Aja Bell's versatile costumes. Cast, director, and designers have made the show not about themselves but about the inestimable role of Berlin's music in 20th-century American culture and beyond.
Presented by 3-D Theatricals at Plummer Auditorium, 201 E. Chapman Ave., Fullerton. Sept. 7–23. Thu.–Sat., 8 p.m.; Sun., 2 p.m. (Additional performances Sun., Sept. 16, 7 p.m., and Sat., Sept. 22, 2 p.m.). (714) 589-2770 or www.3dtshows.com.
Critic's Score: B+