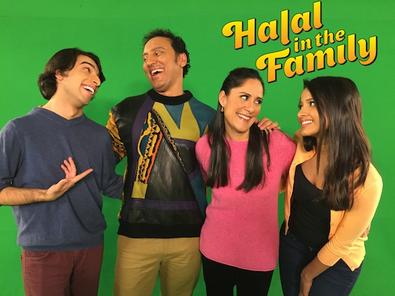 After sharpening his satirical wit on "The Daily Show," Jon Stewart's Lead Muslim Correspondent Aasif Mandvi is bringing the Internet a new kind of spoof, the likes of which we've never seen, courtesy of Funny Or Die.
Starring Mandvi as a Bill Cosby-esque patriarch, Sakina Jaffrey ("House of Cards") as his sitcom-exasperated wife ("Oh, Aasif!" is exclaimed derisively in each episode), Nicky Maindiratta, and Shoba Narayanan, "Halal in the Family," follows an all-American Muslim family. Using the guise of humor, the series tackles issues many Muslim-Americans face. Just to give you an idea, the credits feature Jaffrey hanging up a bathing suit with the American flag, and neighbors picket and protest when they think the family's house is mosque.
"Using some of that humor and the tropes of an all-American sitcom, we wanted to address these issues that American Muslims deal with on a regular basis," Mandvi told Backstage in a joint interview with director and co-writer Miles Kahn. "We worked with Muslim advocates and other Muslim organizations, and non-Muslim organizations like the Ford Foundation that helped us with the funding and stuff. We got a list of concerns, and it was things like infiltration of mosques and community centers by the FBI; media bias; cyber bullying. That kind of stuff has been incorporated into the episodes."
Originally titled "The Qu'osby Show" ("But then Bill got himself into some trouble," Mandvi joked to a loft full of supporters in Tribeca, NYC), "Halal" was born out of a sketch originally aired in 2011 on "The Daily Show" after Katie Couric stated that maybe what America needed was a Muslim sitcom. Drawing from Muslim organization supporters and their network, the two listed issues facing the Muslim community and wrote four episodes.
"I'm not Muslim and just starting to learn about stuff like Sharia Law. I remember I wrote the episode and wrote what I thought Sharia Law was and I was still wrong. I wasn't insulting but I was just a little off," said Kahn, laughing. "But it's such a broad term that it's misused in our culture as a scare tactic."
" 'Sharia Law means you have to eat pork all the time!,' " Mandvi chimed in jokingly. " 'No, Miles. No. Can we get somebody else in here?!' "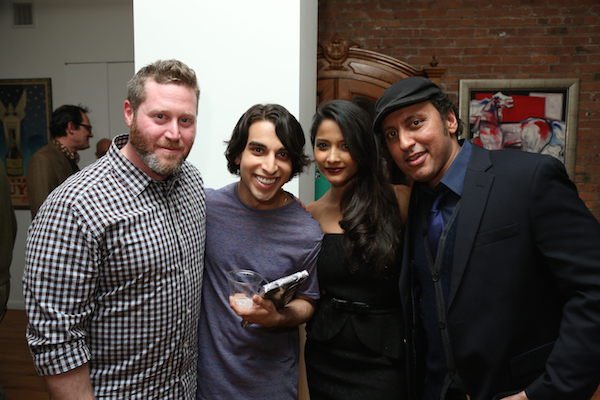 "Halal in the Family" director Miles Kahn with cast members Nicky Maindiratta, Shoba Narayanan, and Aasif Mandvi at the show's preview event on April 8
Photo cred: Ryan Brown
The two launched an Indiegogo campaign that saw the soon-to-be Web series raise nearly $38,000. They built the sitcom set before shooting the entire thing in one 16-hour day.
"The main objective is to get as many eyeballs on it as we can," said Mandvi about the series. "And then hopefully that will garner the ability to do more of these in the future with a bigger budget and better sets and all that stuff."
In addition to the smart and poignant material, the series' website introduces a level of engagement with audience members who want to move beyond the content and become involved with causes combating anti-Muslim bias and Islamophobia by providing links to proactive organizations.
"I don't know how many minds of true Islamophobes we're going to change, but maybe people who don't know that much [or] haven't met too many Muslims will see this and go, 'Oh wait, that Muslim guy has a sense of humor! I laughed at some of his jokes!,' " said Kahn. "Just to put that guard down a bit."
The power of satire, eh?
Watch the first episode here.