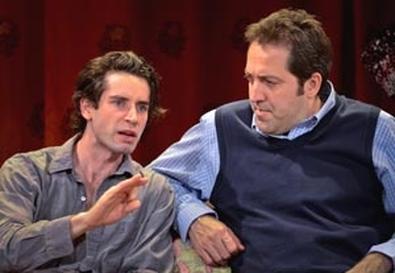 You'd think there would already be a play with this title, which is amorphous enough to cover anything from a monologue to a musical. Maybe there was at one time, but this 90-minute piece, written and directed by John Kolvenbach, has the title now—and the amorphousness to go with it. A contemporary absurdist comedy on the one hand, it offers up a sweetly banal theme hurtling downward toward the play's denouement: Love—real, imagined, or appropriated—changes everything and makes everyone nicer. Hmm.

Nicer, perhaps, but much less engaging. Joan is a high-decibel harridan, played with gusto by Laura Latreille. Her faux-reasonable husband, Harry (Ian Barford), defuses her tantrums as best he can. Joan's slacker brother, Beane (Andrew Pastides), lives in sub-Zen simplicity, owning nothing worth stealing. Molly (Zoë Winters), the thief who breaks into his apartment and who may or may not be real (only Beane can see her), rages obscenely at this lack of convertible swag.

These four characters are anything but likable, but they are very funny. Joan never met an employee or intern who wasn't an idiot or whom she didn't fire. Harry cheerfully keeps the wine and liquor flowing, to keep a semblance of the peace. When the taciturn Beane talks at all, it's in a series of non sequiturs and malapropisms. Even Molly's robber guns are fake, and with no loot to carry off, she can find no good reason to escape Beane's blank indifference.

As this quadrille unfolds (a fifth actor, Jonathan Fielding, plays a waiter in one brief scene), Beane inexplicably develops a crush on Molly and becomes positively loquacious. She in turn becomes less foulmouthed, gentler, and more willing to conspire in his new charade. Joan and Harry, celebrating the change in Beane, become much cuddlier and even start liking themselves and each other. The laughs, however, suddenly stop dead. This is no fault of the actors, all of whom are splendid.

This "Love Song" isn't a musical, but its prerecorded soundtrack, composed by Jonathan Bell, is striking and a big help to Kolvenbach in moving things along. Ji-Youn Chang's two-apartment set likewise contributes much to the production's flow. I'm just sorry that the flow goes downstream so fast.

Presented by Jaimie Mayer Phinney/Don't Eat the Pictures Productions, in association with Wellfleet Harbor Actors Theater, as part of Americas Off Broadway at 59E59 Theaters, 59 E. 59th St., NYC. April 13–May 8. Tue.–Thu., 7 p.m.; Fri., 8 p.m.; Sat., 2 and 8 p.m.; Sun., 3 and 7 p.m. (212) 279-4200 or www.ticketcentral.com. Casting by Paul Fouquet.