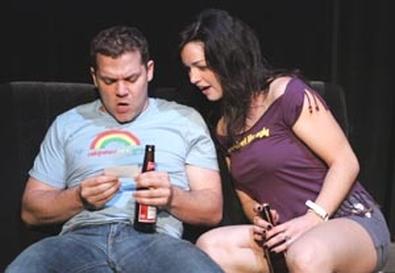 There's hint of Arthur Schnitzler's 1897 German classic "La Ronde' in the sexual roundelay that drives the frenetic plot in writer-director Rob Mersola's raunchy sex farce, but don't go expecting high art. Mersola delivers 90 minutes of down-and-dirty fun that won't tax anyone's brain cells.
The lives of five horny New Yorkers on the Lower East Side cross paths in unexpected ways. Bodacious babe Josie (Sadie Alexandru) and her gay roommate Calvin (Joshua Bitton) have no trouble finding one-night-stands—or five- to 10-minute encounters in some cases—but each seeks a more lasting romantic bond. Calvin discovers that closet case Charlie (Daniel Ponickly), who is cheating on his fiancée (Jeni Verdon), prefers casual men's-restroom couplings to dinner dates.
Fickle stud Harlan (Michael Alperin) dodges Josie's pressures for a commitment yet finds time for a sleazy back-seat dalliance with Calvin, whom he meets in a bar. Seducing the two women during their moments of weakness is the wily Giuseppi (Anil Kumar), claiming to be a Gypsy fortuneteller. Mistaken identities abound, but the philanderers are ultimately revealed, and love might finally triumph over lust in a quasi-happy ending.
The actors are all expert farceurs, with Alexandru's spry comic timing and saucy portrayal particularly sharp. Bitton likewise lands punch lines with clockwork precision, and his likable character is easy to root for.
Verdon's hysterical ranting evokes plenty of laughs. Alperin and Ponickly find ribald humor in sexual-identity confusion. In the broadest role, Kumar elicits great fun without going too far over the top. This racy but harmless romp certainly ain't Shakespeare. "Three's Company" updated for the Blackberry age seems a more apt description.
Presented by World Famous Improvisation at the Coast Playhouse, 8325 Santa Monica Blvd., L.A. Feb. 25–Apr. 10. Fri., 8 p.m.; Sat., 8 and 10:30 p.m.; Sun., 7 p.m. www.lovesucksplay.com.