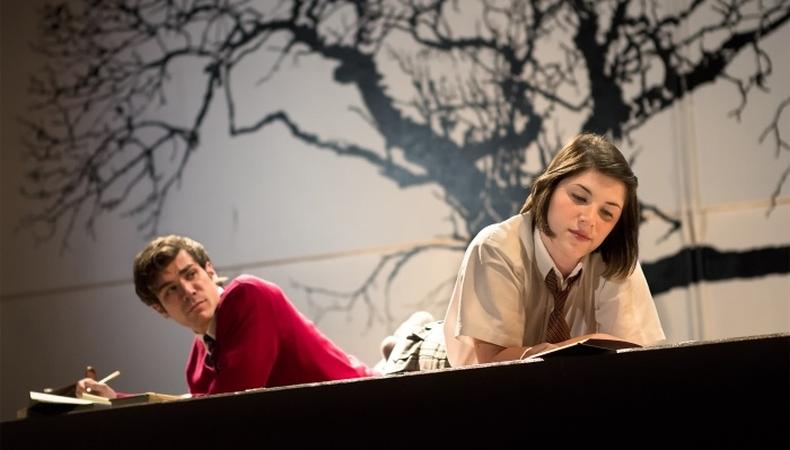 In "Lovers," as in life, there are winners and losers. Brian Friel's play gives nods to both; the first part is called "Winners," and the second called "Losers." Although these two parts are basically completely separate one-act plays, the pieces have been paired to revive "Lovers" whole, the way it was staged in its first Broadway production in 1968 and hasn't been seen in New York since.
The first half is undoubtedly the stronger one, made even better in this production by Justine Salata's refreshing performance as 17-year-old Mag. "Winners" follows young high school students Joe and Mag, who are engaged to be married in three weeks because Mag is pregnant. As they sit outdoors studying for their exams, Mag pontificates about the future with utter jubilee, distracting Joe from his studies. Joe lashes out in frustration, and over the course of an afternoon, the pair seems to realize the heavy consequences of their decisions and the weight of adulthood.
The action takes place on a platform above the stage, where Brett J. Banakis' attractive scenic design aids effective staging by director Drew Barr. Salata emanates juvenility and navigates her character's rocky teenage emotions with ease, delivering each line as if it were her last. As Joe, Cameron Scoggins is attractive and honestly portrays a boy grappling with his sudden responsibility to become a man. Meanwhile, below the platform, "Man" and "Woman" detail the fate that will befall these young people despite their wide-eyed innocence.
It's an interesting choice by Barr to have the actors who play "Man" and "Woman" (James Riordan and Kati Brazda, respectively) return to the stage to star at the center of "Losers" as Andy and Hanna, a middle-aged couple engaged to be married. Hanna is constantly frustrated by her ailing mother who lives with her. Andy is not pleased either, though he seems more agreeable than Hanna when the couple must attend to Mrs. Wilson's every beck and call and, most importantly, pray the rosary each night. Riordan is moving as Andy, while Brazda is appropriately frazzled as Hanna. Both Nora Chester and Cynthia Darlow provide brief comic relief as Mrs. Wilson and her staunchly religious friend Cissy. (The tiered stage is less appropriate for this second act, though it doesn't lose its effect.)
Ultimately, though, the entire evening is depressing -- as Irish plays usually are -- and Barr's pacing sometimes causes the pieces to drag. Don't expect to be uplifted.
Presented by The Actors Company Theatre at the Beckett Theatre, Theatre Row, 410 W. 42nd St., NYC. Sep. 27-Oct. 20. (212) 239-6200 or www.telecharge.com. Casting by Kelly Gillespie.
Critic's Score: B-