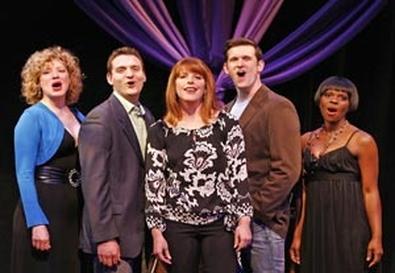 Producers of theater are slow to learn the lesson every real estate agent gets on day one: Location matters. Take For Lovers Only (Love Songs... Nothing but Love Songs), a new revue that for all its flaws is at least honest in its name. Ensconced in some second-rate cabaret or cruise ship showroom, it would serve as bland, unobtrusive background music. You'd sip your cocktail, chat with friends, and only occasionally notice the entertainment, perhaps when a Sondheim lyric was mishandled. But crammed into New World Stages and presented as sit-in-your-seats, face-forward, pay-attention theater, this inoffensive song stack seems downright noxious.

I freely admit I'm no fan of the format, but revues of familiar material can work just dandy. The best introduce interesting juxtapositions, inventive arrangements, and deeply invested interpretations. There's no possibility of such simple pleasures here. The first act is wall-to-wall medley, racing through snippets of songs so quickly that neither performer nor audience can do anything but let it all wash over. The second act slows down but adds no insight. We segue from Richard Rodgers to Jonathan Larson to Amanda McBroom—yes, they do "The Rose"!—and it all sounds the same.

The fairest thing to say about the five-person cast—Glenn Seven Allen, Monica L. Patton, Dominique Plaisant, Trisha Rapier, and Kevin Vortmann—is it's not their fault. For what's on stage, the blame must rest with costumer Bernard Grenier, whose outfits are unflattering in color and cut, and creators Christopher Scott, who provides the cardboard direction and choreography, and Ken Lundie, who plays piano decently, sings poorly, and hatched the elevator-music arrangements.

The pair credit Nancy Friday with the evening's concept. If she can substantiate this claim that she invented the love-song revue, she must be due millions. Contemplating her baffling credit was the most fun I had at this tuner, which I hope doesn't spawn a new trend: the jukebox Muzakal.

Presented by Eric Krebs and Sara Lundie
at New World Stages, 340 W. 50th St., NYC.
May 11-Aug. 3. Mon., 8 p.m.; Fri., 7:30 p.m.; Sat., 9 p.m.; Sun., 7 p.m.
(212) 239-6200, (800) 432-7250, or www.telecharge.com.

Casting by Barry Moss and Bob Kale.