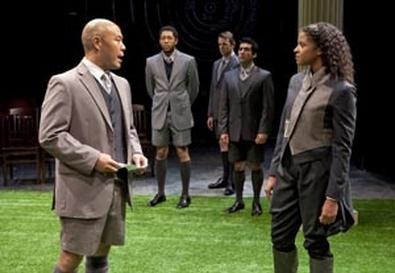 It's surprising that "Love's Labor's Lost" is not done more frequently. It's one of Shakespeare's merrier mischiefs and affords plenty of juicy roles for both young and mature actors. Whenever a Shakespearean comedy is needed on a theater's roster, the choice always seems to be "Much Ado About Nothing," "A Midsummer Night's Dream," "Twelfth Night," or "As You Like It." Yes, these works are more complex and have better name recognition, but "LLL" contains sparkling poetry and many opportunities for comic staging. Karin Coonrod's frothy production of this lesser-known work for the Public Theater's Public Lab series is an entertaining romp through Cupid's grove led by some of Off-Broadway's most talented performers.
For those who passed it by in English Lit, the meringue-light plot centers on the vows of the King of Navarre and three of his courtiers to eschew worldly pleasures, including women, for three years in order to pursue purely scholarly aims. Their castle of learning is assailed by the Princess of France, accompanied by three of her ladies in waiting, on a diplomatic mission. Of course, the royals and their entourages fall in love with their equivalents, and complications ensue as the smitten men attempt to disguise their passions and the women tease them mercilessly.
Coonrod appropriately sets this tale of romance versus academics at what appears to be an all-male college. The playing area of John Conklin's simple set is a green lawn suitable for tennis or croquet, with a gigantic blackboard containing a chalk-drawn map of the solar system for a backdrop. Costume designer Oana Botez Ban has dressed the cast in gray blazers and knee breeches that appear to constitute school uniforms. Coonrod gives the play a breathless pace (it runs just over two hours without an intermission) and ingeniously uses all of the notoriously inhospitable Anspacher space at the Public, including the aisles.
The men are delightfully pompous as they fend off the advances of love and hilariously crestfallen as they lose the battle, surrendering unconditionally to passion, while the women press their advantage with style and ease, knowing all the time that they have the upper hand. Hoon Lee infuses the king with the proper dignity and is unabashedly goofy when the character loses it in pursuing the princess, a cool and witty Renee Elise Goldsberry. But Shakespeare reserves his sharper dialogue for Rosaline and Berowne, main attendants to the princess and the king and, like Beatrice and Benedick of "Much Ado," agile fencers in a war of words. Rebecca Brooksher, a dead ringer for Amy Poehler of "Parks and Recreation," and the handsome Nick Westrate take up the Bard's verbal epees and conduct a jesterly joust with aplomb and abandon. Keith Eric Chappelle, Jorge Chacon, Samira Wiley, and Michelle Beck ably make up the remainder of this romantic octet.
The error Coonrod makes is allowing some of the clowns to play too broadly. Steven Skybell as the pedant Holofernes, Francis Jue as the curate Sir Nathaniel, Reg E. Cathey as the pompous Spaniard Don Adriano de Armado, and Wiley, doubling as Don Adriano's impish page Moth, go way over the top in their buffoonery, pushing the shtick too hard. It's telling that Stephanie DiMaggio's Jaquenetta, a country lass who draws all the comic male characters to her like bees to honey, gets the biggest laughs with the fewest lines. That's because DiMaggio underplays Jaquenetta's sexuality and slowly allows her to delight in her power over the males. Likewise, Mousa Kraish, as the sage fool Costard, and Robert Stanton, as both a Southern constable and the princess's major-domo, wisely downplay the high jinks.
Fortunately, the minority's mugging does not overshadow the more restrained work of the majority, and Coonrod's labors are not lost.
Presented by and at the Public Theater as part of Public Lab, 425 Lafayette St., NYC. Oct. 31–Nov. 6. Tue.–Sun., 7:30 p.m.; Sat. and Sun., 2 p.m. (212) 967-7555 or www.publictheater.org. Casting by Jordan Thaler and Heidi Griffiths.