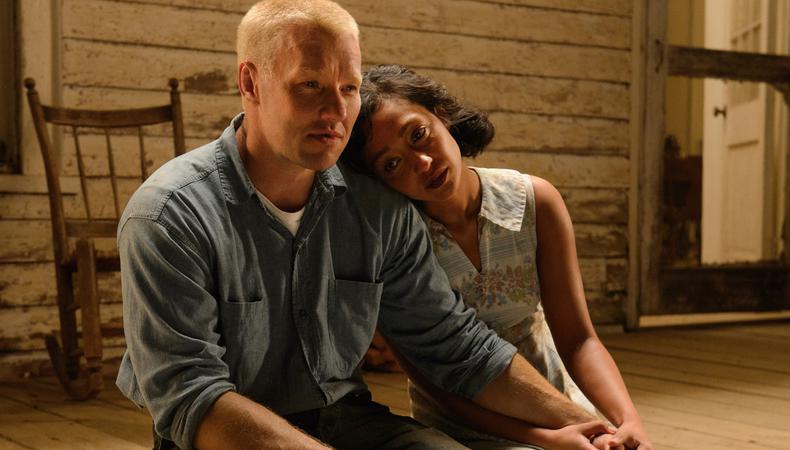 Jeff Nichols rarely does what you think he will. Even the most appealing element of his latest film, "Loving," is in itself a surprise.
Based on the true story of Richard and Mildred Loving (played by Joel Edgerton and Ruth Negga), the buzzy Focus Features film centers on the Virginia-born husband and wife whose 1958 interracial union led to the national legalization of relationships between black and white people.
What could've easily been a melodramatic rehashing of a couple's history-making marriage is instead translated for the present day with a tenderness rarely afforded to stories about civil rights. But as the film's writer-director, Nichols never loses sight of his characters' motivations: a desire to love whom they chose.
The gravity of the couple's decision to be together is initially felt only in stares from strangers watching them touch. But like most newlyweds, the Lovings exist in a vacuum. It isn't until local police storm into their home in the dark of early morning to arrest them that the seriousness of their "crime" weighs heavy.
Nichols says he watched hours of archival footage of the couple to capture the temperament that would eventually shape the overarching tone of the film. "[Mildred] is so elegant and quiet, but also forcefully spoken when she needs to be, that it made a lot of sense to make a movie that felt like them," he says of the reluctant activists. When asked, with flashlights shining in their faces, what they are doing in bed together, Mildred calmly responds, "I'm his wife," to which the sheriff (Marton Csokas) retorts, looking at their marriage license, "That's no good here."
After their detainment, the Lovings pleaded guilty and were given an ultimatum: leave Virginia for 25 years or spend a year in prison. They resettled in Washington, D.C., and had three children before Mildred enlisted the help of then–Attorney General Robert F. Kennedy. Her letter drew the attention of Bernie Cohen (Nick Kroll), an ACLU lawyer who would argue their case in front of the highest court in the country and win, effectively ending racially biased marriage discrimination in the U.S.
Because the Lovings kept quiet throughout the high-profile case, Negga and Edgerton had to breathe life into imagined moments behind closed doors. There wasn't much footage of Richard speaking, so it fell to Edgerton, who proved his knack for accent work in Nichols' "Midnight Special," to channel the character's voice.
READ: "11 Ways to Meet Filmmakers Across the U.S."
"[Richard] speaks in a clipped manner," the director says. "Then it's the way he holds his head in front of the rest of the body, how self-conscious he seemed in front of the camera. He'd laugh and quickly cover his lips over his [tobacco-stained] teeth. He's a bricklayer, so we sent Joel to get lessons in masonry; they're hunched over all day long, and they turn their bodies into these assembly lines for laying brick. Joel... you just give him all this stuff and he processes it. What I gave him, in terms of coherent character on the page, he added specificity."
Additionally, spending time with Peggy Loving, the couple's daughter, gave Nichols confidence. "She is much like her father. She doesn't talk a lot, she plays it pretty close to the vest," he explains. "But just having her say, 'Yup. That looks OK,' set me at ease."
Sending her the script for the first time and visiting her at home afterward was emotional for Nichols. "She's sitting there in a La-Z-Boy in her den flipping through pages," he recalls. "She's not smiling, she's not talking, she's just looking at it. And I thought, Oh, God. Does she hate it? She looks up at me and she's got tears in her eyes and she says, 'They're all gone.' Both her older brothers, both her parents. This isn't a movie [to her]. It reaffirmed the fact that these characters are people who are very important to this woman, so we'd better do this as well as we can. That's what she afforded us: focus."
Looking to carry an important story to the silver screen? Check out our film audition listings!