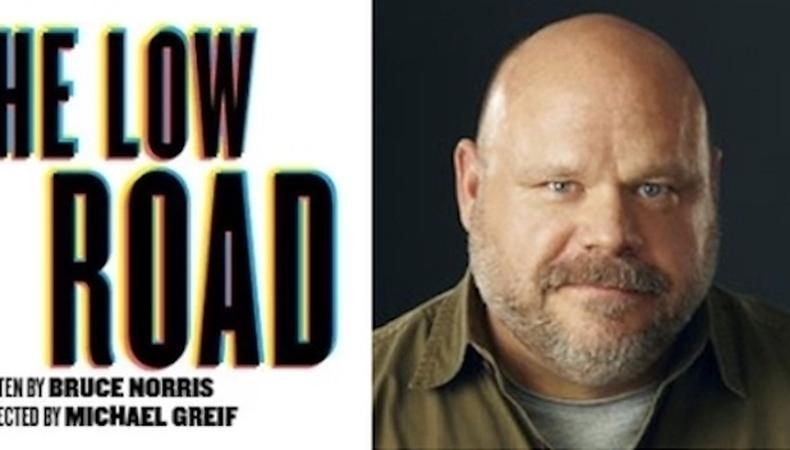 Kevin Chamberlain saw at least one reason he simply couldn't refuse the prospect of starring in Tony-winning playwright Bruce Norris' historical dramedy "The Low Road" at The Public Theater: "I was completely scared by it." The three-time Tony Award nominee, who takes on multiple roles with variant accents throughout the play's two scathing acts, spoke with Backstage about working with "Dear Evan Hansen" director Michael Greif, what he learned about auditioning as an accompanist, and the "circle of life" moment he recently experienced outside a Midtown deli.
Tell us about 'The Low Road.'
It's sort of like "Candide" or "Tom Jones" in that it follows an idealistic youth through an epic journey. He has one set of beliefs and he runs into every other belief that counters that. It's telling the story of capitalism from its beginning roots with Adam Smith, up until the result of it today. No one is safe in this, not even the audience. [It asks]: Is theater really the place to make political change? It poses a lot of questions and has no easy answers. It's a very angry play, it's a very political play, and it's also hysterically funny. It skewers everyone.
What's it been like to collaborate with director Michael Greif?
It's the best thing. I have gotten to the point now where I am working with my contemporaries. For the longest time, [my directors] have been like grandfathers, professors. They were always older than me. Now that I've aged, Michael is a contemporary of mine. I've known him since we were both in our twenties. We have a history and a mutual respect; you don't have to prove yourself anymore. Your opinion is respected in the room. He's incredibly collaborative but he also knows exactly what he wants.
Did you ever have a survival job?
I was Santa Claus at Macy's. I also delivered sandwiches for a restaurant called Between the Bread that is still operating. I just played Carnegie Hall in October and behind Carnegie Hall is Between the Bread. I was like, "Wow, I started here in 1985 and now I'm playing Carnegie Hall." Circle of life!
Do you remember your first headshot?
Yes. It was by Nick Granito. I still remember his studio in Chelsea. Oh yeah, I remember it very well. I think I paid, like, 350 bucks. Now you can get a friend to take it for you on their iPhone.
You were previously an audition accompanist; has that informed your auditioning?
I learned a lot about auditioning from that. I learned how people sabotage their auditions. Being on the other side of the table and watching actors or how they treat a piano player, it tells so much about the actor: how prepared they are with their music. It teaches you very quickly when you see it from the other side.
How do you generally prepare for auditions?
I like to get the words inside my brain so much that I can rattle them off. You know how in elementary school you stood and said the Pledge of Allegiance? That's how I want my words, so I can spew them out like that. If I don't have a lot of time, I work on being specific. So many actors are general, general, general. Most of the time, [the team] knows you got the sides the night before. It's not about memorization. You can be reading off the page but if you're specific and have unique choices that are so original and authentic then you will immediately go to the head of the class. There are so many general actors out there that just read the words off the page. Do something memorable. And find the joy in it! So many actors are joyless and trying to be naturalistic and that's not exciting to watch. Do something a little wacky that makes them remember you.
Looking for a stage gig? Check out Backstage's theater audition listings!