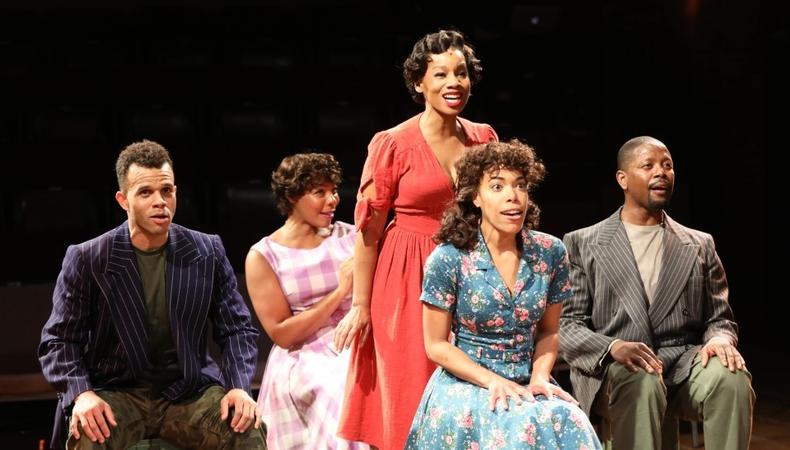 With its April 3 nominations, the Lucille Lortel Awards—honoring the year's best Off-Broadway—have officially kicked off theater awards season. Announced by Rebecca Naomi Jones and Gideon Glick, current stars of Broadway's "Oklahoma!" and "To Kill a Mockingbird," respectively, the recognized entities included both plays and musicals, as well as a few big names.
Leading the pack with six nominations was Classic Stage Company's "Carmen Jones," which picked up nods for Outstanding Revival as well as recognition in three of the four performance categories. Also notching six nominations, Ars Nova's "Rags Parkland Sings the Songs of the Future" will compete for Outstanding Musical as well as in both leading actor in a musical categories.
A couple productions currently making waves on Broadway also generated nods for their previous runs off the Main Stem, including viral sensation "Be More Chill," nominated for Outstanding Musical, and Heidi Schreck's devastatingly personal call to arms "What the Constitution Means to Me," competing in Outstanding Play.
The year's Outstanding Solo Show category is particularly packed—and starry—with Mike Birbiglia's "The New One," Phoebe Waller-Bridge's "Fleabag," and the Carey Mulligan vehicle "Girls & Boys" all vying for Lortel gold.
READ: Carey Mulligan on Acting Fearlessly
On the directing front, the Lortels was more inclusively female than their typically male-leaning Tonys counterpart, and included nods for Lee Sunday Evans' "Dance Nation," Jo Bonney for "Mlima's Tale," and Lileana Blain-Cruz's "Marys Seacole." They're joined by Broadway veterans Joel Grey for his Yiddish take on "Fiddler on the Roof" and John Doyle, also recognized for "Carmen Jones."
The 34th annual ceremony will be held May 5 at NYU Skirball Center, hosted by Emmy winner (and "Kinky Boots" star) Wayne Brady. Of the evening's special awards, Bernie Telsey's casting giant Telsey + Company will be honored with Outstanding Body of Work, Irish Repertory Theatre's "On Beckett" will receive the prize for Outstanding Alternatiive Theatrical Experience, and María Irene Fornés will be the year's Playwrights' Sidewalk Inductee.
Check out the full list of nominees right here.