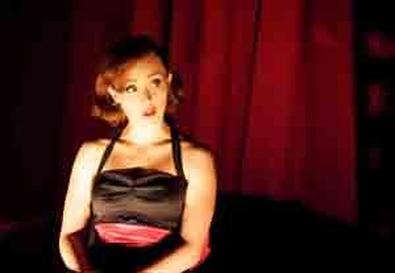 Neither a typical monologue nor a freeform performance piece, Megan Riordan's one-woman Las Vegas extravaganza, "Luck," goes all in by drawing on aspects of both. But does her earnest, frenzied gamble pay off? Though charmingly close to breaking even, she ultimately stacks the theatrical odds too high against herself.
Aided by co-writers Dodd Loomis and Shawn Sturnick, Riordan channels many proud Vegas traditions into "Luck," a fitting mode for reflecting upon her life as a gambler's daughter. Audience members are invited to roll a die, flip a coin, or draw a card to determine which seminar (read: tirade) about gambling culture she'll launch into next. This sounds like more fun than it is, as the irrepressible Riordan often flails anxiously in transition from one subject to the next. There is an air of desperation about the whole business, and since she has a limited amount of time to complete most segments, the only closure we get to her absorbing anecdotes of card sharks, family, and addiction is an occasional interrupting ding. Some sections, like a mock game show, highlight the relaxed, lounge-style staging by Loomis, but an overall haphazardness thwarts any sort of cohesive experience.
Riordan, though, proves a quite formidable performer in the more tightly scripted portions. Her account of how she learned during a teenage make-out session that her father was a gambler effectively swerves from dumb humor to heartfelt sincerity. This is the sort of quick, decisive redirection from one chaotic part of life to another that's missing from the play's larger canvas. The best moments—night-vision video confessions à la "The Blair Witch Project," or any time that bite and sorrow are equally present in Riordan—elevate this otherwise hectic piece to a solid bet.
Presented by Juicy MoMo Productions and Making Strange Theater Company at 59E59 Theaters, 59 E. 59th St
.,
NYC. Sept. 22
–
Oct. 11. Tue
.,
7:30 p.m
.;
Wed
.–
Fri
.,
8:30 p.m
.;
Sat
.,
6:30 and 9 p.m
.;
Sun
.,
3:30 and 7:30 p.m
. (
212
)
279-4200 or www.ticketcentral.com
.