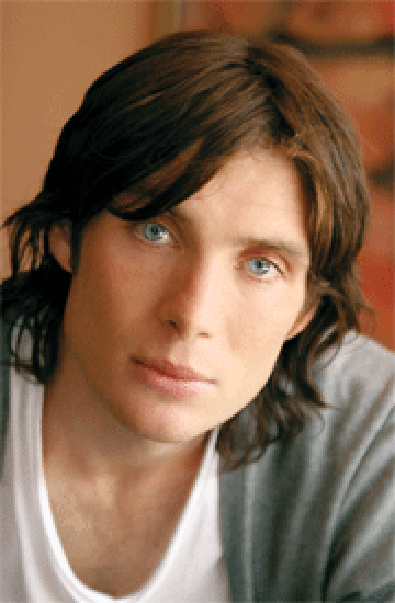 Chaos. Blackness. Then a pair of inconceivably blue eyes burst open, filling the screen. This is how most audiences were first introduced to Cillian Murphy three and a half years ago, when the Irish actor erupted onto the scene in the post-apocalyptic sleeper hit 28 Days Later. As Jim, a bike courier who awakens from a coma after London has been wiped out by a deadly infection, the largely unknown 24-year-old found himself as the lead in Danny Boyle's poetically terrifying film. As the audience surrogate, Murphy's face telegraphed all the confusion, innocence, and wonder we would expect of a hero-in-the-making who is realizing he might very well be the last man on earth.
After the success of 28 Days Later, a career in Hollywood films was inevitable. It's not just that Murphy looks as though his face were sculpted from marble, topped off by those aforementioned stunning eyes. As he showed in 28 Days Later and subsequent films such as Girl With a Pearl Earring and Intermission, he was a chameleonic performer, a character actor trapped in a leading man's bone structure. In 2005 he found himself starring in two blockbuster hits in which he played characters that couldn't be further from the well-intentioned Jim. As Dr. Jonathan Crane, aka Scarecrow, Murphy's silky smooth calmness was put to villainous use in Batman Begins. He followed that with a turn as Jackson Rippner, a mysterious stranger who traps hotel manager Lisa (Rachel McAdams) into an assassination plot in Wes Craven's Red Eye. While both films were unabashedly popcorn entertainment, each transcended its genre with stellar casting and sharp direction.
After these back-to-back successes, it seemed there was only one logical step for the newly minted star. So Murphy shaved his legs, plucked his eyebrows, and gamely jumped into the role of Patrick "Kitten" Braden, the transvestite orphan whose adventures with cabaret singing, prostitution, and the Irish Republican Army don't even begin to sum up the strange and delightful world of Neil Jordan's Breakfast on Pluto (opening in limited release Nov. 18). Written by Jordan and Patrick McCabe, on whose 1998 novel the film is based, Pluto is a loopy journey featuring Murphy in a bravura performance as the needy heroine who spends her life looking for love. It's a role Murphy hoped to play since he first auditioned for it four years ago. Jordan couldn't get the film financed at the time, but he never forgot Murphy--largely because the actor wouldn't let him. "I did a test with Cillian and several young Irish actors to see: Was the role even playable?" says Jordan. "Cillian was not well-known at all but gave a blistering performance. Problem was, after that he would never let it go. Every time we met, he'd ask, 'When do we start shooting?'"
Murphy got his wish in 2004, when Jordan got the money and jumped right into a 10-week shoot. It was sudden, but Murphy took it in stride.
Early Stages
In person Murphy speaks softly, his voice heavy with his native accent--one that has rarely been captured on film, as he frequently adopts English or American accents for roles. He speaks in simple, sparse terms of how he came to acting.
Born and raised in Cork, Ireland, Murphy grew up on a diet of American TV and was interested in movies and music. At age 20 he was playing in a band, and he saw a play at the Corcadorca Theatre Company in his hometown. "I went up and knocked on the door of the theatre and said, 'Listen, if you have any parts in any plays coming up, let me know,'" he recalls. "And the guy said, 'There's this play called Disco Pigs. Come in for an audition.' I went in and got the part, and that was it, really."
He may make landing the job sound easy, but anyone who saw the 2001 film adaptation of Disco Pigs can attest it was more than luck that got Murphy cast. As the violent and unpredictable Pig, pathologically devoted to his lifelong friend Runt, Murphy is a force of nature we can't take our eyes off of. Still, he admits that at times he felt out of his league. "I was going to go back to playing in a band; I was just acting as a laugh," he says. "But it didn't transpire like that. I don't think I realized it was a career until recently. But I don't enjoy anything as much as I enjoy acting. I never got a kick out of anything as much as I get out of acting when it's going well. You build up a real hunger for it."
For the next three years he worked in theatre, learning on the job while performing in such classics as The Seagull and Much Ado About Nothing. "I think that's the best place to learn as actor," he observes. "I consider it my training ground. I was very lucky to work with a lot of great directors and great plays. I went from smaller parts onstage to bigger parts onstage, then smaller parts in movies to bigger parts in movies. It was a very organic way to do it."
He landed his first agent, Richard Cook at The Lisa Richards Agency, when Cook saw him onstage in Disco Pigs; he remains with the agent to this day. Murphy has a Los Angeles agent, Darren Statt at United Talent Agency, whom he says "saw an audition tape I did for a movie and took me on based on that--which is actually quite unusual." He also has a London representative, Lou Coulson with The Lou Coulson Agency. As Murphy began landing various film and television roles, he had to adjust to auditioning regularly. "It took me awhile to realize auditioning is a different skill than acting," he says. "They're entirely unrelated skills. Just because you're a good actor, it doesn't mean you'll be good in a room with a director. I had to learn to audition."
It was the film version of Disco Pigs that caught Boyle's eye when he was casting for 28 Days Later. Surprisingly, Murphy's newcomer status worked in his favor. "We thought that it was more appropriate for the film that it should not be a star vehicle," says Boyle. "Rather, it should be a community of people we cast as equals." Boyle also felt Murphy displayed an innocent quality that would endear Jim to the audience. "The feeling of a child who is forced to become a man and, by the end of the film, be almost primal, I thought Cillian had that," Boyle reasons. Murphy rewarded his director's trust with a searing performance, taking Jim from wide-eyed youth to fierce protector in the space of 108 minutes. "I've been lucky to have support from great people like Danny," Murphy raves. "He let me carry 28 Days Later. But, ultimately, if you don't produce in the work, you won't get hired. You're only as good as your last job."
Armed with this knowledge, Murphy was selective about his projects after the success of 28 Days Later. "I'm aware of the system and how certain doors open when a film does well," he says. "A lot more people started taking meetings with me. And people began to pronounce my name correctly, that's always been a good yardstick for me." Although most people probably know by now, the correct pronunciation is "kill-ee-un."
Being Bad
Murphy claims he would have been perfectly happy to continue doing theatre the rest of his life; indeed, when he speaks of performing onstage, it's with a low-key but palpable passion. But he is also practical. "If there's an opportunity to do a good film with a good director, you've got to take it," he muses. "You'd be foolish not to. And if a bit of momentum builds up, you have to stick with it."
He has collaborated with some of the most prestigious directors working today, from Anthony Minghella in Cold Mountain to Ken Loach in the upcoming The Wind That Shakes the Barley. Yet he insists there's no deliberate strategy to his career. "I want to do different things and keep myself interested and keep improving," he remarks. "Wherever that takes me, I don't know. There's no plan--it's all out of your control anyway. The only thing I've ever insisted upon is diversity. Every role you take, you have to be afraid that you can't do it. Otherwise, there's no point in doing it." The primary factors that draw him to projects are the script and the director. "It's got to be a good script to start with," he says. "If it's a bad director, they can make the script mediocre pretty fast. But the combination of a good director and good script--that's the ultimate. And I can't believe how lucky I've been to have both."
When it came to auditioning for Batman Begins, Murphy didn't look at it as a blockbuster franchise that would raise his salary quote--he saw it as an opportunity to play a well-crafted character and work with director Christopher Nolan. "I would do any movie with Chris Nolan," he says. "It was a good script and a great part. I had so much fun." Nolan originally brought Murphy in to read for the role of Bruce Wayne/Batman. "I saw Cillian in 28 Days Later and was struck by the extraordinary intensity of his performance," says Nolan. "We tested him for Batman, and his presence just leapt off the screen. Everyone who saw it got very excited about the idea of casting him as Scarecrow. He has a fantastic ability to project interior passions with a power that can be by turns either chilling or seductive." As Scarecrow, Murphy proved a hero is only as interesting as his nemesis, and his cool confidence was enthralling--just listen to the way he draws out "Batman" as two words in a cruel taunt.
He brought that same dangerous appeal to Red Eye, a film in which his Rippner is more or less played as the romantic leading man--until he reveals he's a stone-cold killer. "I was very careful not to come at that character as the bad guy," he explains. "He's been chosen for his job because he has access to this charisma and approachability. For him to be revealed too quickly would be pointless." Murphy also enjoyed being the heavy, a nice respite from saving the world in 28 Days Later. "It's fun to be the bad guy," he notes. "I thought it was a great role. Just because he turned out to be bad, it didn't represent any more or less fun than playing [Jim]. It's still a great range there to convey."
Murphy also wants to make it clear that playing back-to-back villains was a fluke of distribution. "I did get very frustrated with the question, 'Why are you playing the bad guys this summer?'" he says. "I guess it's an easy in. I've made 10 feature films and played two bad guys. I think anyone who's seen the rest of my work will realize that's not what I specialize in at all."
Men Are From Pluto
If Murphy had any concerns about being pigeonholed, he certainly confounded expectations as Kitten in Breakfast on Pluto. "That role was a gift," he insists. "To work with Neil, who's a living legend--he's amazing." To prepare for the role, Murphy reread the book and talked extensively with McCabe, who was frequently on-set. "The book is a masterpiece but not always conducive to the screen, and the film has to be cinematic," Murphy notes. "I used a lot of the episodes in the book that aren't in the movie as my own research." Aware that the role was "completely transformative," he also spent a lot of time getting down Kitten's gestures and movements. "It's a long process," he says. "The physical side wasn't too hard; that's just grooming, really. The clothes and hair and eyebrows--anybody can do that. It was getting the voice and the walk and the physicality." Murphy went so far as to hit London nightclubs in drag. "It's important to do that. How much of it you use or not in the end is irrelevant," he says. "It's just important to have a reference point."
While the sight of Murphy in skirts and wigs is frequently funny, his sensitive and sweet portrayal elevates the film and engages the audience in Kitten's struggles. He is boosted by a top-notch supporting cast that includes Stephen Rea as a sad-eyed suitor, his Batman co-star Liam Neeson as a priest, and his 28 Days Later co-star Brendan Gleeson as a drunken theme-park character. It's a giddy, charming work Murphy aptly describes as "an unexpected fairy-tale disco fantasy."
Murphy says he can talk about Pluto "until the cows come home," a bold statement considering that he confesses to an aversion to interviews. "I don't particularly like interviews or having my picture taken," he says, somewhat apologetically. "I don't mind it as a character, just not as myself. I don't like the perceived celebrity of it. I'm not about to become a personality or go on talk shows to entertain people as me, as Cillian." He points out he has never done a talk show in his life--mention Regis and Kelly and he pauses for a moment before replying, "I don't know who those people are."
Of course, with his profile on the rise, Murphy admits he has given serious thought to how to maintain a healthy career without having his private life exposed to the world. He even discussed the topic with Batman co-star Christian Bale, whom he praises as "the best Batman" and a dedicated actor. "I actually asked his advice because you don't see him in the papers," says Murphy. "He pretty much told me, 'Don't behave like a celebrity, and you won't get treated like one.' I guess if you don't go out to a lot of parties and fall down, people don't take photographs of you."
Accent on Talent
Murphy recently wrapped Sunshine, a sci-fi adventure that reunites him with director Boyle in which he is once again saving the world-this time from a dying sun. Surprisingly--considering that Boyle gave the actor his biggest break--he still had to audition for the role. "I kind of wanted to," he says with a shrug. "That's what we do; we're actors. I don't understand this thing about actors who won't read for parts. I wanted to show him I could do it. I'm playing an American, and the movies hadn't come out yet where I'm American, so I think he wanted to see me do it." Murphy notes that early in his career he encountered resistance when auditioning for American roles. "They would hear me speak and say, 'Jesus, there's no way,'" he recalls. "But once you do it well, people accept it. And after a while it becomes second nature. That's why I think actors should never be limited by their background. This is what we do: We dress up and put on voices. So people should never be afraid to cast someone because of their accent."
Murphy isn't sure what he'll do next. He mentions taking a break, having worked steadily for the last few years. He'd also love to get back to theatre and tackle some of the great roles. Point out that a website erroneously reported that he has played Hamlet and he seems wistful. "No, I wish. I'd love to," he says. "I hope they said I did a good job." He also acknowledges the differences between film and the stage. "Obviously, it's different vocally. If you're playing to an auditorium of 1,100 people, you've got to magnify the performance," he says. "For me, film acting is when you can see what the actor's thinking. Theatre acting, you've got to get up to the gods and let them know what's going on." Murphy doesn't mind returning to small theatres-he might even prefer it. "Disco Pigs was always in tiny little sweatboxes," he notes. "As the play got more popular and moved to bigger houses, I think it lost some of its allure. I remember doing Disco Pigs in its first incarnation and turning and getting sweat all over the front row. It was so visceral and dirty and sweaty. Then, when you start playing to bigger auditoriums, it's not as sexy."
If he has one driving goal in his film career, it's to participate in a project that leaves a lasting impression. "Ultimately what I'd like to do is leave behind a movie that's a piece of art," he says. "One movie out of however many I make that influences or has an impact or someone holds up in the future as a piece of art. That's the ultimate goal."
Connection Code RUI-966