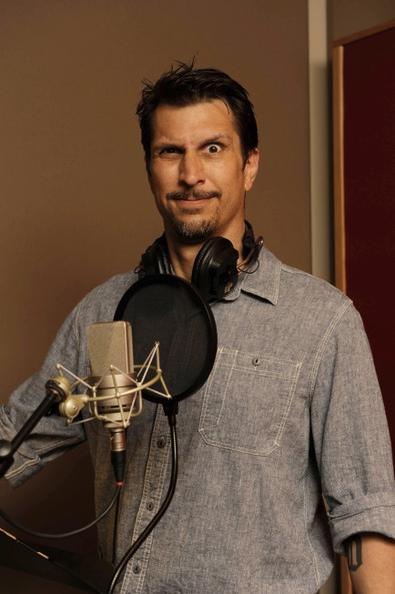 For Atlanta puppeteer and improv actor Lucky Yates, luck has only been part of the reason for his success. After studying acting at Wayne State University, the Detroit native briefly lived in New York before moving to Atlanta at the suggestion of Atlanta actor and college roommate Bart Hansard. Wanting to be an actor since he was in first grade, Yates got a job at the box office of the Center for Puppetry Arts in 1997. After seeing his first puppetry show there, he had an epiphany, of sorts.
"It was the hokiest light from heaven where I was like, 'Oh, shit! Puppetry. I've always loved puppets. I bet I can do it better than that guy up there!,'" recalls Yates. "When the next round of auditions came up, I auditioned and they said, 'Get out of the box office. Let's get you into some shows.'"
From there, Yates worked on a Georgia Public Broadcasting show called "Salsa," where he learned video puppetry while teaching viewers Spanish vocabulary with fairy tale characters. With his foot (or hand) in the door of Atlanta acting, Yates was then introduced to the improv antics of Dad's Garage, where he has been creating hilarity ever since.
"Marc Cram, one of the founders of Dad's, worked in the education department at the Center," says Yates. "They had just built their downstairs theater, but they didn't have any programming in it for the summer. He and I and two others, Beth Dalton and Eric Novak, said, 'Let's write a fun show and we'll put it up.' We did a sci-fi serial where we'd write a new episode each week. It was a huge success and was really funny.
"Each episode was only 20-30 minutes long, so we hired Matt Stanton from Dad's Garage to come over and put together a puppet improv show to fill out the hour," he continues. "They put me in it just because I was always screwing around and going off script. I started improvising with them through puppetry and at the end of the show they asked me to do shows with them at Dad's. I've stayed because it's exactly what I was looking for; a scrappy little theater where we write our own stuff."
During his time at Dad's Garage, Yates hosted "The Lucky Yates Show" from 2000-2004, created the "Uncle Grampa's Hoo-Dilly Storytime" kids show in 2000 (not to be confused with Cartoon Network's "Uncle Grandpa"), portrayed the Cyclops in Dad's production of Trey Parker's dark comedy "Cannibal! The Musical," and offended a few families with the adult-oriented puppetry of "Clash Titan Clash!". Outside the Garage, Yates portrayed numerous characters on Alton Brown's "Good Eats" (most notably the Dungeon Master), provided commentary at Atlanta Rollergirls bouts and earned his first SAG points working on "The Adventures of Elmo in Grouchland."
With some of the animators from 70/30 Productions (now Floyd County Productions) improvising at Dad's when not drawing Adult Swim's "Sealab 2021" and "Frisky Dingo," Yates entered the world of animated voice acting when he became the voice of the head Xtacle on "Frisky Dingo."
"When Adam [Reed] was done with 'Frisky Dingo,' he went on a vision quest and came up with 'Archer'," says Yates. "In the beginning, Doctor Krieger didn't talk because he was this weird quiet guy. When they finally were going to give him a voice, they were recording with Amber [Nash, fellow Dad's improviser] and she was like, 'Lucky looks like he could do that voice.' I went in and recorded it and the network was like, 'We love him.' Then all of a sudden it was a hit."
Currently recording the seventh season of "Archer," which will see the show moving from FX to FXX, Yates can still be seen in Dad's improv shows and at Labor Day weekend's Dragon Con, where he will take part in Dad's Garage Radio's live podcasting panels and likely take part in the Late Night Puppet Slam. He's also looking forward to bringing back his kids' show when Dad's Garage moves into its new home on New Year's Eve.
"The thing I love about Dad's is it's live theater, but it's doing improv, which I did all the time in scripted plays in college and was always getting in trouble," he says. "They were like, 'You can't go off script all the time.' I was like, 'Why not? It's fun! We're up there, let's just start talking.'"
Inspired by this post? Check out our Atlanta audition listings!