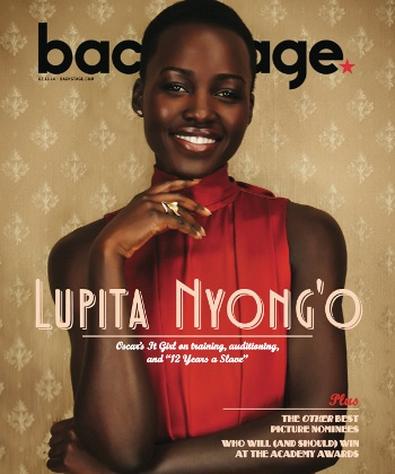 Lupita Nyong'o graces our cover this week, and she chats with Backstage about her Oscar-nominated performance in "12 Years A Slave" and her time at Yale School of Drama. Check out a sneak peek from the feature below!
Lupita Nyong'o on Failing Up
"Those three years are not to be discredited," Lupita Nyong'o says of her training at Yale School of Drama. After her acceptance there confirmed for her that she was on the right path, she focused on the job at hand. And though her "acting for the camera" classes laid a solid foundation for her work as Patsey in "12 Years a Slave," it was what happened during class that provided the best learning experience.
"I thought I was going to school to be other people, but really, what I learned was to be myself—accepting myself, my strengths and weaknesses," she says. When every day brings the specter of failure, those enrolled must find ways to reconcile that with their abilities.
As she says, "I remember days where I'd have classmates breaking down, sobbing, because they just sucked in front of the class, and then in the evening going to see them in a production and being blown away by the magnitude of their talent. That made me more forgiving of myself, and also more daring. Because you fail, and then what? Life goes on. It's only when you risk failure that you discover things. When you play it safe, you're not expressing the utmost of your human experience." And though for her, acting school was the right choice, Nyong'o acknowledges that isn't true for everyone. "I don't think it's the only way to be a good actor, but it's one," she says. "And it's a powerful way."