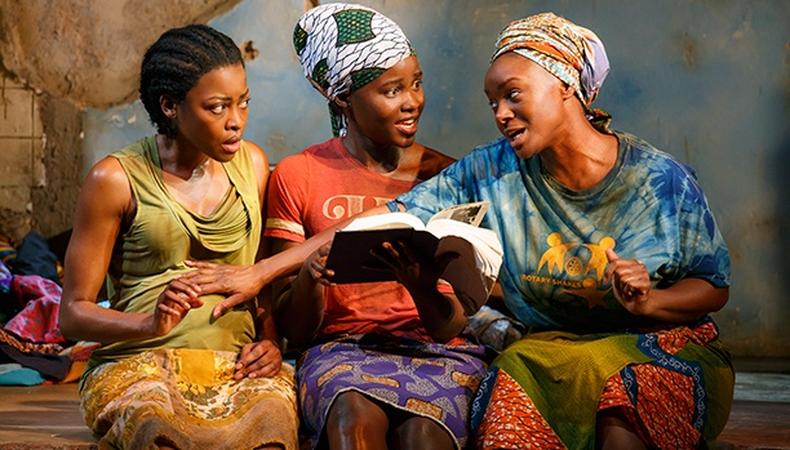 Just after Nikki M. James and Andrew Rannells announced this year's Tony nominations, Lena Dunham and Jenni Konner's newsletter, Lenny Letter, published a new essay by Academy Award winner (and first-time Tony nominee) Lupita Nyong'o. Much like Jennifer Lawrence before her, who used the space to discuss her place in Hollywood and the world of acting, the "Eclipsed" star reflects on why she chooses the roles she does.
The essay, titled "Why I Chose a 'Small Play' over the Big Screen," begins by reflecting on the award-winning "Eclipsed" from director Liesl Tommy and writer Danai Gurira, which Nyong'o describes as "a powerhouse of a story about the lives of five extraordinary women trapped by a rebel commander during the Liberian civil war." Despite the fertile ground for ripe storytelling, the actor says she is still asked why she—"such a big star"—chose to do "such a small play?"
"I mean, I'm an actress; why wouldn't I want to be in an incredible, gorgeous, meaty piece about the complicated choices of women during wartime?" she poses.
Nyong'o continues, saying that given her profession and her craft, "feeling connected to a fully realized, complex character" is what she looks for. "The size of the role, and the budget, and the perceived 'buzz' around the project are much less important to me...I decided early on that if I don't feel connected to, excited by, and challenged by the character, the part probably isn't for me." She also cites Tilda Swinton, Cate Blanchett, and Viola Davis as inspirations due to their career choices. "They are all fearless actresses who approach every role without ego or vanity."
When pondering other feature film roles she's taken since winning an Oscar for "12 Years a Slave," Nyong'o defends her supporting voice work in "Star Wars: The Force Awakens" and "The Jungle Book."
"I love the idea of people of color participating in mythical, magical stories, whether that's as hero, villain, sage, or sorceress. Or all of the above!" she writes. "I think sometimes a singular catharsis can be found in genre storytelling — as I found when playing a thousand-year-old woman (Maz Kanata in "Star Wars: The Force Awakens") and a wolf mother (Raksha in "The Jungle Book"). I'm able to be more engaged in roles such as those than I would be in playing 'the wife' when she is written with no motivation or singularity."
Despite the enjoyment found in juicy supporting characters, the Yale-trained actor also clarifies that she's not opposed to lead roles, either. "I don't want to be overly cautious; I want to take risks, to try my hand at stories that thrill and terrify me.... Partly because of the conversation the industry has been having about women and racial and cultural representation, I have recently decided to participate more fully in the development of roles I choose in the future."
Subscribe to Lenny Letter here to read Nyongo'o's letter in full.
Want more acting tips? Watch below:
Inspired by this post? Check out our audition listings!