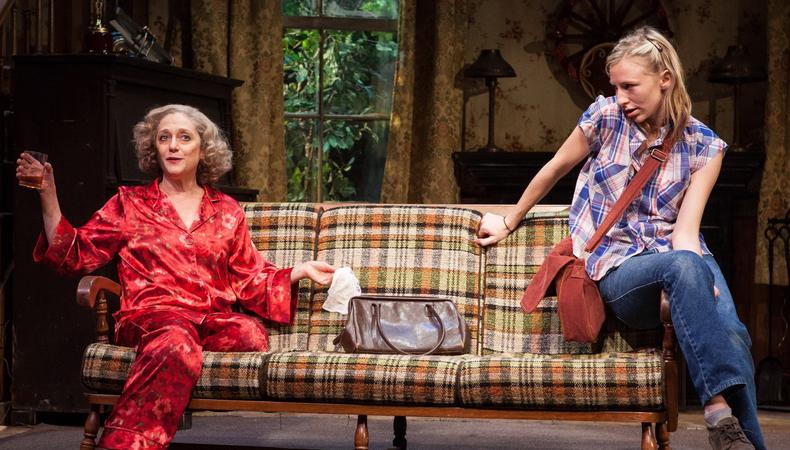 Fasten your seat belts: Craig Lucas has written a divertissement. "The Lying Lesson" takes place in an empty house in a remote seaside town in Maine and begins in a booming, crackling thunderstorm—and that's just for starters. This Atlantic Theater Company two-hander about film legend Bette Davis and a local young woman who swears she has never heard of her may not be particularly deep, but it is mostly great fun, particularly in the able hands of actors Carol Kane and Mickey Sumner.
Lucas' witty, biting script is pure fiction ("This play is a lie," he writes in the stage directions), though the details about Davis' life have been taken from the public record. The star arrives incognito during that sinister deluge to stay in a house she is planning to buy. A crash of thunder takes the power out, and then an intruder shimmies open the kitchen window and climbs in. She says that she is Minnie Bodine and does menial work for the current owner. Once Davis realizes that Minnie has no clue as to who she is, she takes a sudden liking to her and confides that she is here because of a man, Francis Young, whom she dated in this town when she was 13 and visiting for the summer. They have maintained a correspondence ever since, and Davis, whose career is waning, wants to see what can be rekindled. Minnie claims to be friends with Francis, but events reawaken Davis' suspicions of her, and the rest of the play is a cat-and-mouse game of who is lying about what. Let's just say that a large knife and a loaded pistol have prominent appearances.
Kane is terrific as Davis, expertly delivering the icon's signature speech patterns, clipped diction, and jerky body language while hurling cutting bons mots about Hollywood with lethal timing. What makes the performance work, though, is its humanity; not for a moment does Kane allow her Davis to descend into caricature. Sumner sports a flawless lower-class Maine accent and keeps us guessing about the surly, self-castigating Minnie, whose darting glances and alternately friendly and distant behavior indicate a hidden agenda. Under director Pam MacKinnon's eagle eye, the women make a great team.
Neil Patel's living room–kitchen set has just the right well-worn, half-empty air, and Ilona Somogyi's costumes emphasize class distinctions (loved Davis' red-and-gold silk pajamas). Russell H. Champa's lights and Broken Chord's sound combine to grand effect on that storm.
The two-hour, two-act script could lose some fat, as both acts have sections that bog down, and the ending, though perfectly plausible, doesn't quite satisfy enough. Even so, "The Lying Lesson" is a nimble, twisty, and very funny entertainment.
Presented by Atlantic Theater Company at the Linda Gross Theater, 336 W. 20th St., NYC. March 13–31. (212) 279-4200, www.ticketcentral.com, or www.atlantictheater.org. Casting by Telsey + Company/Will Cantler.
Critic's Score: B+