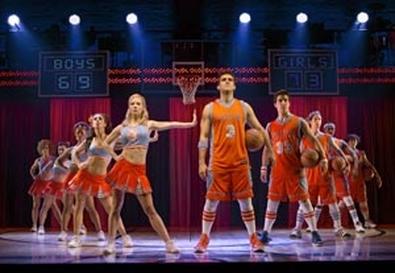 When I heard that "Lysistrata Jones," the nifty little musical presented Off-Broadway by Transport Group earlier this year, was making the leap to the Main Stem, I wasn't sure if its intimate charms would survive in a larger house. This cute update of Aristophanes' classic comedy worked quite well at the gym at Judson Memorial Church, where set designer Allen Moyer and director-choreographer Dan Knechtges transformed the space into a basketball court and a variety of settings at a small college, where the titular heroine wages a war against indifference.
Well, my fears were unfounded. Apart from a few new jokes and some heightened production values, "Lysistrata Jones" remains unchanged and is as sharp and sassy as ever. The premise sounds paper-thin: A modern-day, cheerleading Lysistrata takes a cue from her ancient Greek predecessor and persuades her fellow pompommers to withhold their sexual favors from the basketball team until the apathetic athletes actually win a game. It sounds as if it could barely support a 10-minute comedy skit. But book writer Douglas Carter Beane, who worked similar wonders with the stage version of the cult junk film "Xanadu," transforms this slender idea into a fully fleshed-out, stereotype-shattering comedy. Beane's dialogue explodes with powerful puns and quips, while Lewis Flinn's lyrics are equally playful and his music spicily combines traditional show sounds with such influences as hip-hop and bubble-gum pop.
Lysistrata at first appears to be a lightweight bimbo, but she gradually emerges as a bold advocate for self-determination and committing to a cause no matter how trivial it may seem. All the other characters similarly metamorphose before our eyes from their two-dimensional outlines into three-dimensional human beings. The empty-headed jock is really a poetry lover, the geeky blogger is a fiery dancer, the brainy librarian is a passionate lover, and two of the ballplayers accept their attraction for each other.
Knechtges, who also zanily directed "Xanadu," adapts his inventive staging to a larger arena without sacrificing its quirky immediacy. With the aid of Moyer's fluid set and Michael Gottlieb's flashy lighting, the Walter Kerr becomes a madhouse theme-park ride combining pop culture and Greek mythology. Kudos also to David C. Woolard and Thomas Charles LeGalley's comical costumes.
The talented young cast is virtually unchanged from Off-Broadway; there is only one replacement in a supporting role. Patti Murin has deepened her portrayal of the seemingly vacuous Lysistrata, investing the role with intelligence, wit, and courage, all of which only gradually emerges after Murin slays the audience with dead-on delivery of the character's ditsier side. She also displays a powerful set of pipes, which she gets to put to full use in many numbers, particularly the stirring Act 1 finale. Josh Segarra goes way beyond the hunk cliché as basketball captain Mick, credibly displaying his hidden sensitivities. Lindsay Nicole Chambers nails the intense Robin, the radical feminist library assistant, and Jason Tam is a wild surprise as the nerdy Xander, who breaks out of his laptop comfort zone. Liz Mikel is a gigantic presence as the goddess narrator Hetaira, and LaQuet Sharnell and Alex Wyse rankle riotously as a biracial couple seeking common ground.
So the production made a smooth transition. The only question is whether audiences will be ready to pay Broadway prices for a funny, relatively small-scale show with no major names. I certainly hope so, because oddball, quirky entertainment deserves a place on the Great White Way as much as Disney-sized spectaculars and jukebox tuners.
Presented by Paula Herold, Alan Wasser, Joseph Smith, Michael McCabe, John Breglio, Takonkiet Viravan/Scenario Thailand, Hilary A. Williams, Broadway Across America, and James G. Robinson, in association with Tony Meola, Martin McCallum, and Marianne Mills, at the Walter Kerr Theatre, 219 W. 48th St., NYC. Opened Dec. 14 for an open run. Mon.–Sat., 8 p.m.; Wed. and Sat., 2 p.m. Beginning Dec. 19: Tue.–Thu., 7 p.m.; Fri. and Sat., 8 p.m.; Wed. and Sat., 2 p.m.; Sun., 3 p.m. (No performances Sat., Dec. 24 and 31, 8 p.m., and Sun., Dec. 25 and Jan. 1; additional performances Fri., Dec. 16 and 23, 2 p.m.; Mon., Dec. 26, 7 p.m.; Tue., Dec. 27, and Fri., Dec. 30, 2 p.m.) (212) 239-6200, (800) 432-7250, or www.telecharge.com. Casting by Cindy Tolan.