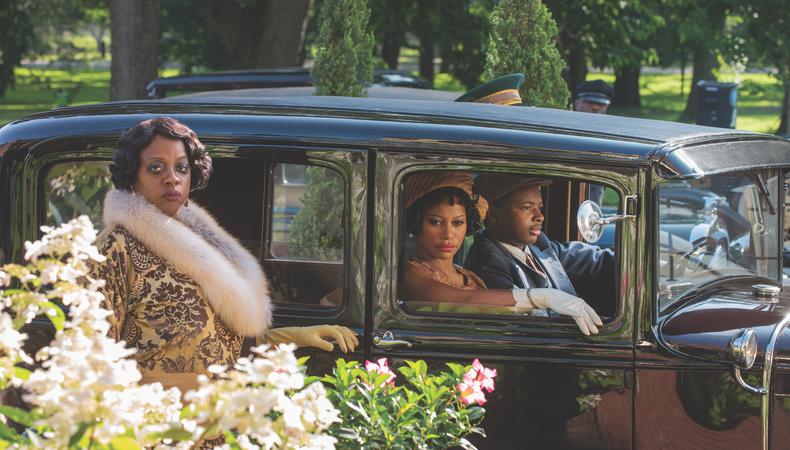 As we look back at 2020, we at Backstage have pinpointed the year's best big- and small-screen ensemble work for your SAG Awards consideration and beyond. For more voting guides and roundups, we've got you covered here.
Main Cast: Chadwick Boseman, Dusan Brown, Viola Davis, Colman Domingo, Michael Potts, Jeremy Shamos, Glynn Turman
Casting by: Avy Kaufman Casting
Directed by: George C. Wolfe
Written by: Ruben Santiago-Hudson (based on the play by August Wilson)
Distributed by: Netflix
Though it dropped on Netflix in the dead of winter, the sensation "Ma Rainey's Black Bottom" evokes more than any other is heat—stale, suffocating, overwhelming heat. Produced by Denzel Washington, the film, adapted by screenwriter Ruben Santiago-Hudson from August Wilson's 1982 play, takes place over the course of a single day of recording at a studio in 1927 Chicago. The audience is meant to feel the summer scorch beating down upon its inhabitants.
And oh, that ensemble. Corralled by director George C. Wolfe—himself a theater luminary who directed the original Broadway production of "Angels in America" and has two Tony Awards to his name—the cast is led by Emmy, Tony, and Oscar winner Viola Davis as the titular Ma Rainey, the real-life recording artist and out bisexual woman. She owned every ounce of her sexuality at a time when the prospect was immeasurably more taboo than it is today.
Tempestuous but worth the trouble, Davis' Ma is a ticking time bomb in each of her scenes. The film, smartly, withholds Ma's musical chops until it makes sense dramaturgically; there are no gratuitous musical interludes on this trying day. Whenever Ma is onscreen, those watching will begin to hold their breath, unaware they're doing so until a resolution—or dissolution—occurs one way or another. (There's one particularly memorable sequence involving a bottle of Coca-Cola that I will not spoil with further description here.)
But it isn't Ma alone causing trouble for the record label's frazzled producer, played here by another theater stalwart, the always delightful Jeremy Shamos. As Levee, the late Chadwick Boseman turns in what may be the finest performance of his career. That it ultimately turned out to be his last is a fact that's almost too painful to look at directly.
In the depths of the recording studio's basement, delivering what ranks among the most dynamic monologues Wilson ever penned, Boseman is intensity personified; it's in every aspect of the scene—the camera stalking him like prey, encircling his face in a dizzying claustrophobia. Giving us the opportunity to watch Boseman's temples become taut, to see the muscles beneath his eyes quiver as he recalls a memory from childhood wherein a group of white men broke into his home and attacked his mother, is as strong an argument as any for adapting plays for the screen.
READ: Viola Davis on How to Portray a Real Person
And though Davis and Boseman's names are likely the ones you'll hear most frequently this awards season, it shouldn't negate the work done by the rest of this heartbreaking ensemble, and everyone gets a moment to shine. The band is rounded out by Glynn Turman's bleary-eyed Toledo; the always-reliable Colman Domingo as Cutler; Michael Potts' enveloping Slow Drag; and newcomer Dusan Brown, who's wrenching as the stuttering Sylvester.
In a year that has temporarily stolen live theater performance, the opportunity to see work by Wilson, one of the form's greatest-ever contributors, in another medium is more than mere movie magic—it's just magic.
This story originally appeared in the Jan. 20 issue of Backstage Magazine. Subscribe here.
Want more? Stay in the loop with everything you need to know this awards season right here!