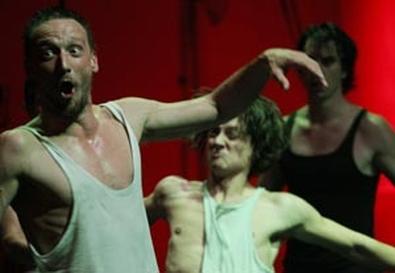 There's not much that's bonny about Scotland in Shakespeare's "Macbeth," and the place becomes exponentially uglier in "Macbeth After Shakespeare." A brutal adaptation of the Scottish play by the late German playwright Heiner Müller, it's performed in Slovenian by a dynamic cast of nine directed by Ivica Buljan, whose production crackles with high-voltage evil.
Müller pares down and paraphrases Shakespeare's text into hard-edged parlance as it graphically portrays Macbeth's bloody takeover of the Scottish throne and his bloodier deeds to stay there. In scenes depicting peasantry and foot soldiers, Müller lets us see how Macbeth's actions, along with those of his military colleagues, scourge the lower rungs of the populace as well as the nobles. There is no sense of redemption anywhere.
An English translation of the spoken script is projected on a large screen at the rear of the playing area, but it's often obscured by the stage lighting and the actors themselves. Furthermore, actors in the ensemble morph confusingly from one character to another. If Slovenian is not your language, you may not always know exactly what's going on, but chances are you won't be able to take your eyes away from it.
The show is short on props and set. When not involved in scenes, the performers sit on folding chairs in a wide semicircle. There are no swords. Macbeth's victims are relentlessly pummeled or wrestled to death, and Macbeth himself, portrayed with overwhelming physicality by Marko Mandi?, is a whirlwind of magnetic, sometimes playful malevolence. His "tomorrow and tomorrow and tomorrow"—one speech from Shakespeare that survives almost intact—is played like a vaudeville duet, arms linked with another actor as they cavort through the audience. After his breakdown at his calamitous coronation celebration, Macbeth is literally stripped naked by his cohorts to expose the even more unrelenting force of malevolence that lies beneath the outward man. Mandi? delivers a performance of unabashed epic dimension.
Lady Macbeth, as played by Milena Zupan?i? in fur coat and heels, is a perpetually vivacious conniver. Before Duncan, Macbeth's predecessor on the throne, is murdered in her castle, she welcomes him to her home with a bout of clothed coitus, and in her sleepwalking scene she teasingly mimes fencing with her doctor and lady-in-waiting.
A prerecorded soundtrack of pounding music composed by Mitja Vrhovnik Smrekar and the ragtag costumes by Ana Savi? Gecan add to the enthralling sense of chaos.
Presented by La MaMa ETC, in association with Mini Teater Ljubljana (Slovenia) and Novokazalište Zagreb (Croatia), at La MaMa ETC, 66 E. Fourth St., NYC. Dec. 8–11. Thu.–Sat.., 7:30 p.m.; Sun., 2:30 p.m. (212) 475-7710 or www.lamama.org.