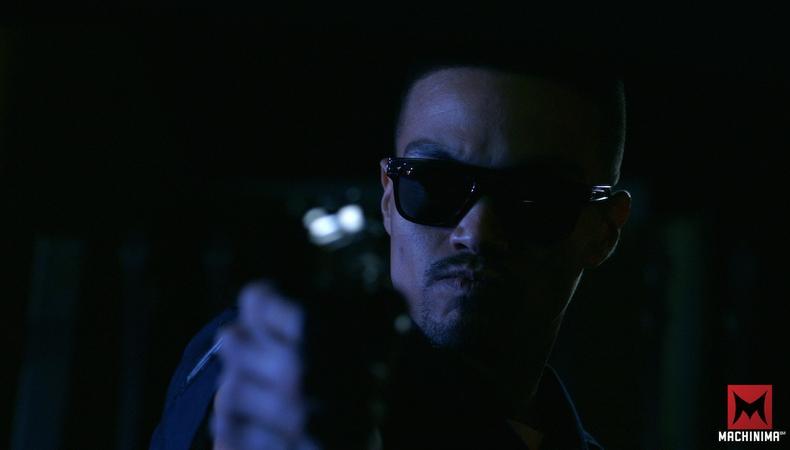 A new Machinima Web series pushes a cast of minority performers into the spotlight.
"Chop Shop" follows the lives of members of two rival car theft gangs as they compete for turf in East Los Angeles. Director Elliott Lester said they wanted to cast performers who could add authenticity to the six-episode drama. In some cases, that meant casting extras and principal actors who were weeks out of prison.
"They went from the prison yard to our yard," said Lester, tongue in cheek.
"What's nice with a show like this is you get to make some discoveries. You're not seeing the same old faces. Actors who are not in the mix on TV get a chance to step up," he told reporters ahead of the launch of the show July 18. "This is a show that is hugely ethnically diverse, which is representative of Los Angeles. I would never normally meet an actor like Rene Moran."
Moran, an El Salvador-born actor, plays Caine, one of the car thieves the series centers on. He got the part after auditioning for casting director John Frank Levey, who cast the Web series together with Melanie Burgess. Levey also recently put Moran into three episodes of the Showtime series "Shameless."
Moran (pictured above) said the challenge is the same for an actor appearing on a series for Web or television.
"Whatever the production side decides to do with it, that's their thing," he said. "For me, I had a job of creating a character and I did my best with that. I was making choices and putting a lot of myself into the character. You do your part."
"Chop Shop" was produced by Paramount Digital Entertainment and Bandito Brothers, the company behind "Act of Valor," a feature that blended a cast of real Navy SEALs and trained actors. Alex Veadov, who appeared in "Act," also has a recurring role in "Chop Shop."
"A lot of our projects are nontraditional, so we're always looking outside the box and trying to think of new ways to recreate the wheel," said Suzanne Hargrove, a Bandito Brothers executive who's credited as a producer on the series.
Directors and performers need to have the same flexible mentality, according to Lester, who previously directed features such as "Blitz," which starred Jason Statham.
"The bubble's shifting. The studios are making 11 movies a year," he said. "If you want to survive as an artist, or a production company, or a studio in this environment, you have to be embracing this."