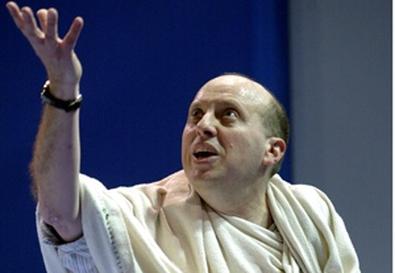 Writer-performer-choreographer Yehuda Hyman was inspired by the story "The 7 Beggars," by 18th-century Hasidic leader Rabbi Nachman of Breslov. Nachman died before finishing his story of an encounter with seven mystics. Hyman retells it as the story of Elliott Green, a San Francisco office worker accosted by deformed mystics on a coffee break. They tell him, "You should be like us."
Hyman's fluid physicality and low-key Woody Allen–ish delivery draw you in, and director Mara Isaacs stages the anecdotes fluidly. Seth Mellman's video design and Karin Graybash's sound design add real and surreal atmosphere. But the dreamlike weirdness soon feels random. There's an act break but not a true build, and the show never attains the ecstatic heights it seeks. Still, with tightening and more attention to pace, this could become a memorable fable. Hyman has something worth catching in this comic, strange material.


Presented as part of the New York International Fringe Festival at the 4th Street Theatre, 83 E. Fourth St., NYC. Aug. 13–29. Remaining performances: Wed., Aug. 18, 4:30 p.m.; Sat., Aug. 21, 6:15 p.m.; Fri., Aug. 27, 2 p.m.; Sun., Aug. 29, 1:45 p.m. (866) 468-7619 or www.fringenyc.org.