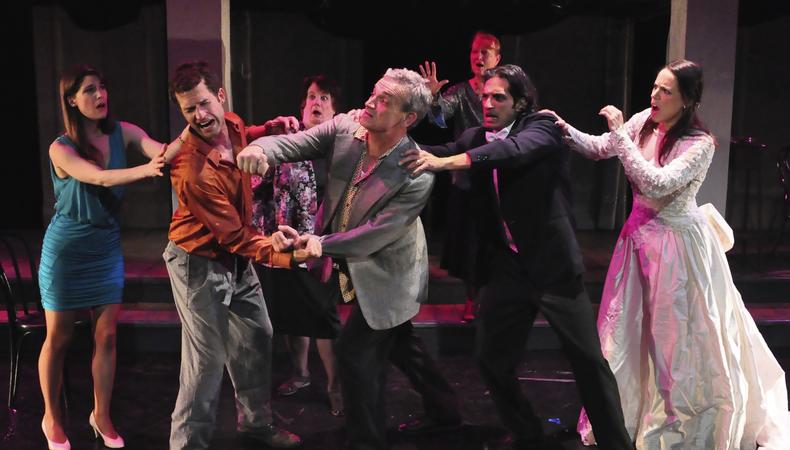 Caryl Churchill's 1996 play "Mad Forest" is back in Los Angeles, in a solid production that proves the material to be denser and madder than ever. The play is a fascinating journey into the specificity of Romania in December 1989 and the overthrow of Communist leader Nicolae Ceausescu. But docudrama is only part of this wild ride into the murky woods of oppression and upheaval. Revolution is never black and white, and Churchill wisely dwells in uncertainty and targets the surreal nature of social and political shifts in a world where the more things change, the more they stay the same.
Director Marya Mazor has done a terrific job taking us into Ceausescu's Romania right off the bat. We glimpse abbreviated, secretive slices of life judiciously rationed out, framed by Richard Hoover's smart set; he surrounds the playing space with compartments that let us know there are eyes everywhere, effectively transporting us into a kind of Soviet industrial bloc. Sara R. Clement's costumes scream Eastern Europe and cheap cigarettes.
"Mad Forest" is structured in three acts and begins in near silence. We meet peasants Bogdan and Irina (Joe Hulser and Katherine Griffith), son Gabriel (Brad Schmidt), and daughters Lucia (Jennifer Hyacinth Schoch) and Florina (Alla Poberesky). Why silence? Turn up the radio, kids; someone is listening. The other family we meet is architect Mihai (Patrick John Hurley); his wife, Flavia (Barbara Schofield), a teacher; and their son, Radu (René Millán). In a succession of stylized scenes we connect with a nice layer of domesticity and humanity on top of the civil unrest. Most of the skilled actors play multiple roles, and we watch citizens waiting in ration lines, searching for direction in churches (Ryan Mulkay and Ian Hamilton are lovely), towing the party line in classrooms, and talking to the dead (Schofield and Griffith provide a diversion that's as entertaining as it is unsettling).
We get enough signposts in Act 1 to know that something big is about to happen, but in a marvelous changeup, Act 2 takes us head first into the events of Dec. 21 and the days following—when Ceausescu was brought down—through first-hand, documentary-style accounts of people on the streets and hiding in their homes. It's a bold stylistic shift that director Mazor, her amazing cast, and the designers handle beautifully. The simple, restrained narrative from actors including Chuck Filipov, Allison Mattox, Kiley Eberhardt, and Poberesky is incredibly powerful against the backdrop of projections by Liam Carl Design.
Although it's framed by the most overtly theatrical character (Jan Munroe, in one of many standout roles), the more realistic aspects of Act 3 are the most problematic, particularly when the questions facing the characters are so monumentally absurd: What really happened, and what happens now? Thus "Mad Forest" ends up being a bit drawn out and unwieldy, but it's still well worth the trip.
Presented by and at the Open Fist Theatre Company, 6209 Santa Monica Blvd., L.A. March 16–May 4. www.openfist.org.
Critic's Score: A-