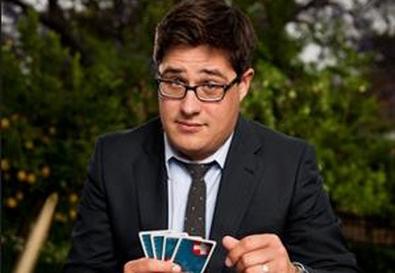 Rich Sommer is best known for playing the recurring role of Harry Crane on five seasons of AMC's "Mad Men," but he's more than just the awkward Head of Media at Sterling Cooper Draper Pryce. The actor recently arrived in New York to begin rehearsals for the upcoming Broadway revival of "Harvey" starring Jim Parsons ("Big Bang Theory"), and he currently co-stars in "Fairhaven"and "The Giant Mechanical Man," two films premiering at this year's Tribeca Film Festival.

In Lee Kirk and Jenna Fischer's "Giant Mechanical Man," Sommer shares the screen with Fischer, Chris Messina, Malin Akerman, and Topher Grace in a story about a woman who feels lost until she falls in love with a street performer. Sommer plays Brian, the goofy but well-meaning brother-in-law of Fischer's character who conspires with his wife (Akerman) to set his sister-in-law up on a date with a self-help guru (Grace). In "Fairhaven," written and directed by actor Tom O'Brien, Sommer co-stars with O'Brien and Messina as three high school friends who are reunited for a funeral in their New England hometown.

Before the Tribeca premieres of "Fairhaven" on April 20 and "The Giant Mechanical Man" on April 23, Back Stage spoke to Sommer about his newest roles, and using costumes to get into character for "Mad Men." Read the first of our three-part Q&A with Sommer below:

Back Stage: How does developing the character of Harry Crane on "Mad Men" differ from creating new roles for film?

Rich Sommer: I've had five years with Harry now, 60-some episodes, getting to play all colors of him: angry, happy, goofy, lascivious, smarmy, whatever. So he's going to be a more fully fleshed out character than anything I could play in a movie or a play.

Harry Crane embodies a lot of me. Anytime you're on camera, 95 percent of whatever character you're playing, unless you're Daniel Day-Lewis -- or maybe, no, pretty much just him -- you're cast because you're you. That's who they want to see.

As for "Mechanical Man" and "Fairhaven," I'm like both of those guys too. That's such cheesy actor-speak, but it's totally true. "Mechanical Man" is sort of how I am when I'm goofing around and trying to be light. And "Fairhaven" is a darker movie with a darker spin on things. But they both feel very close to me. I don't look at either of them and say, "That doesn't feel like it's just me doing me up there."

Back Stage: How did you land your roles in "Fairhaven" and "The Giant Mechanical Man"?

Sommer: I did "Mechanical Man" because I had done "The Office" with Jenna [Fischer] a few years ago, and right after I did "The Office" she called and asked if I would do a reading of the "Mechanical Man" script.

While we were shooting ["The Giant Mechanical Man"], I hit it off with Chris Messina, and he was heading off to do "Fairhaven." The guy who was supposed to play my role had recently been forced to quit, and they were sort of scrambling. Chris said, "Would you want to just read the script? It's going to be cold, and weird, and super low budget, but it might be kind of fun." Since we didn't get to really work together one-on-one in "Mechanical Man" and I'm such a fan of his, that was argument enough for me, that I would get to hang out with him for a couple more weeks.

Messina and I were sitting in our hotel room in Fairhaven, Massachusetts, last year in January. We had just done "Mechanical Man" and we were shooting "Fairhaven," and wondering, "What if one of these gets into a festival? Any festival, anywhere. We'll go anywhere just to see the movie at a festival." So to have both of them get in together at a prestigious festival like Tribeca is a very exciting endeavor.

Back Stage: Was it challenging to get back into character as Harry Crane after taking on other projects and enduring a long hiatus before this fifth season of "Mad Men"?

Sommer: It wasn't as hard this time. For some reason, I had a real hard time at the beginning of season four. When we came back at the beginning of season four, Harry had started to become the jet-setter that he now is, so he was wearing a lot of different clothes. He was dressing a little cooler. The bowtie was gone. And I've always, on our show especially, depended on the costumes to get me into the character.

So when I showed up for that first day on season four and I was wearing totally different clothes, I was really having trouble. I had to ask our boss [Matthew Weiner] for a little one on one time, and he certainly gave me shit about it. I came down to the set and he announced to the entire staff, "I have to go teach Rich how to play the character he's already played for four years." And I was like (in halting voice), "But, no, it's different now, because..." (sighs).

I really love that Harry is saying things he shouldn't say, sticking his foot in his mouth. I mean, I do legitimately sometimes stick my foot in my mouth, but my favorite form of trying to make a joke is saying something completely inappropriate and awkward. So it's been fun to let those little pieces of my personality really flourish in a character who has no idea that he's as big a douchebag as he is.

These characters are all inspired by us. Harry is from Wisconsin, I'm from Minnesota. Harry was married early on in the show, and I was one of the only married people at the beginning of the show. He has a daughter that is named after my daughter. Little facts like that make it easy for us to lock in.

Q&A Part 2: Rich Sommer on Improv, Auditions, and "Harvey"

Q&A Part 3: Only Rich Sommer Holds the Keys to Unlock His Golden Handcuffs

For the full 2012 Tribeca Film Festival schedule and to purchase tickets, visit TribecaFilm.com.