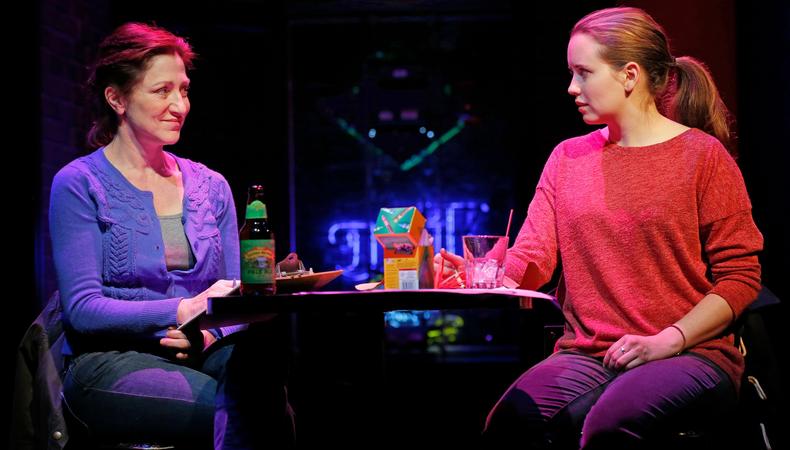 It's hard to fathom how Manhattan Theatre Club allowed Liz Flahive's undercooked comedy-drama "The Madrid" to get all the way to the stage at New York City Center's main downstairs space. Not even the excellent Leigh Silverman, who directs, can make the thin story of a primary-school teacher who one day just ups and leaves her family with no explanation believable or worth our time. With star Edie Falco stuck in the largely reactive leading role, the show evaporates before our eyes. Somebody at MTC was asleep at the switch.
Very little happens in the two-hour, two-act show. Martha abandons her class in a brief opening scene, and then we jump to months later, when her husband, John, and daughter, Sarah, are planning to sell the contents of their suburban Chicago home at a yard sale and make a fresh start. Laid-back Danny and compulsive Becca, married neighbors who are close to the family, pop in and out, wanting to help but not knowing how as they prattle on about their problems. Also around is Martha's sour, impossible-to-satisfy mother, Rose, who keeps running her car into things.
It takes far too long for Martha to show up at Sarah's Starbucks job with a birthday present for her daughter, which begins a secret series of meetings between the two either in a downtown Chicago bar or at Martha's nearby studio apartment, situated in a dilapidated building that gives the play its title. Martha never offers any reason for her abandonment but resolutely refuses to return. Finally, Sarah can't stand it anymore, and at the yard sale she tells her father, who responds with ludicrous equanimity. No sooner has she done so than Martha returns, ostensibly because Sarah is trying to fill her mother's place rather than lead her own life. John and Martha are reunited in a painfully paced scene that concludes the play with mother and daughter sleeping in John's bed outside while he watches over them contentedly.
Flahive can't make any of this credible and particularly shoots herself in the foot by withholding motivation for Martha's act much longer than she should. Falco hides behind defensively hunched body language and a weak, apologetic smile and tries to rely on her considerable ability to create empathy, but the hopelessly unrealized character defeats her. Phoebe Strole seems lost as Sarah and especially fails to make the girl's choice to meet secretly with her mother credible. John Ellison Conlee is an impossibly saintly John. Heidi Schreck and Christopher Evan Welch can't overcome Becca and Danny's blandness. Only the redoubtable Frances Sternhagen, as Rose, brings some energy and bite to the proceedings, though she can't sufficiently humanize the disagreeable woman.
David Zinn's awkward set ends up putting too much of the action at its edges, and the talented Tom Kitt's music seems awfully generic. But then, it's unlikely that anyone would be inspired by Flahive's murky marriage of run-of-the-mill naturalism and the absurd.
Presented by Manhattan Theatre Club at New York City Center Stage I, 131 W. 55th St., NYC. Feb. 26–May 5. (212) 581-1212 or www.nycitycenter.org. Casting by Caparelliotis Casting.
Critic's Score: D