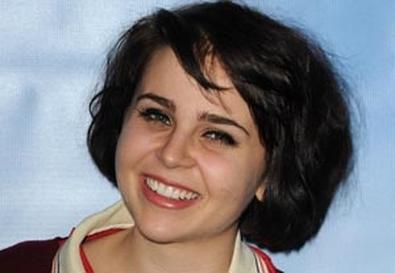 Mae Whitman has had a stellar year to showcase her talents on the NBC series "Parenthood," on which she plays 17-year-old Amber Holt, a smart, feisty old soul navigating her way through a messy world that presented such struggles this past season as making amends with her absent father (John Corbett), resisting and succumbing to drug-using friends, finding her voice as a singer-songwriter, and not getting accepted into college despite giving it the old college try.
Her performance in this season's finale left this viewer crying. Yes, Craig T. Nelson, who plays her concerned but tough-as-nails grandfather, helped draw out the tears. Still, Whitman's moving reaction to his plea to clean up her act made it a fantastically memorable TV moment.
"I respect him so much as an actor and hadn't really gotten to have much one-on-one time with him," says Whitman of working with Nelson on the finale. "I really feel a special connection to him, and so to be able to have a face-to-face scene with him was very emotional and special for me."
Whitman also shared strong moments this season with co-star Lauren Graham, who plays her single mom, Sarah, and whom Whitman considers a close friend offscreen. "We think very similarly. We have a lot of the same opinions and a similar sense of humor. So I think that really adds to [our chemistry]." She credits the show's writers with permitting her and Graham to improvise, creating a more natural feel to their relationship. "They allow us to overlap [dialogue] and we always get to have takes where we can try whatever we want with the dialogue. I think that really helps make it so that the words don't feel foreign in anyone's mouth."
Whitman appreciates the freedom the shows' writers, directors, producers, and crew give her to create a full-blooded teenager. As an example, she says, "I work really closely with wardrobe and they kind of let me pick out my own outfits. They give Amber a vintage spin. And just little things that we add in at the last minute. I don't feel any pressure from anybody trying to hold me back from making her into an interesting character, which is really helpful. They're very open to my ideas of what I think would be more closely related to a real teenager."
Despite her youth, Whitman is a 20-year acting veteran, having broken into show business when she was just 3. The story that Whitman has been told and that she vaguely remembers is this: "My mom [voice actor Pat Musick] was going in for an audition and I kind of followed her in." The casting directors were smitten, mom was skeptical, daughter insisted on trying it, and the rest is history. She booked a couple of commercials and then landed her first film, "When a Man Loves a Woman," at 4.
Whitman says that home, for her, is a movie or TV set. "If it's a good set, it feels very nurturing and can be a really great environment for a kid. And so I think I grew up with it being kind of my way of life and where I was comfortable," says the actor, whose other credits include "Independence Day," "One Fine Day," "Hope Floats," "Arrested Development," and "In Treatment."
As for training, Whitman credits her acting coach Andrew Magarian for his guidance, which she relies on to this day. "He's amazing. I started [working with him] before I could read, so I had to learn how to memorize lines and other things in a whole different way, and he was really helpful in explaining acting to a kid. There's a lot of technical rules that you have to abide by, but it's difficult to understand when you're young. So he really put that in a great perspective for me. He would say things like, 'You know, you can't look into the camera. Think about it like that's a bubble and if you look at it the bubble will pop.' That's like something that a 4-year-old can understand. So he definitely really helped me in the beginning, and he still does."
While torn about not going to college, Whitman says she has no regrets about following her heart as a full-time actor. She considers herself well educated and continually curious about the world. Indeed, like Amber, Whitman comes across as smart as a whip and wise beyond her years.
Outtakes
- Has followed in her mom's footsteps and works extensively as a voice artist on such animated projects as the TV series "Avatar: The Last Airbender" and a slew of Disney "Tinker Bell" movies, in which she voices the title character
- Can next be seen in the upcoming features "The Factory," as John Cusack's daughter, and "The Perks of Being a Wallflower," starring Emma Watson and based on the novel by Stephen Chbosky, who wrote and will direct the film
- Repped by agents Meredith Wechter and Eddy Yablans at ICM and manager Dan Spilo at Industry