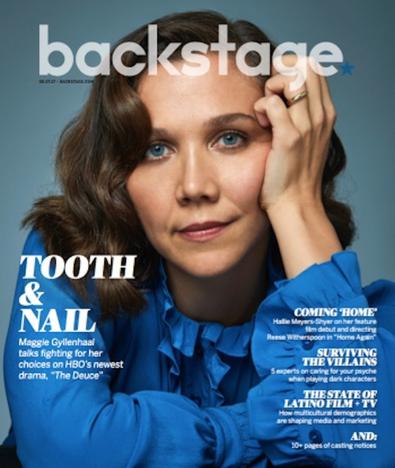 It only recently dawned on Maggie Gyllenhaal what an odd thing it is to be an actor. Especially one who sees her work as necessarily being informed by her own experience. "I think that's a really strange way to make a living. It's almost like going into a trance and exploring things in yourself." The ludicrousness of it forces her to stifle a laugh. "What a weird job!"
This epiphany came as she finished principal photography on a small indie film she's also producing, "The Kindergarten Teacher." While she considers most of her roles to be refractions and explorations of who she is, Gyllenhaal admits that there is comfort when she's portraying women very much unlike her. "I find it easier when I have an accent or I'm in a blond, crazy wig in 1971," she tells Backstage over chocolate cake. With the poet teacher at the heart of the New York City–set film she'd just wrapped, she found it harder to find any differences. ("I mean, she does some really crazy shit! She really loses her mind in a way that I hope I never will.") That made the 23-day shoot all the more intense, reminding the actor of the way she used to make movies back in 2002 when she first broke through.
Known for her roles in independent films like "Happy Endings," "Sherrybaby," and "Crazy Heart"—the latter of which earned her her first Oscar nomination in 2010—Gyllenhaal is headed to the small screen this fall with "The Deuce," on which she does, in fact, play a blonde in a crazy wig. Set in the lurid world of Times Square in the 1970s, the HBO period drama chronicles the budding world of video pornography. Gyllenhaal plays Eileen "Candy" Merrell, a sex worker-turned-porn entrepreneur.
Among a roster of characters that include the S&M-dabbling Lee Holloway ("Secretary"), the wild and liberated Giselle Levy ("Mona Lisa Smile"), and the sexually and emotionally wounded Nessa Stein (BBC's "The Honourable Woman"), Candy feels like a variation on a Gyllenhaal theme. "For me, and for many women I know," she says, "there are very few representations of the feminine experience that feel real, that feel that I can really actually relate to. Starting as a young woman, you take what you can get and you twist it into what you need it to be."
It's why, despite being offered her fair share of roles like "divorced FBI agent who's tough and sad" (which she just finds depressing) and "sexy single mom," she's gravitated instead to portraying women who are often messy and unruly. That sex features heavily in her work speaks to her hunger to represent female characters and stories that we don't often see onscreen. "I am interested in representing my experience, as opposed to the fantasy experience that I have been fed. And in terms of sex, I think it's an amazing opportunity to express something more like the real experience than the fantasy."
Candy, who roams the streets in the then-dilapidated Times Square area for johns and rebuffs attempts by local pimps to help manage her chosen career, embodies that dichotomy. Audiences see her sell an illusion of herself to those willing to pay, but also get to bear witness to the reason behind it: She's a single mother trying to provide for her son. Candy's transactional encounters offered Gyllenhaal a rare opportunity to lay bare the constructedness of male-driven fantasies.
Not that building the character from scratch came easily. The loose-limbed and curly-haired sex worker posed a new set of challenges for Gyllenhaal that she was all too eager to tackle. Confessing she's long thought of herself as an actor driven by instinct rather than research, she shares that she sometimes has a hard time kick-starting the preparation she knows she needs to do. That is, of course, until suddenly she's fired up about it and it infects her life.
"Then it's like getting sucked up in a drain. And everything, if it's working well, is grist for the mill. The song you're listening to, the food you're eating, that interaction you had with a friend, the book you're reading, what book you chose to read—everything starts to become a part of the project. And that's cool and exciting. I like when that happens."
She'll often go out of her way to set herself in the right mood for her various characters. In preparation for "The Kindergarten Teacher," for example, she decided to follow a bunch of poets on Twitter so that every morning she'd wake up to a number of poems and tweets that would put her in a poetic frame of mind, coloring her everyday interactions.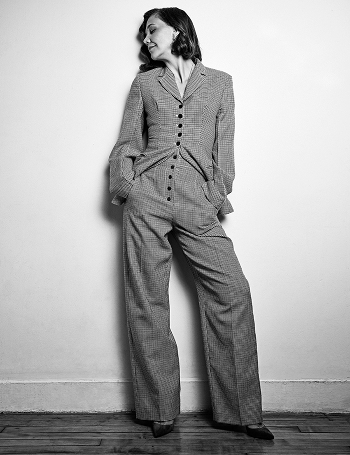 With Candy, she began, as always, asking herself the kind of questions that would help her unlock who this woman was. "Did I ever take a john up to the apartment when my baby was there? What was that like? Did I ever have sex with someone and my breasts leaked?" At the core of these exercises was a central motivating query: "What are the most physical memories you can create by daydreaming about them that ground you in being a prostitute and being a mother?"
Tackling a much more specific question, though ("How many men do you sleep with in a night?"), wasn't as easily addressed in the realm of fantasy. If Gyllenhaal wanted to do justice to women like Candy, she knew she'd have to look beyond herself and responsibly find out as much as she could about what it was like to work the streets in the 1970s. That's how she ended up meeting Annie Sprinkle. The former sex worker and current activist pointed Gyllenhaal in the right direction, suggesting books she should read, connecting her with other women in the industry, and helping her amass a growing number of resources that helped give her context for the world "The Deuce" is portraying.
While the HBO show isn't Gyllenhaal's first TV gig, it was her first time working in this model of episodic television. The miniseries "The Honourable Woman," for which she won a Golden Globe, was all written and directed by the same person, and thus felt more like working on a feature film. Adjusting to a new production model made Gyllenhaal keenly aware of the perils and challenges of collaboration.
She confessed that no matter the project, she doesn't show up to set on Day 1 fully trusting her directors. "It takes me some time. And it's taken some time to come to terms with that being OK. I know that some of the things I say or suggest make them nervous. It takes a while for us to find a rhythm."
That was no different with the HBO drama, even though she'd long wanted to work with Michelle MacLaren, who directed the show's pilot as well as its season finale. Gyllenhaal's bold choices, which she's learned can rankle her directors, have taught her to walk a careful line between protecting what she knows she needs in order to do her work and honoring her collaborator's insights and demands. She recalls how MacLaren bristled at her choice of hair for Candy. Having been offered more than 20 different wigs, Gyllenhaal gravitated to a cheap-looking curly wig, seeing in its unruly features potential for how she saw Candy taking shape in her mind.
"I want to look like Bernadette Peters or like Hanna Schygulla in the Fassbinder movies," Gyllenhaal remembers vocalizing. "I want to look like cotton candy. I want to be yummy." But despite these explanations, she had a hard time getting MacLaren on board. "Which is pretty understandable; it was a pretty wild choice for me. Nobody expected that was what I was gonna look like."
Trusting her instincts and surrounding herself with people she respects ("If I'm not, I'm always in trouble," she quips) is key to pursuing those projects that quite literally call to her. "I feel like when things are going right, I get drawn to something and I don't really know why. But it's this magnetic pull and I can feel that there's something in the project that's at the edge of what I understand about myself."
It's why Gyllenhaal's best work is always a look outward from within. "I don't know what it is or where it's going to take me, but it's compelling to me because it's one foot on what I know and one foot on what I don't."
Looking for your own character to develop? Check out Backstage's TV audition listings!
Styling by Brian Paulson. Clothing by Stella McCartney. Shoes by Christian Louboutin.