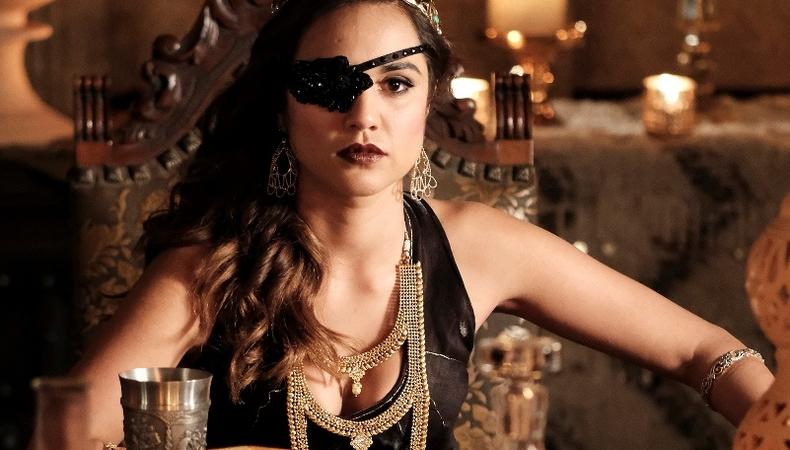 In the midst of Comic Con chaos, Backstage sat down with the casts of three fantastical shows to talk about their upcoming seasons. Returning shows "The Magicians" and "Once Upon a Time" delve deep into the shifting dynamics of their upcoming seasons while "Ghosted" gives us a preview of what to expect for the spooky comedy.
'The Magicians'
Based off the series of books by the same name, "The Magicians" is entering its third season, and the world keeps changing. Season 1 focused on the young magicians searching for the magical world of Fillory, while Season 2 revolved around the trouble they found there. In addition to their own interpersonal drama, the teens face yet another challenge for Season 3—what happens in a world without magic and how do they bring it back?
For Alice, played by Olivia Taylor Dudley, Season 3 will be an adjustment: "She got to be a primal beast and she got to experience magic on a level that none of the other characters have. She was pure magic for we don't know how long." When magic was lost, the characters were stuck wherever they were when it happened. "It will be fascinating to see these characters try to find [magic] and piece it back together without having magic, and I think they're going to have to rely on each other and human beings more than what we've seen, which is really the heart of the show. It's not a show about magic; it's a show about human beings," Dudley says.
Jason Ralph, who plays Quentin, further explains that, "These problems are, or this problem is, bigger than anything they've ever faced before. Because it affects everything. We're in a world where magic ends, so what does that mean? Throughout the seasons, we kind of sprinkled this idea that all of the great inventors of our time were magicians, so what happens when the things that they invented start to fail? Like, do we have electricity?" And the list goes on. "There's so much to deal with because it turns out magic is tied into everything because it's been around for so long. It's intrinsic to this world, so you take that away and it's an energy crisis. There's a responsibility to the global community to fix this thing, because, yes they love magic and it's a part of their personality and who they are, but it's bigger than that," says Ralph.
Fans of "The Magicians" are in for a mesmerizing time next season as audiences find out what it means for the world, and each of the characters, to lose magic.
'Once Upon a Time'
ABC/Disney's fairy tale drama "Once Upon a Time" is shaking things up for the long-running series' seventh season. While none of the previous seasons will be erased and the characters will all have the happy endings they found in the Season 6 finale, a few of the original characters will return for what the creators (Adam Horowitz and Edward Kitsis) are calling a "new book" or a "new chapter." The new chapter will follow Henry on an adventure to find his story, replacing the central Snow White plotline with a Cinderella story. Rumplestiltskin, Captain Hook, and Regina will join Henry in the new book's Storybrooke—Hyperion Heights—which will offer new twists on the identities of the returning characters. "It's really revitalized the energy on the set and in the writers' room and we hope with the audience," Horowitz notes.
With Andrew J. West joining the series as the grownup Henry Mills, it was important to the actors to keep the character's history intact. West says, "I really wanted to take a lot of inspiration from the dynamic of the relationship between Emma and Henry, and Regina and Henry…. Because that's essentially where this person came from; that's what molded him into the person that he is."
But for some of the returning actors, the new twists on their identities have changed the dynamics between characters. Colin O'Donoghue notes a scene he shot with Robert Carlyle. "I played it a certain way and I suddenly remembered I have to do it different because for five years we've played these characters a certain way with each other and it's different now," O'Donoghue says. "It's going to be fun for all the viewers who loved the show from before to see how these characters interact with each other now in this world." Carlyle notes it's also been challenging because the initial information on their "new" characters was so vague. "I kind of started it off going in a completely different direction and I actually changed the accent in Episode 2. So I'm going to ADR the stuff that I did in Episode 1 because just as Colin said, you have to remember you're not that character anymore."
Having played eight variations of Regina, Lana Parrilla says even she was surprised by how different the Hyperion Heights version is. "When I read the first episode, I realized how different she was and then I got really excited and so the artist in me was like, 'Oooh, what can I do with this and what can I bring to her?' If anything, I would say there are elements of Bandit Regina…. But the energy of her and the attitude and the sort of lightness and street knowledge and 'been there done that' and 'seen it all' is kind of where she's at now," Parrilla says.
Dania Ramirez, who plays Cinderella, says, "I walked into the [audition] room not knowing who I was auditioning for; they didn't tell me because it was a big secret at the beginning." She says they just wanted to see what her chemistry with West was like and how she would play the role. "I don't think we've ever seen this particular Cinderella story being told, and that's what I'm most excited about being able to watch."
Gabrielle Anwar joins the cast as Lady Tremaine, Cinderella's evil stepmother. Echoing her fellow actors, she notes that playing multiple variations of one character is challenging. "Even in the first episode, I said to the director, 'This is like acting boot camp!' It truly is," Anwar says. "It really does test your skills—hopefully a career's worth of skills. It's hard. In the real world, I'm playing a real estate developer, which is so fascinating to me because as we know, there's a very famous real estate developer at the helm of the entire bloody country." And, of course, she notes, the sky's the limit for artistic license in the fairy tale world.
'Ghosted'
Fox's "Ghosted" was the perfect pick for promotion at Comic-Con. The series, which has been described as "The X-Files" meets "Ghostbusters," is a genre-meld. While paranormal fare is everywhere you look, only a handful of shows are tackling the comedic value that can be found in the paranormal. The show stars Adam Scott as a former astrophysicist and Craig Robinson as a former missing persons detective who get drafted into service for a NASA-like organization that investigates the paranormal.
"We're trying to create our own little 'Ghostbusters,' or 'X-Files' universe. They really believe it. The audience really believes it and the comedy comes out of them being actually freaked out, scared, really trying to figure what happened," says executive producer Kevin Etten.
The balance of scary and comedy is something the team keeps in mind. Ally Walker, who plays Capt. Ava Lafrey, notes, "It's kind of a tough thing to do to make someone scared and make someone laugh in the same show."
While editing the pilot, Scott says, "The thing we found ourselves doing more and more was pulling jokes out. Especially during an action sequence or a sequence where there are some scares. There's a fine line there, and you can tip over into silly and then the scares won't be scary or the stakes of someone being chased kind of go away."
To find out who's casting your favorite TV show checkout Call Sheet's Production Listings!