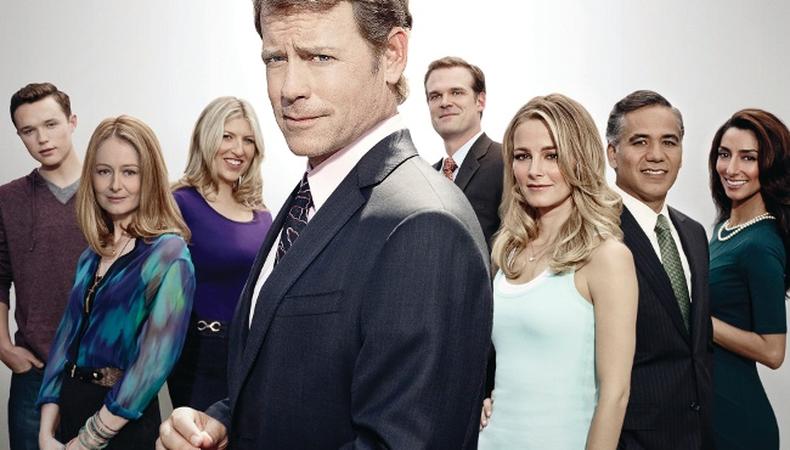 Pilot season looms large in the minds of those in the television industry. Even actors just starting out have heard the horror stories—the seemingly endless rounds of auditions, the breathless pace, the so-close-yet-so-far finales. Even after the pilot has been picked up by a network and ordered to series, recastings are frequent. Which is what makes Fox's "Rake," starring Greg Kinnear as dissolute lawyer Keegan Deane, such a rarity. We spoke to cast members Necar Zadegan and Tara Summers, as well as casting director Cami Patton, about the sometimes "magical" process of putting together an ensemble that also includes Miranda Otto, Omar Dorsey, and John Ortiz.
CAMI PATTON: I was asked to do this right before Thanksgiving last year, and so over the break I watched the entire first two seasons of the Australian [version]. And I was so hooked after it was done—I missed them! I loved those people so much that to think of recreating that was overwhelming. But it was an honor to do it. And Peter Duncan, who created the Australian version, was the most wonderful man to work with. He knows those characters so well and has such a strong sense of who they are and what they need to do, but he was so open. The concern going into something like that, where it's already successful, is you might not have as much creative flexibility. But he was really open with what made it work with Greg [Kinnear].
NECAR ZADEGAN: Way back in the beginning of December, my folks called and said, "There's this awesome project called 'Rake,' why don't you see Cami?" Cami and I go way back. When they talk about building relationships, this is a great success story. I was a young actress; I'd moved to L.A. after college and I saw Cami speak about casting. Shortly thereafter, she tested me something like 12 times for another pilot. I didn't end up booking that, but when you test for something like 12 times, it's almost like you shot a mini movie. So I got to know the producers and her very well. And this time, Cami had seen this role [Scarlet] and thought of me for it and asked me to come in.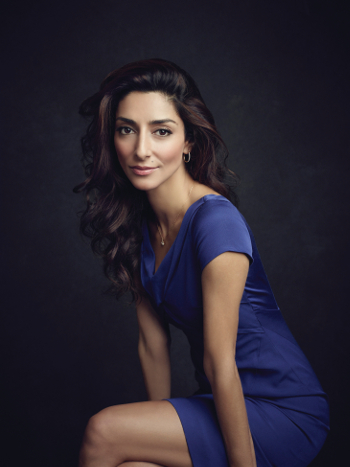 PATTON: [Scarlet] was really the one that [Peter] had the most specific idea of because it was based on someone in his personal life and he was really, really worried about being able to find someone exactly right. And Necar I've known for a long time; she's amazing. I brought her in on my very first day. The way we did this process, everyone came in for me and went on tape here because there were so many people involved, producer-wise, in so many different places. Rather than trying to corral everyone, we did it all on tape, sent them the people who were most right, and from there they would decide who to read with Greg.
TARA SUMMERS: It came my way like everything last year for pilot season, because I'm in no position to receive offers. I went in and went on tape and did my bit and didn't really think much of it because I had, like, six other auditions in 48 hours. I had four in one day. It was like that Naomi Watts spoof, where she's changing in the back of her car frantically.
PATTON: I've been a fan of Tara's for a while now.
ZADEGAN: They were using sides from the Australian series, exceptionally well-written, very layered. They always pick the hardest scenes for an audition, which is great. Those one-liners, the scenes that don't have as many arcs, are hard. It felt like I had a lot to work with, and I was glad to. I really like auditioning. It's an opportunity to do intricate work, and you have a captive audience! I like the work, and auditioning is really the actual work, so thinking about it that way always gets me really excited.
PATTON: I hadn't sent [any tapes] to the producers yet because I wanted to have a nice group of people for each character and get a sense of what I was doing. But Peter Duncan and [producer] Michael Wimer came over to make sure we were on the same page, and Peter said in that meeting, "The one I'm most concerned about is Scarlet." And I said, "Let me show you my favorite." And I put Necar's audition on the computer and he flipped out. And it was fantastic because Peter was so relieved, and it just helped the whole rest of the process that that was not on his shoulders. Everyone was head over heels for her. When we showed [the tape] to the network, they got it immediately. She just knocked it out of the park.
SUMMERS: One thing that was super encouraging—especially for New Yorkers, to know they aren't going to get lost in the stratosphere and people are paying attention—was I tended to think people don't watch tapes. Unless you're actually in the room with these people, I thought it was a waste. Whereas this did come from that.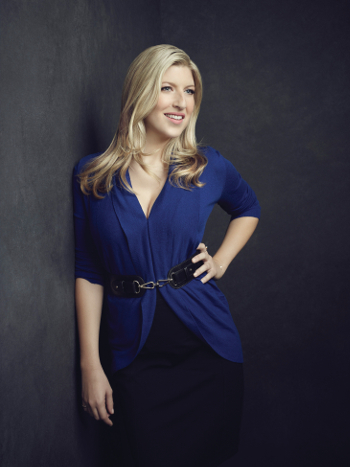 ZADEGAN: The only other time I went in was the chemistry read with Greg. I had never really done a chemistry read for anyone before, and I had this vision in my mind of what it was going to be. The guys and Greg were all there, and I walked up and [Greg and I] said hello and stood next to each other, made a couple of jokes for a few seconds, and then I turned to face the camera and all of sudden I hear someone say, "That's it!" I couldn't believe it. I didn't do anything!
PATTON: [Kinnear] had [previously] read with her off-camera, and before we got to network we got word that they were going to want to see them side by side. She did it so perfectly we didn't need to do it again—we just needed to see how they looked together!
ZADEGAN: I guess just the casual banter between each other was the satisfying thing they were looking for. Later, they told me they loved our chemistry read. I don't know what they could tell from us just talking casually as our real selves! The characters Scarlet and Keegan are really good friends, almost like family, so whatever they were looking for I guess they saw in that short moment between the two of us.
SUMMERS: I got a call [near the end of pilot season] saying I was on a short list and they wanted me to do a chemistry read with Kinnear. And I showed up in the Valley and they go, "Oh god, no, you're in the wrong place!" And I started to cry like I'd never cried, sobbing to my agent that I'd never make it. By the time I showed up to Sony I looked like Rudolph, all my mascara was gone. I looked rough. How I got the job, I don't know, but by the time I actually read I was like, Fuck it, it can't get any worse.
PATTON: Pilots are incredibly intense and everything is heightened and it can be such a difficult thing to maneuver, particularly as a casting person trying to make so many different people happy. And our whole process on this pilot was magical.
ZADEGAN: Sometimes acting is easy!