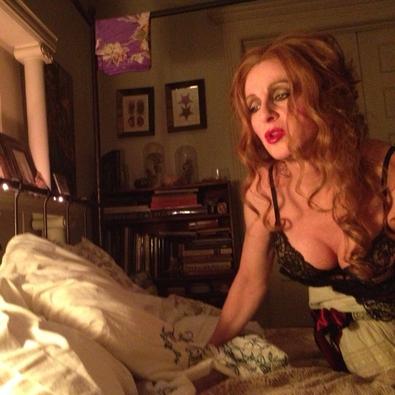 Talie Melnyk begins her one-woman show with a bang. Why beat around the bush when there's a war on women going on? Did you know that people are just as judgmental and sexist today as they were in early 20th-century Russia? Are we regressing socially? Let's examine. This idea—that women are in no better standing today than they were 100 years ago—is Melnyk's thesis for "Maison des Reves," which she wrote and performs. However, we never return to the 21st century to juxtapose the time periods. Instead, we spend the evening with Alexandra and Anastasia—Alexe and Nastia for short—who set up a brothel as a front for a place where victims of domestic abuse can come and have their husbands murdered. Essentially, she's a whore hit man.
The concept intrigues and is also mostly true, from what the program suggests. Alexe Popova, a woman of the noble class in Imperial Russia, was a serial killer who murdered more than 300 men. From Melnyk's telling, Popova witnessed her own mother's struggle with abuse and murdered her stepfather because of it. Then her eyes opened to the similar troubles faced by women in her town and in her church congregation, and she took on the profession as if it were a civic duty. She started the brothel, named Maison des Reves (meaning House of Dreams), with her friend Nastia, who worked in the sex industry. Abusive men would come for their nightly prostitute, and Alexe—or "Cecile," as she's known at the establishment—would make sure they didn't leave alive.
Melnyk's script is overly expository and repetitive. She will set up a scene and then dip into character repeating what she's just said, only in a Russian accent. There are inconsistencies in whether she plays just one person in a scene or switches through multiple roles. Ultimately, her performance is stiff and relies so much on choreographed hand gestures and over-the-top facial expressions that you can never get past her theatrical demeanor. Some of this can probably be attributed to director Gretchen Cryer, who leads with a delicate yet stylized hand. She paces the proceedings well, with subtle scenic transitions from Janie Bullard's sound design. Jen McCulloch's costumes are minimal but sufficient, even though some props and costumes are mimed and others are real.
Melnyk shamelessly banters on about the hardships facing women, and her ending is not hopeful, leaving the audience with a lot to think about. But the didacticism rarely lets emotion in, resulting in an agenda-pushing, one-sided political piece. There is not one redeeming man on display. So guys, if you like being hated on, and women, if you thrive on overt feminist fare, "Maison des Reves" is for you.
Presented by Frigid New York at the Red Room, 85 E. Fourth St., NYC. (212) 868-4444, www.smarttix.com, or www.frigidnewyork.info.
Critic's Score: C-