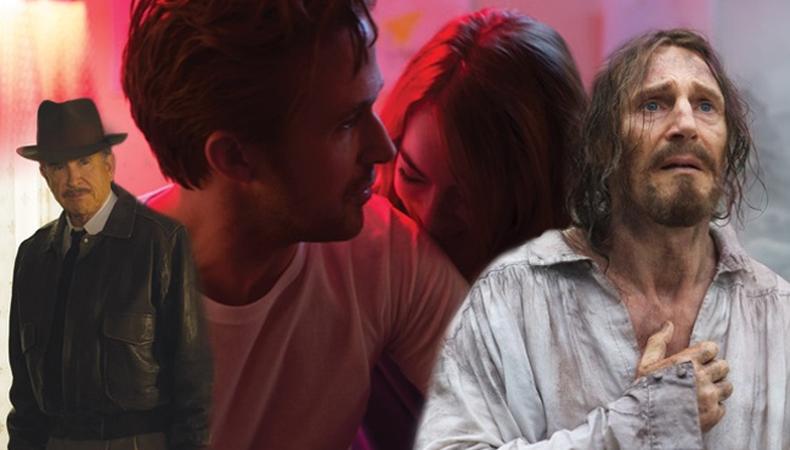 Awards season campaigns are an alchemical combination of politics, word of mouth, and sheer luck, and there's often no telling where the chips may fall. We're breaking down which major distributors have which horses in which races.
Despite the resurgence of small-budget and independent filmmaking in recent years—look no further than the Academy Award–winning success of "Spotlight" and "Birdman"—major film production studios still have formidable contenders in this year's awards race. Not since "Argo," released by Warner Bros. in 2012, has the best picture Oscar gone to producers backed by a major distributor. Could 2017 break that dry spell?
20TH CENTURY FOX
At last year's Academy Awards, 20th Century Fox had both "The Martian" and "The Revenant" in the race for best picture—a quarter of the nominees. Could they pull off such a feat again this year with Warren Beatty's "Rules Don't Apply" and Theodore Melfi's "Hidden Figures"? Both are beautifully rendered period pieces with charming performances, and for "Hidden," buzz is growing for leading actress contender Taraji P. Henson and supporters Janelle Monáe and Octavia Spencer. The SAG Awards nominations had love for the latter performer, as well as including the film in their best picture equivalent, the coveted outstanding ensemble award.
LIONSGATE
Summit Entertainment, one of the subsidiaries of megadistributor Lionsgate, has been working overtime producing critical hits in 2016. Mel Gibson's World War II–era "Hacksaw Ridge" made a strong case for leading actor Andrew Garfield (now a Golden Globe and SAG nominee), while Peter Berg and Mark Wahlberg collaborated on two biographical dramas, "Deepwater Horizon" and "Patriots Day" (released by Lionsgate and CBS Films), both of which have yet to find themselves on major awards' shortlists.
But it's Damien Chazelle's sensational movie musical "La La Land" that seems best positioned for directing, writing, and leading actor categories—not to mention the best original song Oscar. This year's New York Film Critics Circle Award winner features SAG- and Golden Globe-nominated Ryan Gosling and Emma Stone doing their finest onscreen work yet, and is a very likely addition to this year's best picture nominations. (The Golden Globe for best comedy or musical, meanwhile, feels like an assured win.)
READ: "How to Give an Awards Acceptance Speech"
PARAMOUNT PICTURES
Although it's too early to pinpoint a single front-runner for Hollywood's top prize, the distributor with the deepest bench of contenders is currently Paramount, a company with four best picture Oscar nominees in the last three years. The buzz for Stephen Frears' "Florence Foster Jenkins," naturally, surrounds its star: Meryl Streep, the most Oscar-nominated actor in history. Opening in the U.S. relatively early with an August release, the film about Carnegie Hall's worst opera singer exploded out of the gate with Streep considered an obvious shoo-in for leading actress; Paramount is also promoting Hugh Grant for his deft supporting turn. Both have earned SAG and Golden Globe recognition.
Then came Denis Villeneuve's emotional and innovative sci-fi drama "Arrival," with its nuanced leading performance from five-time Oscar nominee Amy Adams (the National Board of Review's pick for best actress and another SAG and Golden Globe contender). Also submitted in that category is Oscar winner Marion Cotillard, starring with Brad Pitt in the World War II espionage drama "Allied."
But it's the distributor's end-of-year films that may be generating the most heat. "Fences," the screen adaptation of August Wilson's classic play, stars and is directed by Denzel Washington, himself no stranger to awards shows with two acting Oscars. A third could well be on the way for his extraordinary performance, particularly opposite this year's supporting actress front-runner, Viola Davis. Both are among the contenders for individual SAG Awards and the ensemble honor, something that cannot be said for "Silence," Martin Scorsese's religious drama decades in the making that stars heavyweights Andrew Garfield, Liam Neeson, and Adam Driver, but that came away with no SAG or Golden Globe nods.
UNIVERSAL STUDIOS
Only one film from Universal is pushing for awards glory this year; a grotesquely gutsy turn from contender Emily Blunt makes "The Girl on the Train" one of many projects promoting leading ladies. Could the actor finally score her first Oscar nod? SAG voters certainly seem to think so; Blunt is among this year's nominees for leading actress in a film.
WALT DISNEY STUDIOS MOTION PICTURES
Both of Disney's live-action awards contenders, "Queen of Katwe" and "The Light Between Oceans," feature notable supporting actress turns from Oscar winners Lupita Nyong'o and Rachel Weisz, respectively. The campaigns and subsequent buzz for both, however, have faded since their release dates; September films run the risk of being forgotten by the time SAG and Academy voters are considering nominees.
WARNER BROS.
The track record of Warner Bros. has been consistently strong at the Oscars, with four best picture contenders in three years. Despite a strong performance from leading man Tom Hanks under Clint Eastwood's direction, the biopic "Sully" may also be falling prey to an early release date. Ben Affleck, an Oscar winner for writing and producing (famously snubbed in the directing category for best picture winner "Argo") helms and stars in "Live by Night," which the distributor is releasing in January and promoting in the directing, writing, and ensemble acting categories, despite no love from SAG and the Golden Globes.
THE WEINSTEIN COMPANY
John Lee Hancock's "The Founder" and Stephen Gaghan's "Gold" also have the benefit of late-breaking releases, although Michael Keaton and Matthew McConaughey, respectively, are technically pitted against each other in a competitive leading actor field. The most visible contender from Weinstein, Garth Davis' heartstring-tugging drama "Lion," boasts strong turns from supporting actors Dev Patel and Nicole Kidman, both of whom nabbed a spot on the SAG and Golden Globes' lists.

Ready to enter the Oscar race yourself? Check out our film audition listings!