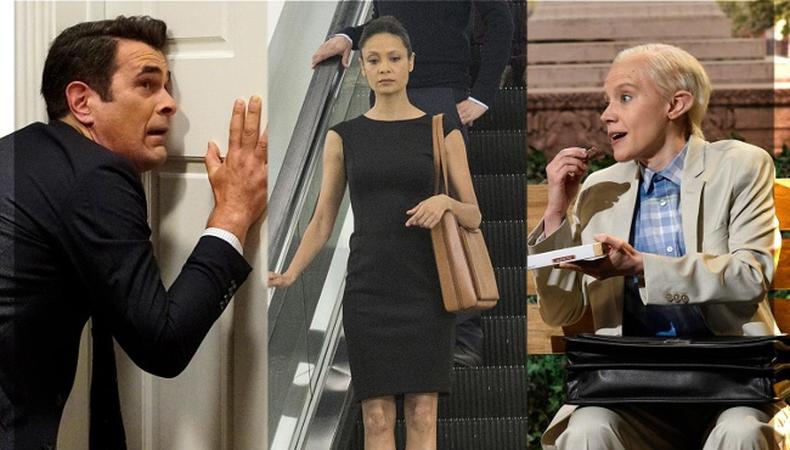 Awards season campaigns are an alchemical combination of politics, word of mouth, and sheer luck, and there's often no telling where the chips may fall. We're breaking down which major TV studios have which horses in which races.
As we gear up for television's biggest night on Sept. 17, networks, publicists, and talent are pushing to get their Emmy-nominated series the attention they deserve. The 2017 Emmy Awards were notable for recognizing new series, particularly in drama categories—aided in part by the exclusion of HBO's "Game of Thrones"—and while that cable platform continues to dominate, Netflix, NBC, and others made significant leaps in their tallies. Read on for a breakdown of where each network's buzziest projects stand in an especially competitive year for small screen programming.
ABC (33 nominations)
The Alphabet Network boasts strong performances this year; keep an eye on two-years-in-a-row winner Regina King of anthology series "American Crime," one-time winner Viola Davis of "How to Get Away With Murder," two-time winner Ty Burrell of "Modern Family," and Anthony Anderson and recent Golden Globe winner Tracee Ellis Ross of "Black-ish."
AMAZON (16 nominations)
Emmy winners Jill Soloway and Jeffrey Tambor of "Transparent" continue to do well for the streamer, and 2017 brought a touching guest actor nomination for the late Carrie Fisher on "Catastrophe."
'In the Envelope' Podcast Episode 12: Judith Light & Kathryn Hahn
CBS (29 nominations)
Other than its usual plethora of variety and reality nods, the broadcast home of this year's ceremony scored a nod for Allison Janney of "Mom" in the major categories. CBS is also the parent network to the CW, which earned two nods.
FOX (20 nominations)
Although it's failed to break through in top scripted categories, Fox's longtime favorites "Bob's Burgers" and "The Simpsons" continue to fare well in the voiceover and animated categories.
FX (55 nominations)
A fierce competitor, FX delivered major winners in 2016 with "The People v. O.J. Simpson" and Louie Anderson of "Baskets," a scene stealer recognized again this year. Limited series "Feud: Bette and Joan" boasts 18 nods with performers in three acting categories, while "Fargo" Season 3 has three actors in contention. Especially noteworthy is "Atlanta," showrunner-star Donald Glover's Golden Globe winner, the only freshman comedy series nominee.
HBO (111 nominations)
Topping the list in 2017 (as in years past), HBO filled the hole left by their dragons-and-zombies juggernaut with the cowboys-and-robots thriller "Westworld." The series tied for most nods with 22 and has an acting nominee in each drama category. Recent SAG Award winner Julia Louis-Dreyfus could collect the most Emmys for the same role in comedy awards magnet "Veep," a show boasting four nominated actors. Reese Witherspoon and Nicole Kidman's "Big Little Lies" and its five stars, or "The Night Of" and its four, could dominate limited series categories. And don't forget Robert De Niro and Michelle Pfeiffer in the TV movie "The Wizard of Lies."
HULU (18 nominations)
This streamer's momentum is astonishing, especially considering the mere two nods it received in 2016. It's mostly thanks to Elisabeth Moss' "The Handmaid's Tale," the new, all-too-relevant drama increasing its accolades; the series just picked up best drama and program of the year wins at the 2017 Television Critics Association Awards.
NBC (64 nominations)
The Peacock Network hit third place this year, earning 64 nods to last year's 41. The impressive 22 for "Saturday Night Live" helped, as did reality and live musical programming. Dan Fogelman's new drama "This Is Us" scooped up 11, including major contenders Sterling K. Brown, Milo Ventimiglia, Chrissy Metz, and Ron Cephas Jones.
NETFLIX (91 nominations)
It's the runner-up for most recognition, but Netflix is closing in on HBO: Last year the streaming giant notched only 54 nods. Its top earner is new sci-fi drama "Stranger Things," which could make Millie Bobby Brown the Emmys' youngest winner, followed by "The Crown," starring contenders Claire Foy and John Lithgow; both notched huge wins among SAG voters in January. Could "Unbreakable Kimmy Schmidt," "Grace and Frankie," or "House of Cards" sneak in? And will Aziz Ansari's "Master of None," which has eight nominations this year, score a second consecutive writing statue?
PBS (11 nominations)
Although it fell from 26 to 11 nods in the wake of "Downton Abbey"'s conclusion, the Public Broadcasting Service has a strong contender in Benedict Cumberbatch and "Sherlock"—as usual.
SHOWTIME (15 nominations)
Stars from this cable network's reliable hits "Homeland," "Ray Donovan," and "Shameless" made their way onto nominators' lists.
Stay tuned for further updates from Backstage's awards coverage at backstage.com/awards-season.
Ready to win your Emmy Award? Check out Backstage's TV audition listings!