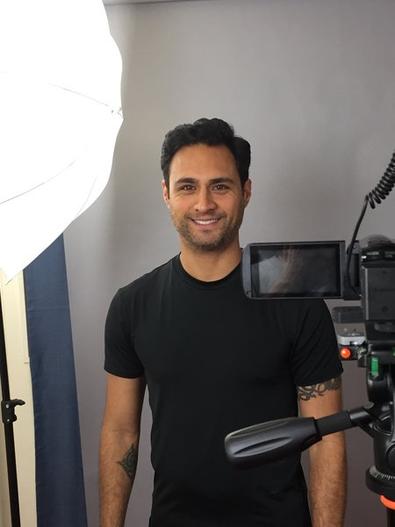 Three years ago, the proverb "Necessity is the mother of all invention" proved true for actor Omer Mughal. When the need to self-tape his auditions became more and more frequent, Mughal and a friend created their own solution, Actors Taping Actors. Now, Omer continues to thrive Atlanta where he has steadily built a business that, "takes the pressure out of auditioning," he says, by providing a comfortable space that actors can come and focus more on their work and less on the technical aspects of taping an audition.
Serving as cameraman, reader, and editor, Mughal has gained a unique perspective on what makes a taped audition really stand out. Here are his five tips.
1. Be comfortable. Arriving 10 minutes early to your taping session allows you to settle in, relax, and get your mind and body into work mode. Nerves, traffic, anything you've already had to deal with can affect your audition, so use that extra time to center yourself, focus, and get ready for the work ahead. If you're not focused and connecting to the material, the camera will show it.
2. Be prepared. Rehearse your scene many different ways: standing, sitting, walking into frame, exiting off. Therefore, if a technical change has to be made you're not married to only one way of playing it. If you know the story and know your role you can easily adapt to any changes that occur due to the limitations of self-taping.
3. Live in the moment. Connect with the reader as best you can. I'm an actor as well so I give something to play off of. It's still a cold read for me and it's your audition but you won't get the deadpanned reader.
Use your space. You have more room than you think to move, so don't feel like you have to be stuck on the mark. Live freely in that beautifully imagined world the writer gave you. You can always watch playback, make any changes necessary, and shoot again until you're satisfied with the work you're sending.
4. Make strong choices. Making strong, clear choices speaks volumes about your ability and, most importantly, keeps the scene moving forward.
5. Take ownership of your audition. This is your audition. The cameraman can make technical suggestions that may bring certain moments out better visually, but it's your work, so put the time in to prepare for the audition. It's your job to know how it should look, so that you can submit the best audition tape possible.
Inspired by this post? Check out our Atlanta audition listings!