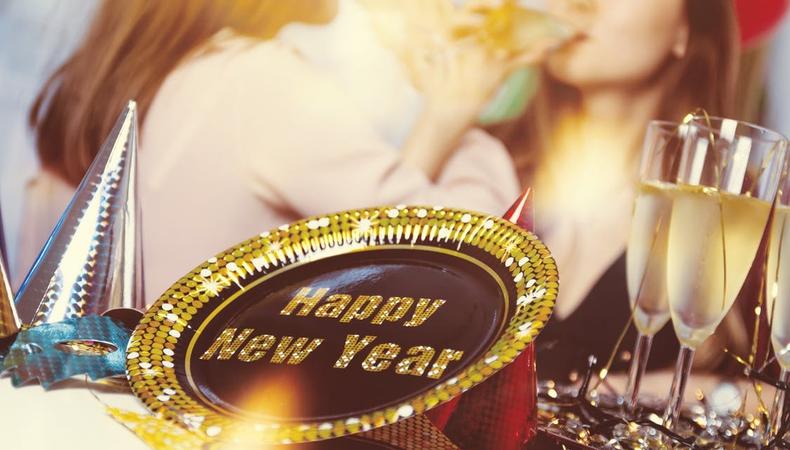 "New Year's resolutions" carry with them a lot of (perhaps unnecessary) pressure, but it's true that how you start a year can have lasting implications for the entire 12 months and beyond. To ensure 2018 is a great one for you—and your career—we touched base with Backstage Experts on the ways you can ensure you start the year off hitting all the right notes.
Forget about acting—for a bit.
"Forget about acting. Just turn off that part of your brain and use the holidays to recharge your batteries. That's why I'm flying to Southeast Asia. I want to get as far away from the industry as possible.
"While I'm gone, spend your days with friends and family. There's not much love in this business, so collect as much of it as you can. Then share those feelings by volunteering with a charity that needs a helping hand. The experience will help you see beyond your needs. Believe it or not, there are people in this world with bigger problems than finding the right agent." —Secret Agent Man
Catch up on the classics.
"A new year is the perfect time to reflect on the past, especially when it comes to movies. Beyond your acting chops, perhaps the most impressive thing to industry pros is when an actor is familiar with film classics. While this should be a no-brainer, it's shocking how many actors know so little about the industry in which they aspire to succeed, prior to, say 'Titanic.' To get started, check out the American Film Institute's 100 Greatest American Movies of All Time. When watching some of the oldest pictures, you might find that the stories, production value, and acting styles clash with your modern movie sensibilities. That's a pretty natural reaction. However, keep in mind that everything you love and appreciate about movies today evolved because these films and their filmmakers made it possible." —Steve Rohr, publicist and Backstage Expert
Enact tangible goals.
"New Year's Day is a great time to turn your dreams into goals.
"1. First, make sure you really know what you want. Take time in a quiet, uninterrupted spot to get in touch with what is truly important to you. If you start going after a dream, you just might get it so make sure it's a dream that you really want. I, personally, like to ask for the "optimal" instead of specifics (optimal love, work, happiness, prosperity, home, support, health, fulfillment, etc.). Put everything that is important to you on this list and look at it frequently.
"2. Now, turn that dream into reality by planning a six-month goal and the weekly steps you must take to achieve it." —Cathryn Hartt, founder of Hartt and Soul Studio and Backstage Expert
Renew your love for acting.
"So this year, rededicate yourself to the study of your craft. Dive deeper into the thing you already love. And you do love this life, or you wouldn't have chosen it. That's why it's such an easy resolution to keep.
"Enroll in the acting class with the amazing teacher you've been hearing about for years. Take that weekly voice lesson to feel more secure about your singing. Whatever it is, make the commitment to grow yourself and inspire your art in new ways this year." —Arden Kaywin, singer, private vocal coach, and Backstage Expert
Remember to give thanks to those who deserve it.
"I've long since accepted that I will never receive a tip in this industry if I help you land a great gig, even though the guy who took the lid off your beer will. That's cool. The odd thank you and public recommendation though is incredibly gratifying. Start showing gratitude today. Thank your teacher, thank your agent, thank your friends and family, thank everyone who has helped you in some way this year. No one gets to the top alone, but many at the top are alone because they think their success happened in a vacuum. Don't be the lonely top dog who realizes too late that they've bitten every hand that fed them along the way. Hashtag #gratitude to those who have helped you get where you are today." —Paul Barry, L.A.-based acting teacher and Backstage Expert
Don't be too specific in your goal-setting.
"I don't recommend you wish for just one audition, one job, one agent—don't wish for one of anything. Strive for abundance. Otherwise, and I have no idea why this is, I simply know it to be true—you will only get one audition, one job, one agent, and so on. Instead, resolve to create an ongoing career for yourself marked by many auditions, both good and not-so-hot; many jobs, both remarkable and ridiculous. And multiple agents, colleagues, and cohorts who will effectively support and assist you in achieving a body of work you can honestly be proud of. I wish this for you every day of the coming new year, and every year to come! May your path be as extraordinary and unlimited as you and your imagination can bear. This is how you create anything, including your career. It requires a continued effort and plenty of it. Give yourself plenty of room to make a wonderful mess of things!" —Kate McClanaghan, L.A.-based casting director and Backstage Expert
Give more generosity, and get more in return.
"Resolve to be more generous.
"As performers, we have to be vain, maintain a killer self-care regimen, and look and feel our best. So we spend a lot of time thinking about ourselves, and that is totally OK and necessary. However, the truly successful actors are the artists who listen during a scene, and who give attention onstage instead of volleying for it. The breathtaking dancer gives heart and soul in every gesture. Think of this saying: "What you give is what you get." Give freely. Give attention, support, money, treats, compliments. Share monologues, sheet music, and audition tips with newbies. There is enough for everyone, and the sooner we change our focus from lack to abundance, the sooner we all succeed." —Erika Shannon, author of "Don't Dodge the Dance Call" and Backstage Expert
Start the new year with a new gig! Check out Backstage's casting calls!