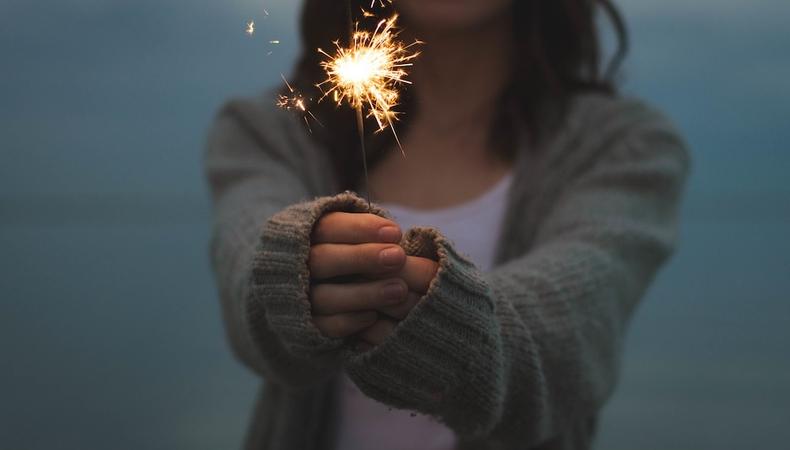 So 2016 wasn't your year. But it's almost over, which means a new one is right around the corner and is yours for the taking. To help make sure 2017 is the year of you, we asked our Backstage Experts to share some advice on how to start the year off on the right foot. Let these tips and tricks guide you to success in the next 12 months.
"If you don't already have one, try to find a survival job complementary to your lifestyle. Keep your eye open for opportunities that let you audition and may be flexible with your schedule if you get a part." —Joanne Baron and D.W. Brown, owners of the Baron Brown Studio
"Leverage your time. Focus on mixing business with pleasure. In terms of PR and publicity, that could mean opting for a red carpet event over a club or party. Yes, these events can be "work," but why not rub shoulders with a group of peers? Aside from the potential press opportunities, the networking could wind up benefiting you and your career." —Rick Krusky, co-founder and a senior publicist at MWPR
"Keep your eyes, brain, and heart wide open. Art is not about yourself but about the world around you. Allow yourself to truly take in this world in order to have something to give back." —Ana Margineanu, theater director
"Listen for clues. Good acting starts with listening, and so does a good acting career. Tune into your gut and the right answers, information, and mentors will always be at your fingertips." —Amy Jo Berman, casting, auditioning, and career expert for actors
"A great way to bring in the New Year—and new work—is to be enrolled in a January masterclass. Start the year inspired and reminded of all the great things you as an actor and performing artist have to offer. Work with a teacher that truly inspires, excites, and focuses you and your work." —Jeneffa Soldatic, acting coach
READ: "How to Use Social Media Wisely"
"Spend less time on social media. While you're posting on social media someone else is out there hustling and improving their craft. Be the hustler." —Jamie Muffett, voice actor, audio engineer, and filmmaker
"Realistically take stock in where you stand in showbiz right now. Then ask yourself, "If I had it all to do over again, what would I do differently?" Have that alternate reality in mind when you hit the reset button this new year. You can start from scratch and become who you would like to be. Push yourself; nobody else will." —Ryan R. Williams, on-camera acting teacher and founder of Screen Actors System
"Train, train, train. If you've been working primarily in theater take some on-camera classes. Take a dialects class to learn something new. Work on a new monologue. Study with a teacher you've never worked with before." —Denise Simon, acting coach
"In auditions, many actors end up looking like acting class actors rather than film actors. They don't get called back or cast because we're not casting for an acting class, we're casting for a film. The smartest thing any actor can do to prepare for 2017 is to find a situation that teaches them how to make their acting look like it belongs in a film before they walk into the audition." —John Swanbeck, writer-director
"Find somebody with a decent camera and get some clear, well-lit video of yourself acting, telling jokes, singing, or whatever it is that you do well. If I recommend a performer to an agent or casting director, their first question is, "Do they have a reel?" Make sure you do and that you look good in it!" —David Dean Bottrell, actor
"Create a business plan. You are a business and the only employee, so you must treat yourself as your own business. Have a monthly budget for what you're mailing out to agents/casting directors, etc., and create a schedule of workshops and classes. Within this plan should also be a strategy to acquire auditions, networking, and a list of new skills you're going to work on to be more valuable to agents and casting directors." —Tammy Hunt, founder of Hunt Talent Management
READ: "6 Ways to Be Consistently Great on Camera"
"There's a right way and a wrong way to directly pitch yourself for every role you're right for. This starts with building and maintaining game-changing relationships with the people who actually cast you—the writers, directors, and producers of the projects you love." —Joseph Pearlman, acting coach
"Be gentle with yourself. Stay creative. Produce your own projects." —Lee Brock, artistic director of the Barrow Group
"If you are auditioning for college musical theater programs, you should be taking three ballet classes a week to prep for the dance combo. Ballet is to dance what Latin is to language: it's the basis of everything!" —Mary Anna Dennard, college audition coach
"It's easy to spend like your non-actor friends but this is a luxury you don't have. Whether it's eating out or dressing the 'Hollywood' part, posing isn't going to magically transform you into the real thing. In fact, it might mean an unhappy ending to your big screen dream. What willkeep you in movie star motion is funding the fundamentals like acting classes and amazing headshots." —Steve Rohr, founder and president of Lexicon Public Relations
"Find a way to bring the political into all of your work. Use your voice. Make a statement. Examine your art in relationship to what is going on in the world right now." —JV Mercanti, head of acting for the musical theater program at Pace University's School of the Arts, author of the monologue book series, "In Performance"
If you haven't yet been cast, check out our audition listing!
The views expressed in this article are solely that of the individual(s) providing them,
and do not necessarily reflect the opinions of Backstage or its staff.