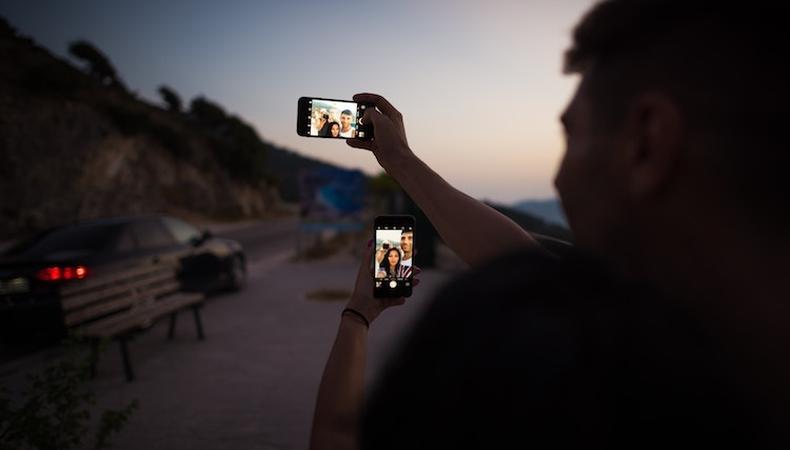 Social media has been in the news a lot recently—particularly with the revelations about personal data being unknowingly accumulated from users on Facebook. However, for actors, social media platforms can be vital assets to landing gigs and building brands. Backstage spoke with social media expert Sophie Bowman to get some advice on how actors can build their social media presence.
With a track record of increasing her client's social media engagement by 500 percent, Bowman is now the web and brand manager for fashion influencer and celebrity entrepreneur, Loren Ridinger. Ridinger, who is the creator of Motives cosmetics and senior executive vice president of Shop.com, has an online reach of about three million people. As you'll see, Bowman is generous with advice for Backstage readers who want to optimize their social media presence.
According to analytics from the Hollywood Reporter and MVPindex, Dwayne "The Rock" Johnson consistently tops the list for having the most social media engagement among actors (though, he was dethroned this week by Backstage cover star John Krasinski). What do you think contributes to his success?
"The Rock" has a lot of very simple success points that he's doing very well. With his social media, he's a perfect example of telling a "day in the life" story. He's clearly communicating a genuine image as an actor, businessman, fitness fanatic, and father. There are a lot of videos; everything is personalized, everything is coming from him.
What are some dos for actors on social media?
Something that Loren will always mention in her speeches is to start with the why. You obviously know the main goal is to become a successful actor. The important thing to know is: why? Why get there? Digitize your experiences, so everything that comes through your social media is painted to that why.
One really important thing (specifically with Instagram) is to create the ideal aesthetic for the page. So, choose a theme—something that's unique to each person, each personality. Get across the authentic who of who you are and let it humanize you.
It's essential that everyone gets across exactly what they do. Step one would be optimizing your bio. Rather than writing things that don't have any relevance, it should be more hashtagging: "I'm an #actor." Where's your base? Make it location specific. It would also be very important if you're a singer or a dancer, to put those hashtags in [your bio] so people who look at your profile can instantly see what your main talents are. Obviously, then, have a website or talent agency page [listed] so people can contact you or your agent directly.
What are some things actors should avoid on social media?
Definitely, do not to invest in the kind of software that multiposts generic comments on other people's accounts. That's a big no-no for the Instagram algorithm, which can actually lead to people getting blocked. But mainly, it just looks terrible. People can see that it's a fake, generic comment.
Avoid low-quality imagery or video. At the end of the day, you're trying to sell yourself as talent, and everything has to portray that—everything has to make you look good.
Never post anything that you wouldn't want a casting director to see. Instagram Stories and Snapchat are great, but you really want to control what's going out there. It's about quality control.
READ: A Guide to Social Media for Actors Who Hate Social Media
How can actors convince producers that their personal social media platforms are actually assets to projects?
One thing that has come to light in recent years is—right or wrong, it's a little bit controversial—everyone is judging you by your popularity online. So what you really want is to build a very organic following with engaged people because then you'll be seen as an asset. Casting directors have come out and said that it's a no-brainer—if you have two people up for a role, one person has a million followers and one person has zero presence, they're going to go with the person that has a following they can tap into.
Is there a particular time of day—or days of the week—that are better to post than others?
This is more tailored to Instagram; if you switch your account from "normal" to "business" for one to two weeks, you'll get the insights on your specific following. That's really useful because you can look at where your followers are based and what time of day they're most active—and you can plan your content around that. It's really important to know those times so that when you're posting, you're getting more engagement. The whole algorithm works by how quickly you get likes and comments on your posts. And hashtags are a huge thing—every post should have a well-selected hashtag.
How can you grow your followers organically?
It's very time-consuming, so one way I always suggest for aspiring actors is to pick three key [social media] platforms. I would say Instagram is pretty much 100 percent needs to be one of those three. You want to get consistency, so you want to be posting at least once a day. If you're just starting out, like 100 relevant photos a day. Use hashtags like #actor and follow people that fall into that. Comment on as many [posts] as possible each day. Then, that [engagement] will start to come back to you.
READ: 5 Ways to Build Your Audience on Social Media
Social media is in the news a lot, particularly with Cambridge Analytica's acquisition of data from Facebook users. Are there any concerns that people should have as they try to engage more forcefully considering the potential threats and the fear about how social media can be manipulated?
That's why it's more important now than ever to be very authentic. Manage your social media in a way in which you're engaging organically and not getting involved in any of the comment spam bots we talked about. What you really want is to become the kind of influence where you have things to say about your industry, and you know what's going on; keeping things current.
Do you see any trends that are coming up in social media? What's the next big thing?
Authenticity. As well as the female entrepreneur movement. Those are huge themes for 2018. And video—even though it might not get as many 'likes'—is 100 percent the way forward. Video is king in 2018. For aspiring actors, this is definitely their year.
NEXT STEP: How to Become Instagram Famous
This interview was condensed for clarity.