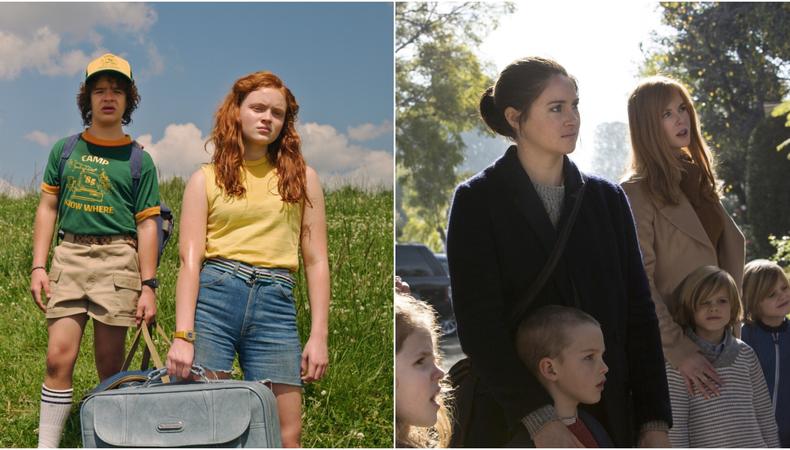 The Emmy Awards are Hollywood's only major awards show that recognizes the art of casting with a statue—and four of them at that. (This year's casting honors went to comedy "The Marvelous Mrs. Maisel," drama "The Crown," limited series "The Assassination of Gianni Versace," and reality show "Queer Eye.") We watch and follow along as actors in anything from leading to guest roles take home trophies, and on television's most important night, the casting directors who put them in those roles have a chance at one of their own.
Even the casual TV watcher might be able to devise a brilliant performance, and likewise understand how an actor comes to deserve an Emmy. The way a casting director does, though, proves a little more perplexing. As the profile of casting rises and more people become familiar with casting directors' contribution to TV, film, theater, and more, it's still not easy to extract what makes an award-worthy casting job—as opposed to what makes simply a notable performance.
To help answer that question, Peter Golden and Howard Meltzer, the two governors of the Academy of Television Arts & Sciences' casting peer group, talked to Backstage about what goes into a casting Emmy win. Although directors, producers, and casting directors vote for the awards, Golden and Meltzer used their casting lenses to explain their methodology.
First, it's about identifying a good casting job.
Peter Golden: I'm looking for authenticity in the context of the tone of the piece. When I feel like I'm not watching an actor, I'm watching a real character, [that's] the type of authenticity I'm looking for.
Howard Meltzer: I'll be watching a television show, and watching the story, and don't notice the casting. The casting should seem seamless.
PG: Whether it's a comedy or a drama or you're playing broad or you're playing more internal, quieter, it's feeling the truth of it.
HM: Other times, I watch something and it's fun to see an actor I recognize. Every story is going to be different. Very often if I watch something and I see actors I've never seen before who are outstanding, and I go onto their IMDb to find out who they are. I find that exciting.
The big picture has to be considered, rather than individual performances.
PG: It's feeling, as a whole, the chemistry of a group. So when I'm looking at a performance, I'm looking at the performance as it's affecting the performance of somebody else. I can find myself somehow identifying with or feeling like I know these people, feeling like I know these characters. A good casting director will put together a cast of actors who will inform who the characters are.
HM: Before we even get to Emmy season, we all watch television, so we'll see things that are airing and laugh because something's funny, not because we're trying to digest if it's good or bad. Then consideration starts and things come to my attention. For example, if something's on a premium network, they have an incredibly huge budget. The casting professionals who have a bigger checkbook might be able to have more movie stars. I look at it from a different prism. I'm looking at it with a more critical eye.
Then, it's about truly differentiating an enjoyable viewing experience from a stellar casting job.
HM: My emotions definitely affect how I see things. When I'm just watching television, I'm not looking at the project then thinking, I wonder what the budget was for this. It makes a big difference in who you're gonna get and where it's gonna be shooting. If it's a huge scope of a project that had locations globally, did that make the casting better, or is it something that was just shot locally? I look at everything.
PG: If you think of a casting director putting a cast together, they're putting a blueprint together. And then a director and a lighting designer and all of that build the house. The casting director has the vision for the possibility.
HM: When we have the [Emmy] nominees, I slice it and dice it and you look at it with a different set of eyes. And you look at what is being submitted for your consideration. So at that point, within my peer group, reels are sent out, casting lists are given, and then we're looking at it more critically. When you're watching a show that might've been on for several years, like an ongoing comedy series, you try to ignore the fact that the other characters have already been cast and claimed these roles for five years; that's not in consideration, it's the guest cast. Does the guest cast for this season elevate it? Is it helping tell the story? Does the story seem fresh? Those are all the things I look at. It's lots of things that I don't think a normal viewer six months earlier was looking at, they're just watching TV.
Comparing what are sometimes wildly different shows together brings out details Emmy voters consider.
HM: Last year, I watched "Big Little Lies" and was blown away by it. Then it came time to vote. Without getting into how I voted, when I watch things, I start looking at certain aspects. I'll look at these major feature film actors that are able to assemble for just seven episodes; is that more of a casting feat than something else that doesn't have the budget for major movie stars? Is that better casting? Or is it something that identifies actors I've never seen in my entire life? Is that better casting? All of that helps in making a decision in voting.
PG: Really good casting directors, and every casting director nominated for an Emmy this year and ones in years past, have visions. They have real artistic visions about more than just one actor being right for one role, and the look and feel of an entire ensemble, and that every role is as important as the next. It's like a puzzle.
HM: It's all about putting a mosaic together. When I'm watching something, does having a major movie star in the middle of the scene help tell the story, or does it distract from the story? That's what I believe all casting professionals are looking at. When I watch something, I'm just involved in the story and what's happening on screen and how it either affects or is not affecting me. And that, to me, is all about the storytelling process. So I believe—and I hope—that everyone who's voting, and looking at the criteria to be Emmy voters, [is] asking: "Is this the best way to tell a story?"
For Emmy Awards coverage and more, check out backstage.com/awards-season.
Ready to win an Emmy? Check out Backstage's TV audition listings!