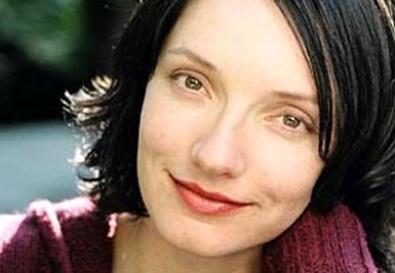 Dear Jackie:
I'm looking for some makeup tips for film. With all the student films and shorts and projects that don't really have funds, you need to do a lot yourself. I want to learn, so I don't look like an idiot.
—Nancy
via email
Dear Nancy:
My first piece of advice is this: If you have ever taken a stage makeup course, do not, I repeat, do not use any of the information you learned there for your film projects! No shaping the nose or old-age contouring, please! You'll be much better served by sticking to tried-and-true, natural "street makeup" tips you've picked up along the way. Then again, "street makeup" sounds like I want you to apply 15 coats of mascara to go with your red leather knee-highs. Man, it's really hard to explain this without pictures.
I called my favorite makeup artist,
Anny Kim,
for input. Anny has done my makeup for numerous shoots, and even for my wedding—she knows her stuff. "A good general rule of thumb is to keep it clean," she says. "I like to present a timeless look with a clean face and a fresh appeal, rather than a dark, made-up look, unless the character you're portraying calls for that. I know that in this day and age, we're so aware of U.V. protection that I run into a lot of cases where the actor's face is much lighter than the rest of the body or vice versa, so make sure the whole package (i.e., face, neck, and chest) matches as best you can."
Here are a few of Kim's tips:
-Match your skin tone even if you are trying to highlight your face. Conceal your flaws with matching concealer, and highlight by a half shade lighter than your skin tone for the under-eye area. But try not to blend the concealer too close to your under-lash line. It could make your eyes look smaller.
-If you are going to bronze your face, please make sure it is blended right and not blotchy. And make sure your nose matches your chest bone as closely as possible.
-Don't be afraid to add a little blush so the camera doesn't flatten you out, but do avoid the Baby Jane look.
-Avoid the Tammy Faye look—trying to make your eyes "pop" with lots of mascara. This can actually make the eyes look smaller.
-Be aware of the runny gloss syndrome, and know that dark lips tend to age people.
-Keep your eyebrows clean and groomed. It's more important than you think, as it not only frames your face but can open up all your expressions.
-Avoid frosty lips and eyes. That's a risk only a professional should take and not worth the heartache for you to fix later, when the director of photography asks you to remove it. Or worse, doesn't, and you look like you're stuck in a time warp.
-Embrace your true coloring and don't try to fake it too much. The camera can see the undertones of your skin, so if you try to throw on, say, a heavy yellow tone foundation to cover your natural pink tone because of your new hair color, you might just end up looking muddy on camera.
"I hope this helps a little," says Kim. "Of course, it's an endless field to cover. There are many aspects of makeup, especially in film and TV. We have to consider the character, the camera, the lighting, the styling, the scene, and everything else in between. But most of all, you have to feel good about how you look. Otherwise, that's just one more thing you have to think about, on top of your acting job—which is work enough!"
Dear Jackie:
I'm 23 years old and graduated from an acting conservatory in New York about a year ago. Since then, I have been working in retail and getting some work doing background in TV and film, but I'm not in the union. I was recently laid off from my retail job, and I want to get more involved in building my acting career (TV and film are my main focus), but I don't know where or how I should start. My school gave me the tools in acting technique, but they never explained how to get my foot in the door. Help!!!
—23 and Unemployed
New York City
Dear 23:
Yes, there are many things you can be doing as you launch yourself onto this exciting but difficult career path. Michael Kostroff and I have covered this extensively (see our previous columns at
www.backstage.com/workingactor
), and Back Stage is full of advice, as are the many good books on the subject that you can pick up at New York's Drama Book Shop. (Have you been there yet? Go! It's on West 40th Street.) You will also find a helpful community on the Back Stage message boards, at
www.bbs.backstage.com/groupee
.
The thing that struck me about your letter, however, was not your question. It was the fact that you graduated from an acting conservatory without knowing even the very first steps to take toward making your craft a viable career. I don't know where you went to school, but unfortunately, your situation isn't unusual.
I don't know a single acting program—bachelor's or master's—that spends any real time on the business of acting, and it's a real shame. Sure, you probably know how to juggle and can do an Irish dialect, but no one bothered to tell you where you might use those skills. Honestly, I think it's because most faculty at colleges, universities, and other training programs aren't up to date on industry trends and issues and therefore can't speak to them. Or perhaps it's because conservatories are focused on art—a lofty focus, to be sure—at the expense of commerce. I get that, but isn't there time for a couple semesters of acting business amidst all the Meisner and Linklater?
A whole new crop of actors is about to break out into New York and Los Angeles, graduating from conservatories around the country this spring. Michael and I, and others like us, will be ready to weigh in on their questions with our advice. And we're happy to do it. I just sincerely wish that highly trained, educated actors such as you, who have spent years and probably lots of cash preparing to pursue an actor's life, were given tools to call themselves not only actors but working actors.